Salud Beer Shop Wins 'Best Beer Bar' in the U.S. for 3rd Straight Year
NoDa spot, which opened in 2012, tops USA Today's 10Best Readers' Choice Awards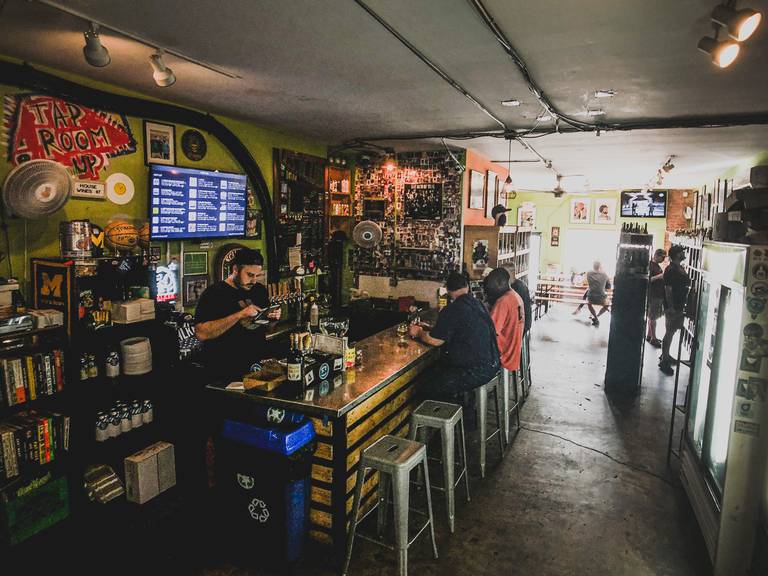 Jason Glunt had a simple vision when he opened Salud Beer Shop nine years ago: He wanted an inclusive place where people could hang out, drink good craft beer, and enjoy things that were a reflection of his life, which is why he adorned Salud's walls with old-school Charlotte Hornets memorabilia and constantly has old-school hip-hop coming out of the speakers. He never thought his small, corner shop in the NoDa neighborhood would receive any kind of recognition–especially on a national level.
Once again, Salud Beer Shop has been named the "Best Beer Bar" in the U.S. by USA Today's 10Best Readers' Choice Awards. It's the third straight win in this category for Salud, which beat out a host of über-popular beer bars across the country, such as Falling Rock Tap House in Denver and ChurchKey in Washington, D.C. "It's just a great surprise," says Glunt, who co-owns Salud and the upstairs brewpub, Salud Cerveceria, with his wife, Dairelyn. "Just to be nominated is crazy, especially with all of the amazing places also up for the award. We're thankful for all the support."
The yearly contest took place over a month and a half and began with a host of national craft beer writers whittling the nominees down to 20. From there, it was up to the people, who were able to vote once per day for their favorite establishment. The award's subjectivity is not lost on Glunt, but he adds it also speaks to the craft beer community cultivated in not just Charlotte but across the region, as many out-of-towners have visited Salud for its rare beer selection in package and on tap, as well as the shop's annual sour beer festival, SourFest.
"We get that it's a fan vote popularity thing but to us it's still pretty cool recognition to have" Glunt says. "And to have it come on the week we're celebrating our nine-year anniversary is great, plus the fact that we can bring some positive news in this climate."
Like many local establishments over the last year, Salud has felt the effects of the pandemic, having to pivot the business to a completely online service while the heavier restrictions were in place, along with offering delivery for the first time. "It almost seems like years ago that we did all of that," says Glunt. "But when you have no choice but to adapt or die, you just do it. It was stressful converting all of our inventory to an online store in just one weekend and then of course you worry about your employees. One thing that helped was knowing that everyone else was going through it. I was constantly talking to friends in the industry and that helped to know that you weren't alone. And we just made it happen – the employees made it happen – and we got through it."
Things also quickly hit home for Glunt last winter, when he tested positive for Covid-19 and had to step away from the shop for a few weeks while quarantining. "It was a scary time for us, my whole family," he says. "It makes it real, and I'm always reminded of that-even now. We need to remind people it's not over yet."
Because of the current restrictions, there won't be a huge party for the award, or even Salud's anniversary. However, plans are in place for future festivities, along with the return of SourFest in 2022. Also, look for Salud Cerveceria to slowly begin adding events back later in the year, such as its weekly, curated Wine Down Wednesdays and Noche Latina, held one Saturday a month with various Latin DJs. The diversity that Salud features and welcomes is one of the things Glunt says he's most proud of, noting that Dairelyn (a Dominican Republic native) plays a key role in the ongoing effort. (Last August, Salud Cerveceria also brewed and canned a beer, Soliloquy of Chaos, with proceeds from sales going to Emancipate NC and Carolina Migrant Network.)
"It's her vision; it's why we proudly have a Dominican flag hanging–hell, it's why the brewery's name is in Spanish," Glunt says. "We embrace it all, who we are. No matter your background or race, you should feel comfortable where you go and that's what we promote here. Equality shouldn't be a divisive issue."
As restrictions begin to lift and more people allowed back in establishments, Glunt says he's looking forward to celebrating with familiar faces who helped Salud capture the three-peat. "This is all because of the people, our regulars who have helped make this place what it is," he says. "It's just amazing to think that a little place in Charlotte could win this big award."