Same-Sex Marriage: Battle After the Ballot
According to one side, the fight over the marriage amendment is just beginning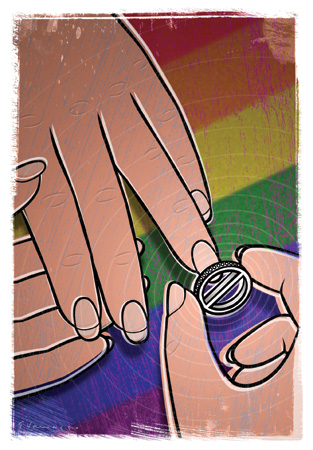 On May 15, Alice Phelan and her partner of twenty-nine years, Sally Young, walked into the Mecklenburg County Register of Deeds office and attempted to do something that's illegal: get married to each other.
They showed their driver's licenses to the clerk. "I'm sorry," the clerk said. "According to NC general statute 51-1-2, marriages between persons of the same gender are not valid in the state of North Carolina."
In response, Phelan and Young read a statement to gathered media. "We love each other deeply, and one day we hope to see this law changed on the federal level, so gay and lesbian couples can be married across the country."
One week earlier, North Carolina voters approved a constitutional amendment that made the marriage of one man and one woman the only recognized domestic union in the state. Phelan and Young's act of civil disobedience is just a preview of a prolonged challenge.
"Undoing a constitutional amendment is a very difficult thing," says Shawn Long of the LGBT rights organization Equality NC. "The long term solution is legal challenges, and the ultimate fallout will take years and be decided in courts." Equality NC set up town hall meetings, where participants began their search for "pro-equality" candidates for state office. The organization is also working with the American Civil Liberties Union to pursue a broader legal challenge.
United Family Services (UFS), which assists domestic violence victims in Mecklenburg County, is working with the North Carolina Coalition Against Domestic Violence to advocate for domestic violence victims, should they become negatively impacted by the amendment. Amanda Wilson of UFS points to Ohio, where, after voters approved a marriage amendment in 2004, defense attorneys successfully argued for domestic violence cases involving unmarried couples to be dropped.
Supporters of the amendment believe that the talk of years of court battles is wildly off base. "That's ridiculous, [the other side] is upset because they lost," says Tami Fitzgerald of Vote For Marriage NC. "We do not expect a great deal of litigation." Fitzgerald adds that Idaho, which passed a marriage amendment in 2006 with the exact same language as the North Carolina amendment, has yet to face any legal challenges.
Gay and lesbian couples promise they won't move on. On that May afternoon, another lesbian couple, Laurel and Amy Rose, who were legally married in the District of Columbia, fought back tears after they were also denied a marriage license in Charlotte.
"I didn't really expect to [cry]; it's just emotional," Laurel Rose says. "They really say no."