Santa Bar Crawl, SantaCon, Ugly Christmas Sweater Party and More, Dec. 10 to Dec. 13
It's beginning to feel a lot like Christmas. From ugly Christmas sweater parties to Santa-themed bar crawls, the Queen City is decking its halls throughout the weekend.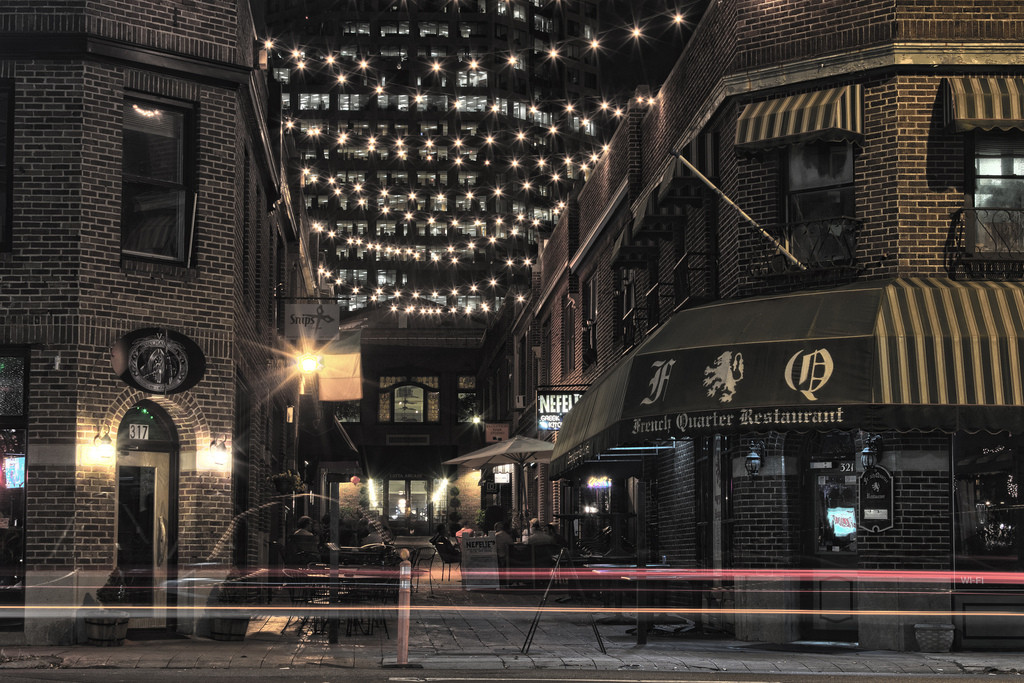 Holiday cheer is here this weekend as Charlotte Ballet's "Nutcracker" returns, two Santa-themed bar crawls hit Uptown and ugly Christmas sweaters reign. It's the most wonderful time of the year, Charlotte. See y'all out there.
Thursday, Dec. 10
Charlotte Ballet "Nutcracker" Opening Night
The annual holiday tradition is back. Join Charlotte Ballet as it tells the story of Clara and The Prince with the help of more than 100 dancers. Charlotte Symphony provides the live music. Tonight's show starts at 7:30, and tickets start at $25. Buy them here.
Friday, Dec. 11
Ugly Christmas Sweater Party
This is maybe the only time you could win money for wearing terribly tacky clothes. The ugliest Christmas sweater at Blackfinn Ameripub tonight wins $200. Get into the spirit tonight starting at 9 at this free party. Blackfinn is at 210 E. Trade St.
VTGCLT Pop
The same folks who bring the VTGCLT Holiday Market bring you this pop-up market in the old Goodyear building in Uptown, 100 E. Stonewall St. The market, which features items from 85 different vendors, opens today and runs through Dec. 20 from 11 a.m. until 7 p.m. Each day features a different special guest. For the list of special guests, go here.
Paint Party at Vida Vida
If you didn't snag your Christmas gifts at the VTGCLT pop-up market, here's your chance to paint your present. This night of painting comes complete with free appetizers and drink specials. Tickets, which include the painting supplies, cost $15 in advance or $20 at the door. Vida Vida is at 210 E. Trade St., and the party begins at 8 p.m. Buy your tickets here, Picasso.
Saturday, Dec. 12
Santa Bar Crawl
Get ready to shake that belly like a bowl full of jelly. Throw on that Santa costume you obviously just have around the house and take to Uptown for the 16th-annual Santa bar crawl. According to the event website, last year's crawl brought 1,750 naughty and nice Clauses to the city's center, so be prepared for a lot of merriment to be made. There are about 20 participating bars along the crawl, and registration is at BAR Charlotte, 300 N. College St., from 3 p.m. until 5 p.m. Tickets are $20 in advance or $25 at the door. Buy them here.
Jingle Bell Ball
For two decades, Safe Alliance has thrown its annual holiday gala to raise money for its mission to help Charlotteans in crises. This year's event is at the Bechtler Museum of Modern Art, 420 S. Tryon St., starting at 8 p.m. Tickets are $75 and include a live band, heavy appetizers, beer and wine and raffles. Buy your tickets here.
Scottish Brunch and St. Martin's Cross Special Bottle Release
In celebration of its first time bottling a St Martin's Cross-style beer (a Scottish ale aged on Talisker single-malt Scotch and oak), D9 brewery and chef Tim Schafer invite you to the Cornelius taproom for Scotch-tinged ale and a Scotch-themed brunch. Serving is at 10:45 a.m. for this food fest at 11138 Treynorth Drive. Tickets are $25. Buy them here.
Beauty Ball Eve: A Networking Event
Bring your business cards and an appetite tonight as the Westin opens its doors for this networking night. A $22 ticket buys you cocktails, appetizers as well as entrance to the event with Charlotte's professional crowd. The evening starts at 6:30 at 601 S. College St. Buy tickets here.
Sunday, Dec. 13
SantaCon
If you're still wearing your Santa costume from the Santa bar crawl come Sunday morning, you're in luck! Uptown hosts the 2015 SantaCon today, another pub crawl featuring crawlers dressed as Saint Nick. The free event begins at noon at French Quarter, 321 S. Church St. But that assumes you even left last night. Bring a toy to donate!
Masquerade Christmas Charity Ball
This gala benefits families whose homes have been destroyed in fires, and who wouldn't want to help with that cause? Throw on your finest jewels and head to the Hampton Inn SouthPark, 6700 Phillips Place Court, at 3:30 p.m. for this masquerade ball. Tickets are $45. Buy them here.
Charlotte Beauty Ball
If you're wondering where all the beautiful people in Charlotte went Sunday, it's here. Formal attire is required at this event at the Westin, 601 S. College St. The event begins at 5 p.m., and ticket prices vary. Buy them here.
Verify dates, times, prices, and other info at the web addresses listed for each event.
Be sure to bookmark www.charlottemagazine.com/Blogs/Dusk-Till-Dawn to stay plugged into Charlotte's nightlife and social scene. Click here to sign up to receive the weekly Dusk Till Dawn e-newsletter.
Want your event featured in Dusk Till Dawn? Follow me on Twitter @Jared_misner and let me know about your event, or send me an email at dusktilldawnblog@gmail.com.
Send Jared an email at DuskTillDawnblog@gmail.com, or send him a tweet @Jared_Misner.

Also by Jared Misner:

→This Weekend's Social Events
→Bowling For Books, First Friday Fort Mill, Electric Luau Party, Soulmatic Carolina Music Fest and More, Aug. 6 to Aug. 9
→The Moon Walk, Candy Fest, Silly String Party, Booze Cruise and More, July 30 to Aug. 2
→Christmas in July, More Christmas in July, National Dance Day, National Tequila Day and More, July 23 to July 26