Saturday Morning Prep for DNC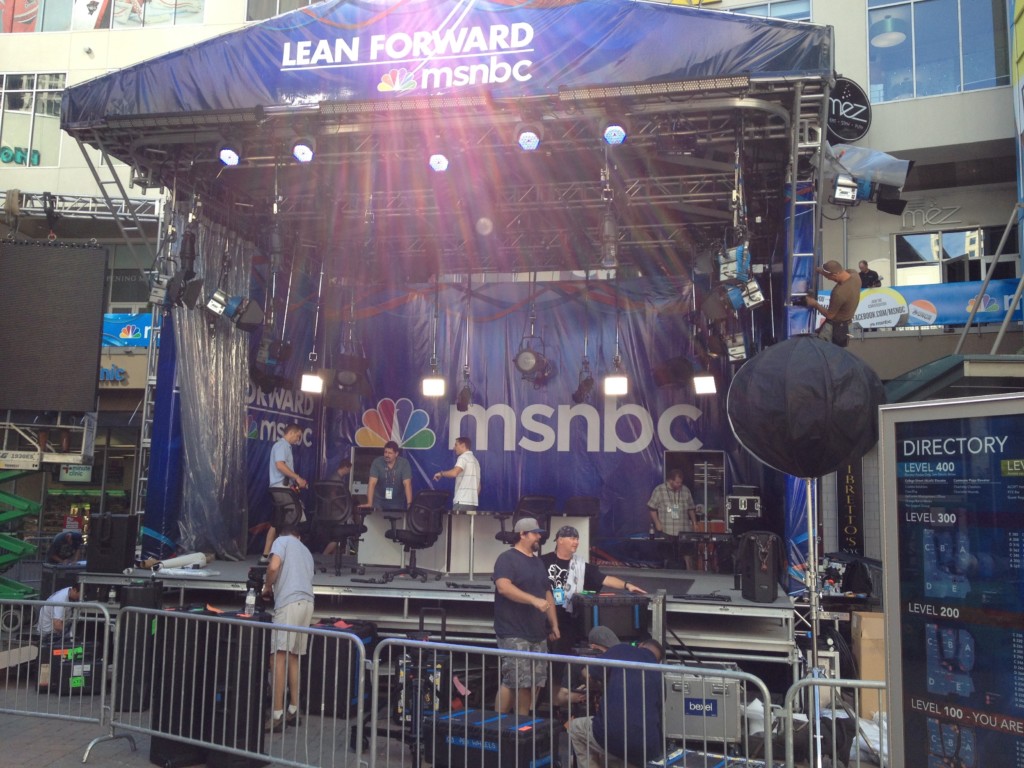 On this steamy Saturday morning, I took a long walk around Uptown Charlotte, to see the DNC prep. Things were pretty quiet. The phonebooks had been delivered (nice timing). A woman was chalking th menu on the sandwich board outside Something Classic Cafe next door to Foundation for the Carolinas. The Hearst Plaza was walled off and guarded. Ri Ra seemed sleepy, but apparently Piers Morgan was inside pregaming for a soccer match. Most folks walking around were wearing some sort of credential. A lot of others were pushing strollers (like me, incidentally), gawking. A large MSNBC set was going up in the EpiCentre, where a man argued into his cell phone that Barack Obama had four years and didn't get the job done.
Did I mention it was hot?
Outside the Ritz Carlton, it smelled like fish. Because a large truck was being emptied of its contents, which I assume was said fish. Every once in a while, a phalanx of cops, decked out, would stroll by. A saw crews from Gaston County and Cornelius. I saw police officers on motorbikes, bicycles, foot, and horseback. I saw FBI. I may have seen Secret Service but, you know, they're secret.
CNN Grill has replaced Vida Cantina in EpiCentre at College and Trade. The big CNN bus was parked outside. And I spied Wolf Blitzer in shorts and short sleeves, crossing Tryon at Trade. Our conversation.
Workers hired by the Myrtle Beach tourism department were putting the finishing touches on a large, somewhat creepy sand sculpture of Barack Obama, which @GOP has already tried to spin as a monument to the president.
Dean & DeLuca was hopping. So was 7th Street Public Market. Vapiano's was not, although it looked inviting enough.
I picked up a credential at the Convention Center, got a quick look at the Charlotte magazine workspace. It's small, but we're in the action.
A sign outside Uptown Cabaret: Official "Party" Headquarters.
Walking back north, a streetsweeper cleaned off the Tryon Street overpass. All the museums had shiny new banners adorning the sides of their buildings. It looked pretty cool. Anthony Foxx's Legacy Village was going up next to the Gantt. Google's temporary headquarters at Third and Tryon were almost finished. Apparently, the Google party Thursday night is the one on everyone's list. Star-studded (Google? Really?), hard to gain entry.
It smelled like pizza for a bit, then sweat. Lots of people were outside the Starbucks on Tryon, smoking. Security forces kept rolling in, but they smiled easily.
It was the calm before the storm.
Click on any image to begin slidehow.