Sausage, Biscuits, and Tear Gas
When night turned into morning on one of the most volatile nights in the city's history, a journalist and Charlotte native tried to make sense of what he saw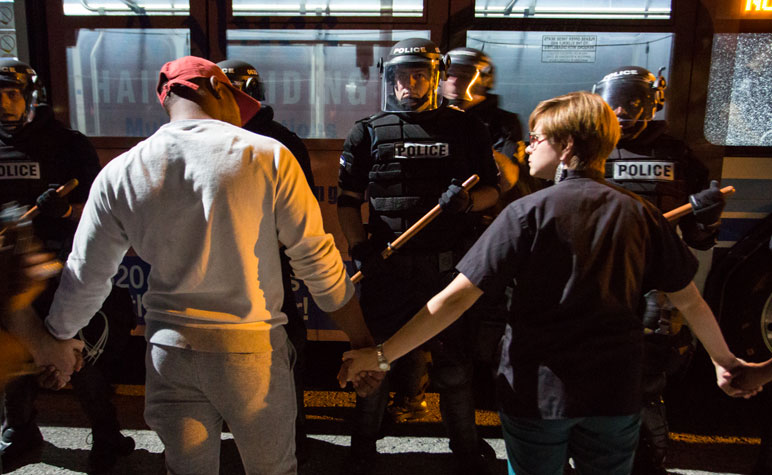 I slouched in a booth at an empty University-area McDonald's at dawn trying to decide if the itchy sensation behind my eyelids was from the tear gas or staying awake all night.
My hands shook from a mix of adrenaline and caffeine. My phone buzzed every few seconds with new social media notifications. An editor from Paris called to ask about buying some photos I had taken.
We're trained as journalists to be objective, to put our feelings in a box. And for nine hours Tuesday night into Wednesday morning, I did. I dodged flying rocks, asked questions, took pictures, and tried, unsuccessfully, to avoid tear gas.
I was able to keep the lid on my emotions until I slid into that booth with two sausage biscuits and an enormous coffee I didn't need and tried to make sense of what I witnessed in our city. My city. My home city. Home. Not some disconnected place on a TV screen.
But I couldn't make sense of it, not yet.
---
I ALMOST DIDN'T GO to the protest. I was tired and wanted to sit on my couch with a bowl of cheesy pasta. But as the crowd grew in northeast Charlotte, as they cried over another black man shot by a police officer, as they smashed the windows of a patrol car, I left a half-eaten bowl of pasta on the counter on my way out the door.
CMPD officers stopped traffic about half a mile from the scene, so I left my car in an elementary school parking lot along Old Concord Road and walked across a bridge over Harris Boulevard toward. I felt the thud-thud-thud of helicopter rotors in my chest. Flashing blue lights cut through the dark railroad line parallel to the road.
Maybe 30 minutes after I hit the street, I heard a bottle break. Then someone threw a full water bottle. People in the crowd turned around and told others to stop. Throwing things would only make matters worse, they said. But the things kept flying and breaking. Plastic popped and then glass shattered and then rocks clanked against Kevlar helmets and then bricks thumped into car hoods. Finally tear gas canisters landed on asphalt with a crack.
I've been tear gassed before, on assignment in another city, and it is—to put it nicely—an unpleasant experience. Tuesday, when I started choking on my own snot, I knew it was time to run for fresh air, across a bridge and toward my car.
---
I'VE SPENT A LOT OF TIME this year thinking about how we will judge this period in American history a few decades from now. Will we look at 2016—to say nothing of Charlotte's 2016— and say, "Damn, that was a messed up year," or will it be a blip on a radar? We thought 2000 was a hot mess and then 2001 rolled around.
This protest felt different than others I've covered in Charlotte. For one thing, it turned violent—Charlotteans don't burn stuff in the middle of I-85 and the city's police officers don't launch tear gas—but it was more than that. It felt like our long festering divisions by race and income and equality finally exploded into tragedy. And, to be clear, this whole story is a tragedy. A father of seven is dead. Police officers are hurt. Property is damaged. A city is scarred.
Sitting alone in a fast food restaurant, I couldn't decide whether the day and night we just endured was a pivotal moment in Charlotte's history, a moment when we became willing to understand each other—or whether it would be a footnote.
That's when the tears started to fall. And I realized the pain I felt wasn't from tear gas or an all-nighter.
Adam Rhew is associate editor of this magazine. Reach him via email, adam.rhew@charlottemagazine.com, or on Twitter: @AdamRhew.