Save the Date: The Blissful Wishes Ball, November 12, 2010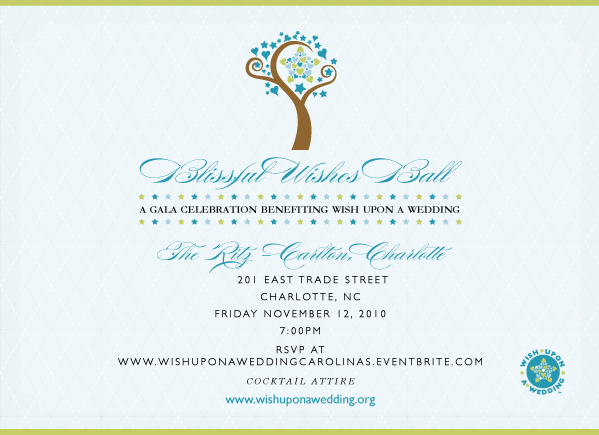 I'm so excited! Tickets for the Wish Upon A Wedding, The Carolina's Chapter Blissful Wishes Ball are finally on sale!
Not only is it for a great cause—Wish Upon a Wedding is a nonprofit, which grants wedding wishes to couples facing terminal illness and life-altering circumstances—but the event itself will be so much fun! The Friday, November 12 night cocktail attire soiree at the fabulous RItz-Carlton Charlotte in uptown will feature dinner, drinks, dancing, and a silent auction to raise funds for for the organization. (Oh, and it's also the perfect excuse to find a cute date and get him dressed up in a tux!)
You don't have to be a bride or wedding vendor to attend! Anyone up for learning about and celebrating a great cause can purchase a ticket here and join in the fun. For more information about the Carolinas Chapter, visit its Web site.
Wish Upon A Wedding's mission is to provide weddings and vow renewals for couples facing terminal illness and other serious life-altering circumstances, regardless of sexual orientation. I might be a little biased (I'm on the board for the Chapter) but I still think it's going to be a fabulous Friday night event worth attending! I hope to see you there!