Saving History
The Charlotte Museum of History was flying high in the late 1990s, with a brand-new building and scads of donors. But it fell on hard times and closed earlier this spring. In a city that some say doesn't value history, can the museum find its way again?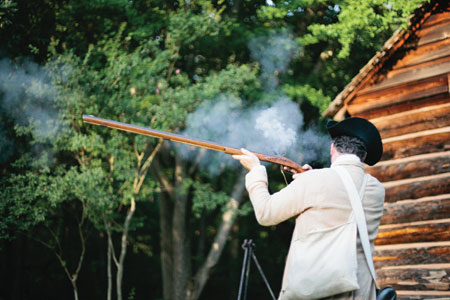 On a warm Saturday evening in September, three food trucks lined the driveway of the Charlotte Museum of History's packed parking lot, and curious guests attending an open house were directed by upbeat, smiling museum volunteers:
That noise? That'd be the muskets. Head over to the Hezekiah Alexander House to see the docents in costume, you don't want to miss that. But maybe you'd like to start inside, with the exhibits? You're free to roam and see everything we have. Don't forget to go upstairs. And we'd love to hear from you during the community forums; the next one's starting in fifteen minutes.
Inside the sunny conference room, interim museum director Kathy Ridge, giving a community forum presentation, is on the fourth screen of her PowerPoint: "Financial History."
Speaking to a group of fifteen, Ridge runs down a list of long-ago administrators, from the Daughters of the American Revolution and the Mint Museum, to city government and the county Parks and Recreation Department. She clicks over to the fifth slide. "Financial Crisis Point."
From the back row, Sheryl Jacoppo raises her hand with a question. She pauses, as if to explain herself.
"I used to work here," Jacoppo says.
The open house, with all its cheer, wasn't the September bash the museum had planned to hold.
Awarded a delegate welcoming party during the Democratic National Con-vention—an extraordinary historic moment for Charlotte—the museum should have been basking in an unprecedented opportunity to show off the grand vaulted ceilings, the custom staircase, and most of all, the story of the city.
But the Charlotte Museum of History wouldn't or couldn't be kept open, not even long enough for the convention. When it closed in May because of financial difficulties, staff members like Jacoppo had already been laid off, and the museum has been reorganizing since. The delegate party was reassigned, as if the museum had been whisked away by a vaudeville hook from stage right.
When ground broke fifteen years ago on the gleaming white, 36,000-square-foot, $7 million museum building off Shamrock Drive, replacing a small building that once served as a quaint welcome center to visitors bound for the historic Hezekiah Alexander house, six-figure checks were coming in from donors. The new museum building made a statement: We're an institution, here to do big, serious, permanent things.
A lot led to the museum's closing. Talk to people who've been involved with the museum at some point and you'll find heartstrings wrapped around the buildings, the grounds, the memories made there, and perhaps most of all, the dazzle of potential.
But history, especially American history, is full of multiple acts. Fans want to find a way to make it possible for the museum to come back, stronger and wiser this time. And in the process, they're going to be answering an unforgiving question: In a city known for bulldozing its own history and an obsession with the future, are people willing to commit to this place once and for all?
No one wants a museum to stumble. That'd be like cheering for a public library's closure, or reduced benefits for injured veterans. To do so would fall somewhere between unseemly and unpatriotic. Perhaps that's part of why when Charlotte magazine spoke with nearly two dozen people with ties to the museum for this piece—some with old ties, some new, some on a volunteer level, others paid staff—there was one common thread: People answered questions with nostalgic sighs. They launched into stories about the good times. They asked whether the magazine had uncovered any promising updates pointing toward a swift, vibrant recovery.
Several described themselves as wistfully waiting for a call saying it's time to come back. "The docent corps was very strong until about six months before the closing," says Jim Williams, treasurer of the Mecklenburg Historical Association. "A lot of these people are still standing around asking: 'What happened?'"
The concept for the museum and grounds was launched in the 1940s, as an effort by the DAR to restore the Hezekiah Alexander House. (Alexander was a signer of the controversial Mecklenburg Declaration of Independence.)
In the years that followed, unofficial tours began, and then in 1976, a small welcome center and museum was built. By 1990, a private foundation then named after the homesite took over administration and raised more than $3 million for an endowment. The 1990s were a decade of momentum, excitement, and ambitious ideas; supporters began talking about a much larger, iconic, artifact-collecting museum. By 1999, they had one.
But still, challenges nagged. The museum, many people say, didn't build a reputation as the place to experience the story of Charlotte. The exhibits didn't always tell a clear, compelling narrative of the city, and the museum faltered by never picking one path and committing to it. In one room, there was a display of equipment from the Charlotte-Mecklenburg police department. In another, a diorama of the city before it was developed. The exhibits were popular on their own but made for an incongruous whole. Just out back, on a path leading to the historic home, there's a bell meant to remind people of major moments in Charlotte's past. Unlike the Liberty Bell in Philadelphia, which had a supporting role in real events, the "American Freedom Bell," a gift from the Belk Foundation in 1999, is meant only to "symbolize the patriotic heritage of the people of Charlotte." Pretty? Sure. But something was missing.
Some felt the museum should focus on pre–Civil War history, both to reflect the museum's Revolutionary heritage and to avoid encroaching on Levine Museum of the New South, which opened in 1991 and which most everyone agreed has nailed 1865 through the present in a concise and engaging way. A strategic plan, which the history museum commissioned in 2007 for $193,000 (a gift from a patron), recommended telling the story of all three centuries and not viewing 1865 as some sort of artificial line; the board agreed.
Still, ten former employees or volunteers, independent of each other, used the same phrase when describing the museum leadership's biggest misstep: You can't be all things to all people.
Some worried visitors to a Southern museum expected more about the Civil War, in which Charlotte didn't play a pivotal role. Others felt recent programming focusing on new immigrant groups received far too much emphasis.
There were leadership issues, too: the director position at the museum turned over five times in the last dozen years. The most recent director, Angelica Docog, left the museum to run the Institute for Texan Cultures in San Antonio. Docog would not comment for this piece.
But Ridge says the museum's problems aren't limited to internal issues—research shows that Americans are losing interest in history, she says.
Local attorney Scott Syfert, a cofounder and vice chair of the May 20th Society (another Mecklenburg County history appreciation group), doesn't buy that. Syfert says thousands of people have either taken part in the city's just-launched Liberty Walk uptown or attended the 2010 unveiling of the Captain James Jack statue on the corner of Fourth Street and Kings Drive.
"In the last ten years, [the museum's] market share has been gradually eroded by uptown museums like the Levine, the Bechtler, and really focused groups, like the greenway project [the Mecklenburg Trail of History, along the Little Sugar Creek greenway]," Syfert says. "Like any business, they need to retool their plan."
In 2011, 22,403 people visited the museum, compared to Latta Planta-tion's 35,941 and Levine Museum of the New South's 68,802 visitors, according to the Arts & Science Council.
The recession, of course, did not help. Since 2008, many nonprofits have seen declines in admissions, grants, and gifts. In 2009, the museum received an operating grant of $347,928 from the Arts & Science Council. In 2010: $219,853. This fiscal year: $92,830. (The museum's annual budget has ranged from $1 million to $1.5 million.) Layoffs in 2011 and 2012 took the staff from twenty-one to seventeen, then a half dozen, and now one full-timer and one part-timer, plus contractors. Operating hours were reduced.
As legitimate as the recession woes are, the museum was not steeled for unexpected turmoil.
Some staff and volunteers say money never seemed to be a problem—and maybe that was the problem. Those who were privy to more details say financial problems were an issue long before 2008.
"There are different external and internal images of the museum. Back then, we were struggling too," says Edith Woodcock Brady, who was the museum's education coordinator from 1998 to 2000 and is now director of the High Point Museum.
"There was a lack of diversity of donors, a lack of rainy-day fund," says Ridge, who was brought in to help the museum reorganize during the closure. "It's an illustration of what can happen if you're not always thinking, who's our next generation of supporters, how do we get more people involved?"
Beyond the lack of reserves, the museum has also suffered some as a result of its relatively small endowment. As important as grants and donations are, many nonprofits count on the financial stability provided by large endowments, safely tucked away and doling out annual returns. The museum declined to give exact numbers, but tax records show the foundation has at least $3 million in permanently restricted net assets. That's a good amount of money, but not large enough to generate the sort of interest numbers that help large organizations weather tough times.
The night of the open house, the museum feels busy, which isn't always easy in a large space. Remember some recent history here: Prior to 2008, it was considered a smart investment to go big on real estate. The museum's reception-hall look was deliberate and meant to be shrewd: Weddings and other special event rentals were becoming the way many museums, historic homes, and other nonprofit buildings generated crucial revenue on the side. However, that payday comes with its own issues—rental revenue has brought in nearly $40,000 a year in the past, but board member Mark Henriques told open house visitors that upping rental business would require a full-time staff member, which would cancel out much of the revenue.
Regardless of whether you consider the architectural style favored around Charlotte in the 1990s gorgeous or ostentatious—the museum building would fit in among Lake Norman mansions built during that decade—it clearly favors form over function.
Various former staff members describe the museum's board in the 1990s as well meaning, with a lot of business expertise, but without extensive knowledge of museum design. For the new building, the board hired a local architect and builder who didn't have experience designing museums. It showed.
"They (the board) told me they wanted people to pull off the road and say, 'wow,'" says Jack Copeland, the architect. "What people working in archives and collections want is a brick box with no windows and special air systems. I don't think the board knew a lot about collecting and humidity. They wanted a building where people could flow, and I designed a building where people could do that."
Windows were put in rooms meant to house artifacts—which are notoriously vulnerable to light—and had to be boarded up before staff could move in. The dramatic glasswork and two-story foyer created energy-efficiency problems and water condensation (another artifact enemy), so significant that a HVAC study had to be commissioned. Curved walls, a style choice, made setting up and hanging exhibits complicated. Despite the building's huge size, there wasn't enough storage space.
"The building is what the building is and it's not going anywhere," says former docent Gary McCullough, sixty-two. Stored in his home today is the period costume made by his mother, an accomplished seamstress, he'd once enjoyed wearing as he led tours. "Whether anyone thinks it's well designed or not, they've got to make it work. It's what you put in the round-walled galleries that matter. Get the artifacts out of the closet, get them on the floor, and tell people all the stories they didn't hear before—about the Catawba Indians, about Thomas Polk, about Liberty Hall, about how Mecklenburg was first not a county of towns, but of seven colonial Presbyterian churches."
There is a potential fourth category of criticism: location. Plenty of folks say, Come on. We're talking about a location all of six miles from Trade and Tryon. But that's still well outside "the magic circle," as one former employee ruefully referred to uptown. Several mentioned feeling the museum missed out on the necessary enthusiasm and high-decibel buzz they believe bolsters the cluster of uptown museums.
"It's easy to park there [the museum] and when you're in the mood to be a tourist, driving fifteen minutes isn't a problem," says former development staffer Halley Cella, who now works at the South Carolina Historical Society. "But I think the museum misses on the energy and focus, especially from younger people, because it's not uptown."
"It's tricky, because the east side of town has real history," says Brady. "But that's a problem within itself: real history. Charlotte doesn't like to look back."
Perhaps it's easy to forget there's a good reason the museum is located deep on the east side—a unique reason.
The definition of the word unique, through misuse, is a bit muddled these days. But it means something powerful: It is the only one of its kind.
A building in Boston or Williamsburg from the colonial period or Revolutionary War era is a marvel, but it is not lonesome. In Charlotte, it is a bit of a miracle.
Flanked by replanted native trees and a creek, the 5,000-square-foot Hezekiah Alexander rock home, circa 1774, is a gorgeous, authoritative, and inspiring testament to the value of expert preservation efforts. The home, technically owned by Aldersgate, the Methodist retirement community, and on long-term lease to the museum, is the oldest surviving structure in Mecklenburg County.
"Oldest surviving structure" sounds like a line in a school textbook, something for a student to memorize and recite. The phrase does not do justice to the home's significance, especially when you consider the context of this city: our sparse collection of still-standing historic churches date to the 1800s. An old home in Dilworth or Myers Park was built in 1910 or 1920. Never mind what qualifies as an old place of business uptown.
The Alexander home is not exclusively where, nor how, Charlotte's story began, but it's like the crisp page in a hardcover book that reads: Chapter One.
With two stories of solid stone, a full basement, and an attic, it's tangible proof that when someone says Charlotte is a young city, they're missing part of the story. Fans of the museum want the focus back on the house—for good reason.
"When you stand in the parlor of Hezekiah's house, and talk about the conversations that must have been held there—about the king and his increasingly irritating taxes—you get hooked," says former docent Alice Bostic. "It's really important for people to hear the story in that setting. People don't understand how old this city is, older than Raleigh. The best way to know that story is the museum and the house."
"Everything seems so focused on the city's restaurants and a ballpark, while a history museum remains closed. I don't get it," Bostic adds. "I'm just heartbroken that the world came here [for the Democratic National Convention] and I couldn't tell them our amazing Revolutionary War history."
Interim director Ridge, who has a background in nonprofits and finance and says she is a turnaround specialist, along with board chair Mary Turk-Meena, an attorney and partner at K&L Gates, are well aware of problems in the museum's past.
They've heard it. They get it. But they're not wasting time dwelling—and they're asking everyone else interested in the survival of the museum to do the same.
Instead they've been placing phone calls, visiting other museums and historic homes, meeting people for lunch, meeting people for coffee. They're in the thick of fact-finding, studying comparable institutions, and debating combinations that have worked elsewhere, such as history museums that have paired with arts organizations.
"What should we be? What could we be? How do we make it more engaging, interactive?" Ridge says one recent evening. Even after a full day, her voice remains as energetic as a school teacher at the beginning of a new semester. "What was done by this museum in the past—forget that. Let's change our assumptions about how to do this. We're thinking about interactive programming, about a place that's not a hush-hush place but a place for kids, too. We're not at a point yet where we're focusing on specific historic periods. We're looking at developing the stories about Charlotte that aren't being told anywhere else." But every idea, Ridge notes, needs to be financially viable.
Working with volunteers and contractors, they're evaluating all the pieces of the museum and the Alexander house, including the seven-acre grounds, the more than 7,000 artifacts, a paper archive of maps and photographs, and the permanent exhibits about the early stories of Charlotte.
The goal is to have a reopening plan ready to unveil by the end of January 2013, Ridge says. The museum has a Facebook page and Twitter account (@CLThistory), and they're open to community input.
"The most important thing is that we're not looking back; we're not trying to reestablish anything. The best thing the community can do is provide feedback. Not blame, not analysis on what went astray, or saying 'You did this wrong'—that's not helpful. What's helpful is telling us how you want Charlotte's story to be told," Turk-Meena says. "I think we have an extraordinary opportunity to do something really special in Charlotte."
The September open house was the first in a few steps to test public interest. That night, in the Alexander house, a docent showed visitors the long-leaf pine floor of the children's rooms and spoke with excitement about how, 237 years ago, the house was a hub of enormous change. Mary Sample Alexander was about to go into labor with her tenth child, and outside, a war that changed a nation was about to begin. Like many groups prior, visitors had as many comments about what life would be like with ten children as they did about the straw-stuffed mattresses and smoking pipes. The truth isn't hidden: The docent explains that it's likely that slaves were the source of a lot of childcare for the family.
Two hundred people came to the event. A week later, the museum announced the house would reopen to the public on the first Saturday of the month.
So do Ridge, Turk-Meena, the former staff, and all the volunteers think the community is ready to fully embrace the museum this time? It's hard for them to say. They think history is worth fighting to preserve, and that anyone who doesn't leap at the chance to learn about Charlotte's past is missing out; that's why they were part of the museum in the first place. For people who love history, understanding people who don't is a puzzle in itself.
"I do believe they will figure it out," former staffer Cella says. "The museum and the Alexander house are beloved. It won't all be in vain." -Emily Harris