Saving Uptown's Thanksgiving Day Parade
How a former high school drum major rescued the annual event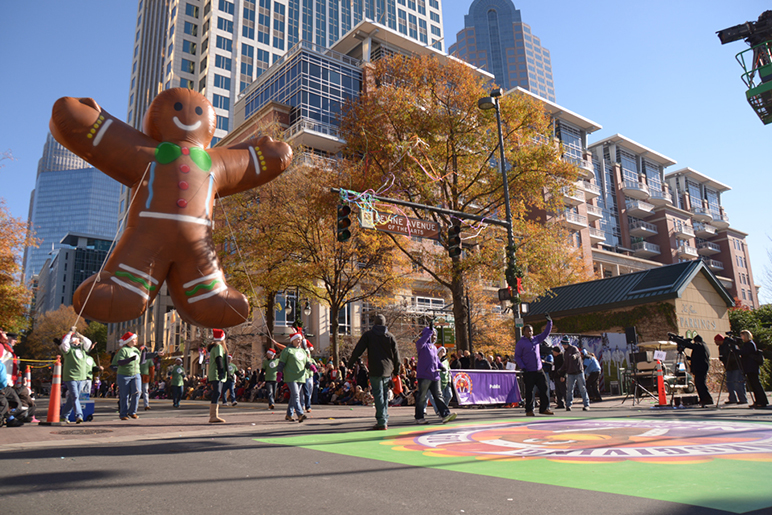 JESSE CURETON was watching the local news one evening in August 2013 when he saw a story that made him reach for the phone: Belk, the primary corporate sponsor for Charlotte's annual but rapidly diminishing Thanksgiving Day parade, was pulling out. There was a good chance that for the first time in 65 years, Charlotte wouldn't have a Thanksgiving Day parade.
"I looked at my wife and literally said, 'There's no way that can happen,'" says Cureton, executive vice president and chief consumer officer for Novant Health. "I went in the next morning and said to my staff, 'Connect with Center City Partners and find out how we can save the parade.' " 
Novant took over the main sponsorship and worked with Center City Partners on a reboot of the event. Last year's edition, dubbed the Novant Health Thanksgiving Day Parade, was a massive production that rekindled memories of the event's heyday in the 1950s, '60s, and '70s—with multiple marching bands, professionally engineered floats, even an appearance by Muggsy Bogues. The crowd, which had dwindled to about 20,000 the year before, surged back toward 100,000.
This year, on November 27, organizers plan even more floats and bands, aiming to establish the parade as a showcase for the city—especially uptown, says Robert Krumbine, chief creative officer for Center City Partners. "To us, this is the heart," he says. "If this is thriving, so is the rest of the city."
Cureton had more than just a professional interest in resurrecting the parade and affixing Novant's name to it.
He marched in the parade as a West Charlotte High School drum major in the late 1970s. His family would always gather at Tryon and Fourth streets. His father would see the same folks there, year after year. As an adult, Cureton took his three daughters uptown every Thanksgiving.
The parade started in 1947 and swelled to one of the biggest holiday parades in the South: marching bands, floats, vendors, clowns, police on motorcycles, and Santa Claus bringing up the rear. Cureton says he can still smell the popcorn.
But as retail businesses fled uptown for the suburbs in the 1980s, the parade withered. Shop owners had little incentive to sponsor a parade that marched where they weren't. Parade organizers had less money for acts and floats, and crowds dwindled.
By 2012, the floats were the kind of plastic-bunting-on-flatbed budget items more appropriate to a high school homecoming parade than a growing city's Thanksgiving showcase.
Cureton saw a chance not just to rescue a beloved Charlotte institution but to promote Novant's public wellness campaign by encouraging people to get outside and moving on the most couch-potato-friendly day of the year.
Krumbine was one of the first people Novant contacted in late summer 2013. "I had to line up a Santa Claus," he says. "Seriously. That was my very first call." He rented building space from Mecklenburg County and hired a team of craftsmen to build a mini-fleet of five professional-quality floats.
He booked 12 marching bands, plus dancers and singers.
It worked. The crowds ran six deep along Tryon on a chilly morning. Cureton could smell the popcorn again—this time, as the parade's grand marshal.