Saving Waist
Wedding gown-friendly guide to holiday parties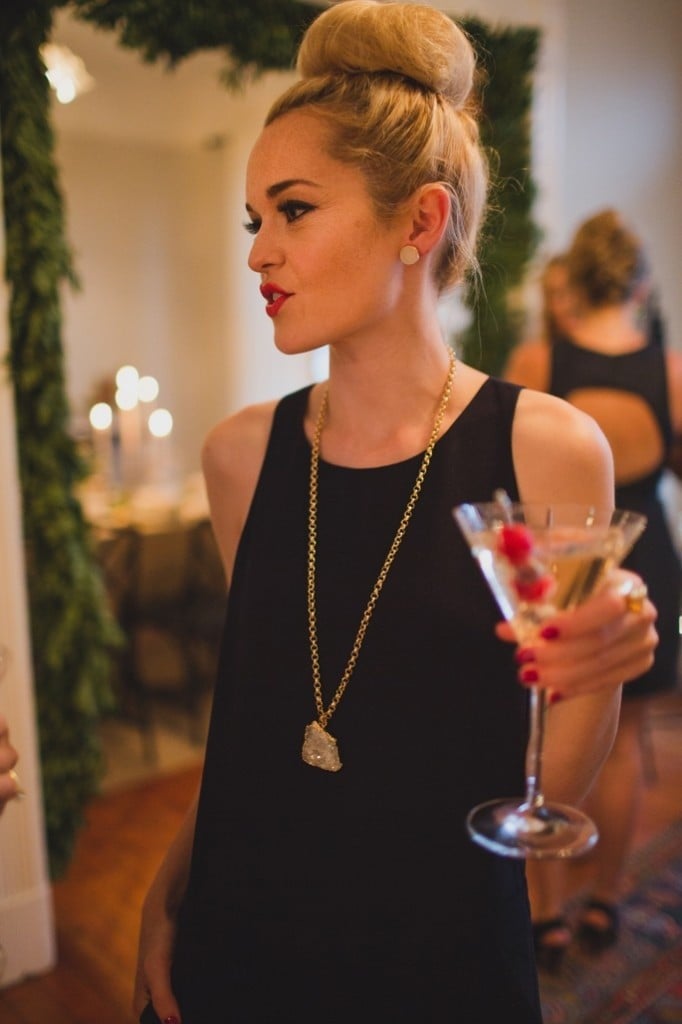 Holiday season has a way of sneaking in extra calories–and inches for even the most diet-dedicated girl. From wine-induced snacking to heavy cream concoctions, this time of year is unkind to the waistline. So for my lovely brides to-be who are watching their figures for the big day, don't feel like you have skip out on festive foods and cocktails altogether. All you need are a few pointers to keep you on track. Coming from an exceptionally large family who throws extravagant parties every year, I've definitely perfected my personal repertoire of safe snacks and go-to drinks for getting through the season without makeup time at the gym or New Year's weight loss resolutions. And just remember, like most things in life, everything in moderation.
In The Clear
When it comes to liquor, the lighter colored options have fewer calories. Not only do darker liquors pack a punch in calories–they're also more likely to give you a hangover. Stick to vodka, gin and rum to lessen the calorie blow.
In The Mix
Don't discount the many calories in mixers. Tonic water has 80 calories per cup while club soda has none. The same can be said for fruit juice, totaling about 60 per cup. If you can brave it–or better yet enjoy it, always opt for on the rocks. By truly tasting the alcohol, you'll be better able to keep in control of the amount you drink and avoid excess liquid calories–not to mention a mean hangover, come morning. Wine is always a good option, or, if you must, light beer.
Well-Rested
The holidays are always a busy time, but make sure to get a good night's sleep pre-party. Feeling well-rested keeps us from overeating to compensate for lack of energy.
Safe Snacking
Many people hold off on eating before a holiday soirée, simply in anticipation of all the delectible bites to come. If you want to avoid eater's remorse the next day, eat a light snack before heading off to your event. A handful of nuts or a bowl of fruit should do just the trick. It's often when you're famished that you negate your diet progress. Avoid this scenario altogether by filling up with your own food pre-party.
First Things First
By sheer logic, the food you eat the most of is the first food you eat. That said, choose your greens or hummus with vegtables first. This way, should you overload to begin with, it will be on healthy choices, rather than poor ones.
A Little Goes A Long Way
Your hankering for Aunt Sally's chocolate chip cookies that's been lingering since last year's event won't simply disappear. And if you allow yourself to satisfy it, you'll be more satisfied–and less likely to snack on a few other items instead. Remember, everything in moderation. Try splitting an indulgence item with your fiancé instead of eating the whole thing. Savoring a portion allows you to truly enjoy the flavor instead of eating it quickly.
Sit To Eat
Save your catch-up conversations and small talk for pre or post-meal time. Carrying on conversations or watching mindless television while eating will always result in more calories consumed. Take a few moments to enjoy your food sans talking.
To Hold
Grab a glass of water before meal time. While it's always nice to enjoy a glass of wine as well, sipping water between bites will help you feel satiated before you overeat–and help to avoid a hangover.