Saving With Style: Ann Taylor Handbags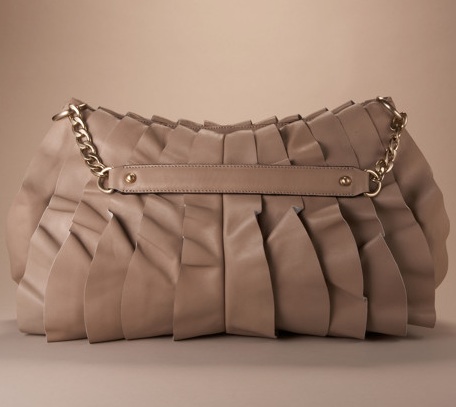 Happy Monday morning Shop Talkers! Did you have a wonderful weekend? I sure did!
Friday night I went out with friends to try dinner at The Liberty, which has a seriously cool decor theme and delicious food (Chicken and Dumplings and English Sticky Pudding with cherry ice cream for anyone who was wondering). Saturday, I headed out to the Metrolina Expo for the Antiques and Collectibles Fall Classic and scooped up some vintage windows, and Sunday I went to the mall for some pre-holiday window shopping and fell head over heels in lust the bag pictured in this post.
There it was, perched oh-so-prettily on a shelf in Ann Taylor – the last place I expected to find such a gorgeous bag (no offense, Ann). The price: $295. A smidge out of my price range (all my bags hover in the $30-$60 range which is why I can justify storing them in pile in a box in my closet that my cat then sleeps directly on top of), but not nearly as out of my range as the bags which (I suspect) inspired this gorgeous style to begin with:
What say, you Shop Talkers. Do you see what I see? The romantic, ruffled leather? Shades of Valentino, no? So, while technically a nearly $300 handbag isn't exactly a "deal", per se, it certainly becomes one if it satisfies the $2,395-hankering you have for one of Valentino's bad boys.
Hope your week gets off to a stylish start! There's a lot going on this week in Charlotte's shopping world so keep your browers tuned to this blog for more info!