Say, Have You Heard About "The Most Fabulous Story Ever Told"?
My Q&A with QCTC's co-founders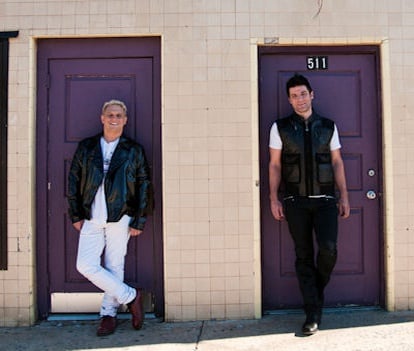 Queen City Theatre Company
co-founders Glenn T. Griffin and Kristian Wedolowski took time out of rehearsals — and dealing with protests, thousands of angry emails, and an ensuing media storm — to answer a few questions about
The Most Fabulous Story Ever Told
. I submitted my questions to them before any of the
controversy
erupted.
Revue: This play sounds like the gayest thing to hit the Charlotte stage QCTC performed "Altar Boyz," and I mean that in a good way. Is this the gayest play you've ever performed?
Glenn T. Griffin: Is this the gayest play we've ever produced? Wow! I don't know. Maybe! There is a lot of gay in it. We have Adam and Steve, Jane and Mable, an ark that turns into a floating circuit party. There is a Pharaoh who is making his gay slaves build the pyramids while he is in love with the man he once found as a baby boy floating down the Nile. We also have Manhattan as an Act Two setting, a stripper dressed as an elf, a gay wedding, and one wheelchair-bound lesbian rabbi. So … is this the gayest play? The audience will have to be the judge of that. We did do Chess, which was written by members of ABBA. That is pretty gay.
Kristian Wedolowski: Yes, it is very gay, but did you see Southern Baptist Sissies or Sordid Lives? [Playwright/comic] Del Shores will argue with your statement!
Revue: Who's the audience? I'm assuming fundamentalist Christians should steer clear. Maybe a better question is: Who will this play offend?
GTG: Who will this play offend? Page, if you would have asked me this question one week ago, you would have gotten a much different answer than today. I have always had a strong belief in God. I don't know what God is or who God is, but I don't think I have to know. I know that there is something there for me, and I am at peace with this. Some people don't want God discussed at all on stage and will fight you about it. It makes them afraid. They are afraid to be questioned, to rethink their beliefs, or to comprehend that someone's beliefs might be slightly different then theirs. It frightens them and they will fight back with full force. I'm talking about a whole lot of emails filling the QCTC in box. But, I'm not afraid of this. There are people who really want to see this play and they will come to the theater, and they will have an amazing time. They will laugh, think, and know they are not alone in their thoughts, ideas, loves, etc. It's scary to feel that you are alone, that you are the only person in the world who might think differently than your neighbor. Paul Rudnick lets us know that this is okay; we aren't alone.
KW: Page, I really like your question. If what I would believe is not your cup of tea, don't come! Wanna see the show? Come to the theater! [What] I don't understand are the requests to shut down a production. What about the large amount of patrons that would greatly enjoy this show? I think that I have such a free soul and spirit that this is something that I could never understand. We live in a world where diversity is one of the most important aspects of our daily lives, and Charlotte is reaching that point where the cultural offerings and the arts are reflecting the growth that the city is experiencing and its multiculturalism. We have something for everyone going on all the time and that's what I truly enjoy when it comes to theater in the region. I always joke that Charlotte is the second financial district after New York so let's make it the second Broadway. Why not? I'm a believer!
Revue: The playwright, Paul Rudnick, apparently takes the Book of Genesis and makes it gay, right? Adam and Eve become Adam and Steve. Does the play take us through other books of the Bible and gay them up, too?
GTG: Paul Rudnick takes us through several books of the Bible and does only what Paul Rudnick does best to them. From Eden, we travel to The Wastelands and then onto the Ark. From the Ark, we are in ancient Egypt where Adam wants to free his homosexual brothers and sisters from slavery. Along the way we do hear about Sodom, The Eleven Commandments, and Adam and Steve argue about the best gift to give a baby: frankincense or myrrh. The Second Act takes us to modern-day Manhattan. which I don't believe is in the Bible. I'll have to look that up.
KW: Adding to what Glenn mentions, we see a lot in common in between the First and Second Acts, and we realize that the First Act is Adam's way of imagining and retelling his own journey through life. He sees his friends and his lover in the quest he has embarked on to find God and what he truly believes in. His desperation for discovering who we are … is what makes this play a beautiful story, told with a great sense of humor and extremely well written. The script is very ingenious.
Revue: Kristian, What part do you play? What are you doing to prepare for the role?
KW: I play Steve, Adam's partner. In the First Act, I'm the other man that was created when Adam discovered he is alone. He realizes that "he is gay … and he is alone." So, another man is created. Steve is the more confident [than Adam]. He doesn't believe in God, and he never needed to. In the Second Act, we discover a lot about Steve and the contemporary issues he is dealing with. It is a complex character and the perfect company for Adam. How am I preparing? It took me a while to create the character. First I tried to find how similar or different Steve is from Kristian and go from there. In this case, I found that Steve is my opposite in many ways and that turned this part into one that I wanted to play to perfection. It is a challenge. I also play against a great actor, Scott Miller, and I think the chemistry is just right. I think Glenn was very smart when casting this show, and the entire cast is extremely talented, fun to work with and very committed to the material. Ah! I almost forgot. I'm also training and dieting. Yes, I don't like it, but this play isn't especially remembered for the abundance of clothing! And, no, we are not doing any nudity! Sorry! But, just in case I'm also spray tanning.
Revue: Glenn: You've seen the play before, right? What interested you in bringing it to Charlotte? Is Charlotte ready for it?
GTG: I've actually never seen this play before; I've only read it. I love Paul Rudnick, having played the title role in a Charlotte production of his acclaimed play Jeffery, and I had originally read The Most Fabulous Story in 2000. When I was looking for a show to fill in a slot for another play that QCTC was unable to do, my mind went back to this play. The play is so funny and deals so well with so many issues. I love that it has real heart to it and that it really makes an audience think. I especially enjoy that it is a play as much about love as it is about the quest to truly understand God in our lives. This quest to understand God is as old as time, but is one that never ends.
The characters ask the questions we have all asked ourselves many times: Who is God? Does God exist? Who created God? What place does God have in our lives? Why does God let bad things happen to good people? I've asked myself these questions and I know that others have as well. We are not alone in trying to understand God. The real question is: Do we need to understand?
Is Charlotte ready for it? Oh, yeah. Charlotte is more than ready. Some people I have talked to in the community are afraid of us bringing shows that might be a little risky for "The Bible Belt," but as artists we can't be afraid. The theater community has to grow just as Charlotte is. You can see growth in a lot of Charlotte theater companies, especially if you look at Theatre Charlotte. I loved that they did RENT last year — a play that many community theaters would be afraid to present due to its content. But with Ron Law at the helm, they are growing and inviting new audiences into their doors. It's very brave, and I respect that. Kristian and I had several theater friends read the play before we finally came to a decision to produce it, and all of them said to go for it. We never really thought that in 2012 people would be taking aspects of the play out of context and protesting about it.

Revue: There's probably deeper meaning somewhere in the madcap comedy. What's the broader message of the play, besides just a fabulous time?
GTG: There is definitely a deeper meaning in this comedy; that is what I love so much about it. While we are laughing, we are thinking. What better way to get a message across? If I have to put my finger on the broad message of the play, I would have to say that it is a play about loving and respecting the differences of the person next to you. We may not all believe the same thing, or worship the same God, and love the same kind of person, but at the end of the day, we all walk on this earth together. If we can finally learn to respect the differences of others, we might just have the Eden that God meant for us to have.
See what all the fuss is about
Feb 2 – 18
.
Details.