Saying Goodbye to Local Museum Leaders
And hello to new talent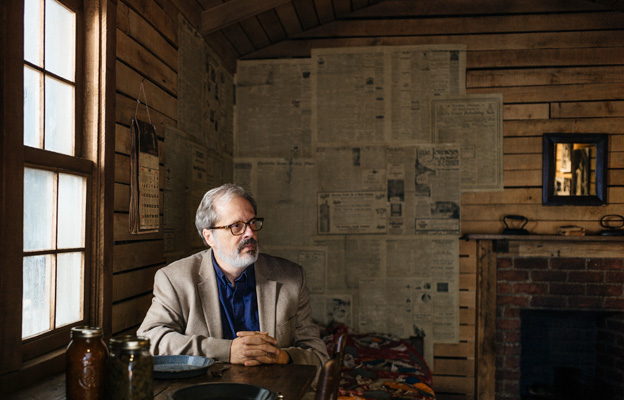 Emily Zimmern
Retiring president of the Levine Museum of the New South
Zimmern has led the Levine Museum of the New South for 20 years. In her view, the institution's main challenge now is the same as when it was founded in 1991: "How do you make history relevant to a rapidly growing community?" she says. "We're not one of those Old South cities that stays the same."
Zimmern officially retires November 1. She plans to spend time with her grown children, a son who lives in Charlotte and a daughter in California. And while she looks forward to relaxing after two decades running a museum, she will also have a new freedom: the ability to advocate for certain causes. But she's not giving hints as to what—if any—those causes might be.
"If anything, I know now that history is very complicated and complex," she says. "Most issues are, as well."
Tom Hanchett
Retiring historian of the Levine Museum of the New South
To say Hanchett is retiring isn't entirely accurate. He already has a new project lined up: working with a community group in McCrorey Heights to write a history of the west side neighborhood. "It's a beautiful post-World War II neighborhood where a lot of African American leaders lived," he says.
Hanchett has been the historian Charlotte reporters keep on speed dial since he arrived at the Levine Museum in 1999. When major news events occur in the South, he provides context and background. On the morning he was interviewed for this story, Hanchett had been on the phone with multiple media outlets, discussing the history of the Confederate flag. He hopes to do more of this type of work in his semi-retirement. He also continues to contemplate Charlotte's role in history. "This is a city that is dealing with extremely rapid growth," he says. "If you've been here awhile, you probably have gotten used to that, but it's remarkable. This county had half a million people in 1990; it just hit a million. How do you plan for that?"
Dawn Cobb
Former collections manager for Discovery Place
In 1982, a 20-something Dawn Cobb walked into Discovery Place for her first day as collections manager. At the time, upscale stores still lined Tryon Street.
Cobb, who left her post in April, spent her career cataloguing and being responsible for 80,000 pieces in the museum's collections, including jars of preserved amphibians and bizarre gadgets, some of which the public never sees. It's a thankless process, but her goal was to make sure the items in the collection were "more easily accessible and available" to the staff and public.
She now lives in Nashville with her husband. She may start looking for a new job soon, but she's not in a hurry. "I'm not sure I can ever find a job that compares," Cobb says.
CLICK THROUGH FOR ARTS LEADERS WHO JUST ARRIVED THIS YEAR.
---
Jennifer Edwards
Curator for the Bechtler Museum of Modern Art
After the death of its first curator in 2010, the Bechtler Museum of Modern Art never filled the vacancy. President and CEO John Boyer played the role of curator between other tasks as the head of a major uptown museum that draws 50,000 visitors each year. Years of searching led to Jennifer Edwards.
Edwards, 45, has a PhD in fine arts from New York University's Institute of Fine Arts. She met Boyer five years ago when a friend connected the two because Edwards had studied Niki de Saint Phalle, the artist who created the iconic Firebird statue that stands in front of the Bechtler. "I was very interested in the mission of the museum," Edwards says. "It's a very unusual collection to have in the United States."
At the time, Edwards wasn't ready to move here. But a few months ago, the museum posted the curator job again, and she jumped at the opportunity. She now resides in south Charlotte with her two children and her husband, Rolling Stone contributing editor Gavin Edwards.
Armando Bellmas
Director of marketing and communications for the McColl Center for Art + Innovation
Before taking this job at the McColl, Bellmas had a similar role at the Latin American Coalition, and before that, he worked for years as a freelance photographer. In those days, his relationship to the McColl was simpler: "I was just a fan," he says.
Now, Bellmas is behind the scenes, creating brochures, capturing the work of the museum's artists, and compiling information for future exhibitions. His daughter, nine, and son, 12, get to spend more time at a place they love and meet the rotating artists that define the McColl. "They don't get any special treatment, though," Bellmas says with a laugh.
Grace Cote
Senior coordinator at the Jerald Melberg Gallery
From 2013 to 2014, Cote was a program administrator for the Charlotte Area Transit System's Art-in-Transit program, while also transforming the Ross and Pease galleries of Central Piedmont Community College into cultural destinations. As a freelance writer, she covered arts and culture for The Charlotte Observer and other publications. Now, she's moved into a new role, using her skills as a writer to document and contextualize each new exhibit at the gallery.
As senior coordinator, Cote works with a national community associated with the gallery— collectors and art appreciators that are loyal to Melberg's offerings. She crafts the text alongside each piece and maintains the brochures and documents associated with new exhibitions. "Everything is so precise," she says of the gallery. "It's my favorite part of the job."