Scenes From a Pearl Jam Show, Senate Race
The critical '14 U.S. Senate race in N.C. is beginning to emit steam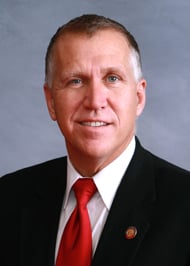 I have learned from my sophisticated and wide-ranging intelligence network that N.C. House Speaker Thom Tillis attended last night's Pearl Jam concert at the TWC. He was spotted drinking a Duck-Rabbit Milk Stout, an interesting choice. I wouldn't have pegged the Speaker as a member of the early-'90s flannel set, but hey, Pearl Jam's a big tent. (I wonder if Tillis grokked the "ZINN" on the pick guard of Eddie Vedder's Telecaster, a reference to the late Howard Zinn, author of A People's History of the United States, which Tillis really ought to read if he hasn't already.)
By the way, Thom, how're those dogs of yours?
That out of the way, we can shift our focus to an equally important Tillis-related matter, the 2014 U.S. Senate race in North Carolina, which is starting to emit steam more than a year before Election Day. Some tidbits:
Americans For Prosperity, the Koch brothers-funded advocacy group/bullshit factory, is spending $1.7 million to run similar campaign ads in two states with closely contested Senate races: Louisiana and North Carolina (video of the anti-Kay Hagan ad below).
Republicans will make Hagan's support for Obamacare the centerpiece of their campaign against her, so it's appropriate that the ads contain one of the most infuriating Obamacare canards yet concocted: that the Obama Administration has exempted members of Congress and their staffs from having to purchase health coverage on the Affordable Care Act's insurance exchanges, and that this represents an unconscionable example of O'Bummer hypocrisy and lies lies lies.
Except … no. Bloomberg does a nice job of explaining why this is duplicitous, shell-game crap:
To see the problem, it's necessary to first understand the utter fallacy of the Republicans' basic complaint. Obamacare created state health-insurance exchanges expressly for people who don't get coverage through their employers. At the insistence of Republican Senator Charles Grassley, it made one exception when the law was written: Members of Congress and their staffs would also have to use the exchanges. (The idea seems to have been to embarrass Democrats by forcing them to object to the idea. Instead, they embraced it.)
That created a wrinkle: The law did not say whether the government, which pays the premiums for congressional staff, could keep paying them for exchange-based coverage.
So when the Office of Personnel Management, which handles employee benefits for Congress, ruled that the government could continue paying the premiums for members and staff, it wasn't creating an exemption; it was trying to make sense of one that Republicans had already made.
Yet for Republicans, the idea that Congress would get special treatment, whatever the reason, was grounds for a new attack on Obamacare. The personnel ruling became, in the words of Republican Senator David Vitter of Louisiana, "a special subsidy to purchase health insurance on the Obamacare Exchange unavailable to every other American."
Of course it was unavailable to every other American: No other American with employer-based coverage is required to use an exchange. In a world of partly false and half-false attacks on Obamacare, the congressional "exemption" is a purebred.
All the more reason to run with it! Moving the project forward!
Keeping up with finances: The Observer's Jim Morrill takes a peek at Tillis's first full quarter of campaign finances in the Senate race — his first filing was a partial report covering only June — and discovers contributions from John Boehner's and Mitch McConnell's PACs, among others, and a $250,000 loan from Tillis to his own campaign. The contributions vaulted the Speaker way past his tea party challenger in the GOP primary, Dr. Greg Brannon of Cary, and the Rev. Mark Harris of Charlotte, the evangelical choice, who can presumably pull a loaves-and-fishes number if he runs short.
The story points out up high that Tillis's contributions don't come close to Hagan's $7.6 million. True, but not exactly a fair comparison, with Hagan being an incumbent U.S. Senator and all; a better measure is how much Hagan had raised at the same stage of her Senate campaign in 2007-08.
That information is provided in the last paragraph: less than $600,000.
One more campaign finance thing to point out: Candidates, of course, have no control over who decides to contribute to their campaigns. But in politics as in life, you're judged by the company you keep — and the money you accept from that company.
So here's an example of one of Thom Tillis's early contributors, a guy who doesn't know Tillis from Jesse Helms but who on June 20 contributed $2,600 to his Senate campaign — Ronald Weiser of Ann Arbor, Mich., former Michigan GOP chairman, former Republican National Committee finance chairman, former U.S. Ambassador to Slovakia.
It's another indication of how important North Carolina's Senate race is to the national GOP. But there's something else that didn't get much attention outside of Michigan (from the Detroit Free Press in December):
The finance chairman of the Republican National Committee, who also was Michigan's former GOP chairman, was captured on video telling a tea party meeting that voters in Detroit get picked up at pool halls and barbershops and bused "from precinct to precinct where they vote multiple times."
Ron Weiser also said at the Aug. 9 meeting in Milford that someone not from Detroit would not want to go to the polls there at 6:30 a.m. "without a side arm."
The video of Weiser's comments, recorded by a Democratic operative shadowing GOP congressional candidate Kerry Bentivolio to a meeting where Weiser also spoke, was given to the Free Press and posted on YouTube by the Michigan Democratic Party. Weiser emphatically said Friday that he meant no offense to Detroit and was speaking about past, not current, campaigns.
I reached Weiser by phone in August, as I was reporting my recent profile on Tillis. He explained that he was contributing to Congressional campaigns throughout the nation in which a Republican has a legitimate shot at retaking the seat from an incumbent Democrat. I asked Weiser what he knew about Tillis. "Not a lot," he said.
It's just interesting. All I'm saying.