Scenes From a Senate Race
An uninspiring Hagan, a BBQ faux pas from Tillis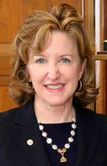 Some tidbits on the U.S. Senate race:
Kay Hagan was on MSNBC's All In With Chris Hayes Wednesday night to talk about the tide of Koch Brothers money washing into North Carolina even before the Republican primary.
It wasn't the most revealing interview (video below), although it did illustrate one of the reasons why Hagan is so vulnerable in this year's midterm against Thom Tillis or whomever. She's just not that inspiring.
Hagan came in with her talking points — the Koch Brothers will not buy this state, North Carolinians will not be fooled, etc., wishful thinking if I ever heard it — and stuck to them, when a bit of genuine warmth or candor would have gone over better. (When Hayes asked why the Kochs are targeting her so hard, would it have hurt to answer the question directly — that the seat has immense strategic value in Republicans' efforts to retake the Senate?)
She'll have to do better, especially after the primary in May. She can't afford not to.
The Daily Caller, Tucker Carlson's adventure in Breitbarting, broke a Tillis story Wednesday. It's a real bombshell:
North Carolina Republican Senate hopeful Thom Tillis has been a very vocal critic of Obamacare, but when he was speaker of the state House, he helped bring a bill to the floor that would have created a state health care exchange …
House Bill 115 was introduced in the state House in February of 2011 and was passed in May. It later died in the Senate. The bill would have created the North Carolina Health Benefit Exchange Authority, a state-based healthcare exchange where North Carolinians could purchase insurance, instead of having to use the federal website …
Tillis, as speaker, was not a sponsor of the bill, but as speaker, he had the authority to decide whether or not to bring a bill to the floor, and whether or not to bring it to a vote.
Bringing such a bill to the floor seems to run counter to Tillis's professed dislike for the health care law.
And?
Unfortunately for the story, the story continues.
Tillis campaign spokesman Jordan Shaw explained that House Bill 115 was brought to the floor because General Assembly and Senate leaders were working to figure out the best way to deal with the requirement in the new law to establish a state exchange or go on the federal exchange, and initially, it seemed that a state exchange was the better plan.
One of the motivating factors was evidently preserving the state's power relative to the federal government's in health-care related matters …
By May, when the bill passed the House, more information had become available, and "it became clear that that was not the best option," Shaw said, so "the House and Senate agreed that the bill shouldn't move any further."
I love news stories that report what appears to be news in the first few paragraphs, then completely undermine their own premises by the end.
Why run this, other than as click bait? What peculiar mentation led to its conception, authoring, and publ …
Never mind. I answered my own question.
Speaking of Mr. Tillis, he really stepped in it Wednesday on a far more meaningful issue.
Twitter
Apostasy!
D'oh! It won't cost him the primary. But it actually may cost him some votes. This is Tillis's first statewide race. He has to please more than the Lake Norman crowd in this one. Expect him to show up soon in Lexington or Fayetteville wearing a cooking apron and a barbecue-eating grin.