Scenes From the Power Struggle at CLT
The battle for control of Charlotte Douglas International Airport appears to be a banal case of bruised ego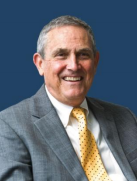 "Spats over leadership."
That's the almost sneering phrase with which an unnamed Observer copy editor began his or her headline on Jim Morrill's Sunday story about the continuing struggle for control of Charlotte Douglas International Airport. The contempt is warranted. Morrill does an admirable job trying to get to the bottom of the city control-versus-independent authority fight, and I badly wanted this to be about something halfway mature and substantive — hard evidence that such authorities do better jobs of running large and growing airports, or well-founded worry that the City Council has too much on its plate.
But try as I might, I can't avoid the conclusion that this whole sorry affair — one with major implications for the region's economic future — amounts to an old-fashioned case of Jerry Orr deciding to take his ball and go home:
For years, the 72-year-old Orr ran the airport with virtual autonomy.
"He's one of a kind and we treated him as such, because he got such positive results," says former council member Edwin Peacock, a Republican.
But Orr often chafed at city management.
Last month the Observer reported that the conflict came to a head in 2010. Documents outlined an Internal Revenue Service audit and a later city report that found the airport violated federal tax law in the allocation of millions in bond money to pay for airport improvements.
In April, 2011, the city placed tight controls on airport finances.
"I was in favor of firing him," says Republican council member Andy Dulin. "There was always a reason we couldn't let him go. So here we are in a place nobody's comfortable."
Dulin, a council member since 2005, says Orr "has never been very receptive to answering questions about what he's been up to."
Orr could not be reached for this story. Earlier, he declined to discuss his relationship with city officials.
Orr deserves every ounce of the credit for leading CLT to its status as the nation's 11th-busiest airport in passengers, sixth in operations, economic impact to the region at an estimated $10 billion. But he has to accept responsibility for the bond money problem, and the Delvonte Tisdale problem, and whatever other problems arose because it turned out that Jerry Orr was not infallible after all.
It sure isn't a systemic issue — for all the talk about the authority that runs Asheville's airport, what's gone unmentioned is that of the 10 U.S. airports busier than CLT, eight are run by the city or county they're in. (The exceptions are Dallas/Fort Worth International, run by a board appointed by the two cities' councils, and John F. Kennedy International, run by the Port Authority of New York & New Jersey.)
Nonetheless, the push to take CLT out of Charlotte's hands is well under way, and Jerry Orr's fit of pique may result in people from New Bern and Kinston and Fayetteville Monroe and Lincolnton and Statesville* making decisions about Charlotte's airport. That, or taking the easy route and just letting US Airways determine policy, which most certainly would please the heck out of US Airways.
*The authority would be regional, not statewide, under Senate Bill 81.