Science on the Rocks, Soul Junction Music Festival, Damfest and more, Sept. 15 to Sept. 18
From an adults-only museum night to a vegan food fest, it's weekends like this that remind you of the incredible variety in Charlotte's social scene.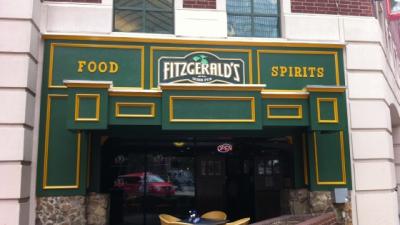 The Panthers return home this weekend, and with that comes a Black and Blue bar crawl and two particularly great bars at which to watch the game. Of course, this weekend has more than just that, including galas, a music festival and more. See y'all out there!
Thursday, Sept. 15
Toska Truffle Dinner
In what might be the fanciest dinner there ever was, Evoke hosts this six-course meal that features Toska truffles in every course. The dinner costs $128 per person. Evoke is at 555 S. McDowell St. For reservations, call 980-237-5354.
Friday, Sept. 16
Science on the Rocks
In its monthly adults-only museum night, Discovery Place becomes a crime scene for a CSI-Charlotte-themed night. Along with drinking in a kids' museum, adults can explore the science behind fingerprinting, blood-splatter analysis and more tonight. The evening starts at 5 at 301 N. Tryon St., and tickets cost $10 in advance or $12 at the door. Buy your ticket here.
Soul Junction Music Festival
This inaugural music festival invites you to the West End for craft brews, food trucks and, of course, live music both today and tomorrow. There is no admission charge to this two-day fest at Johnson C. Smith University's Liston Hall lawn, 100 Beatties Ford Road. The fest runs from 3 until 10 p.m. today and 11 a.m. until 10 p.m. Saturday.
Coloring and Cocktails
This event description is real, so we're just going to present it to you here in its entirety: "Join us for a fun and relaxing social evening of coloring at the City Art Room! Coloring supplies, including premium coloring books for adults, will be provided. You are highly encouraged to bring food, have food delivered, and or bring soft/hard drinks." This hilarious evening starts at 8 at 5019 Wilkinson Blvd. Tickets cost about $17. Buy yours here.
Black Opulence All-Black Gala
This elegant evening features three special guests, including a Grammy Award-nominated recording artist, gourmet food and premium cocktails. Attire, as the name suggests, is all-black cocktail dress. The evening is at Blue, which might sound confusing at an all-black gala, 206 N. College St., starting at 10. Tickets start at about $27. Buy yours here.
Saturday, Sept. 17
Damfest
This fundraiser to benefit the Cotton Branch Farm Animal Sanctuary offers a long list of activities. The party includes musical, aerial and fire (!) performers; a vegan buffet that includes vegan pizza; free beer and wine and a private beach on Lake Wylie with karaoke and games. The fun starts at 2 p.m. at The Dam House, 2732 Island Cove Road in Fort Mill. Tickets start at $25 for students and $50 for everyone else. Buy your ticket here.
Lowcountry on the Green
Olde Mecklenburg Brewery transforms into a Lowcountry boil tonight for this fundraiser to support Community In Schools. This party also features craft beers (of course), live music and a silent auction. The party is at 4150 Yancey Road. A ticket costs $100, and you can buy one here.
Black and Blue Bar Crawl
This bar crawl starts at 2 p.m. and goes until midnight, so good luck surviving. Drink specials throughout the crawl, which will take you to RiRa, SIP, Connolly's, Prohibition, The Local, Roxbury, Flight and Fitzgerald's, include $3 Miller Lite drafts, $4 Bacardi and $5 vodka Red Bulls. Each bar is giving away a pair of tickets to the game between the Panthers and the '49ers for Sunday's game, so, really, try to stay alive. Tickets, which start at about $12, include free entry into all participating bars and free parking (if you park at the Wake Forest parking garage and bring your ticket for validation to Fitzgerald's). The crawl starts at Fitzgerald's, 201 E. Fifth St. Buy your ticket here.
Premature Oktoberfest
It's only September, which obviously means it's time for the Premature Oktoberfest. This party features live music, food, an open bar and raffles. The evening starts at 7 at Rooftop 210, 210 E. Trade St. Tickets cost $75. You can buy one here.
Sunday, Sept. 18
Panthers' home opener
Our Carolina Panthers return to Bank of America Stadium today at 1 p.m. for the 2016-2017 home opener, and if you didn't score tickets, don't fret. Here are two bars we especially recommend to watch the game with fellow fans.
Draught
Located just minutes away from Bank of America Stadium, this bar and restaurant will make you feel like you're there. Each game day, this spot features giveaways and, as always, offers brunch with a mimosa bar. Draught is located at 601 S. Cedar St.
The Dog House
If Draught is too far away from Bank of America stadium for your liking, this has to be the spot for you. It's located just steps away from the stadium, and you can't get any closer without actually being at the game. Best of all, the pre- and post-game party is always free. The Dog House is located at 401 W. Morehead St.
Verify dates, times, prices, and other info at the web addresses listed for each event.
Be sure to bookmark www.charlottemagazine.com/Blogs/Dusk-Till-Dawn to stay plugged into Charlotte's nightlife and social scene. Click here to sign up to receive the weekly Dusk Till Dawn e-newsletter.
Want your event featured in Dusk Till Dawn? Follow me on Twitter @Jared_misner and let me know about your event, or send me an email at dusktilldawnblog@gmail.com.