Screen Door Solution
Open or closed? A Charlotte woman develops a product to prevent people and pets from walking through screens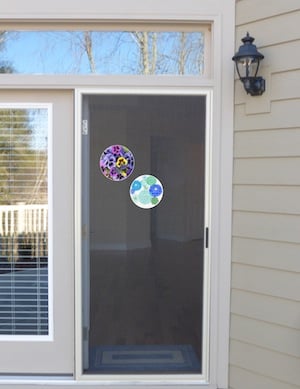 When Robbin Nolan's parents moved into their new home in Charlotte, they had a problem. The way the light hit the screen door, they couldn't tell if it was open or closed. They walked into it. Their dog walked into it. It became a hazard.
Nolan did some research. She's always been a problem-solver. While living up North, she invented a product to help kids keep their mittens on their hands. After she moved to North Carolina about six years ago, she stayed at home to raise her daughter. With her daughter now in second grade, she has more time available. So she sought out to solve her parents' screen-door dilemma.
Nolan couldn't find any existing product made specifically to hang on a screen door. So she decided to invent one.
She came up with magnets manufactured specifically for her company, Screen Door Magnets, that click into place to secure a strong bond.
"If you take two regular magnets and put them back to back, they'll just drop to the ground," she says. But her magnets hold. Last week when the thunderstorms and strong winds came through Charlotte, Nolan's porch door was left ajar. It kept swinging open and slamming shut. But the magnets didn't budge.
The magnets also look nice. Nolan pores over fabrics and color palettes to come up with her designs. She works with a graphic designer to turn her creations into high-resolution PDFs, and then she sends them to the magnet manufacturer, located in the United States, to create the magnets.
She thought her business would be stronger in the spring and summer and in warmer states in the South. But she's received several orders from cold-weather states, such as Michigan and New Hampshire. People in those areas don't open their doors and rely on the screen door as much as people in warmer areas. When they do, they aren't used to it being there and accidents occur.
Nolan also recommends her Screen Door Magnets to cover up small tears or holes. For people with young children, that hole in the screen door likely won't be the only one. And replacing an entire screen can be costly. People can purchase Screen Door Magnets from Nolan to get them through until their children are older and less prone to damage the screen.
Nolan sells her Screen Door Magnets on her website. They cost about $10 each, and she ships them for free.
An affordable, attractive solution to a common problem, developed by a Charlotte local.