Scrimmaging With Fire
The message Raleigh thinks it's sending may not be the one the Carolina Panthers are getting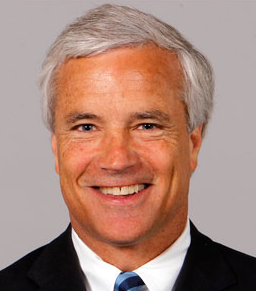 Boy, this Panthers-stadium improvements thing has turned into a nice little Charlie Foxtrot, hasn't it?
It's obvious to everybody — especially to people like Panthers President Danny Morrison — that the team will ultimately get the taxpayer-funded improvements to Bank of America Stadium that it wants. It will get them because these are the dynamics of NFL franchise relations with host cities and states. That's the deal governments make with that particular devil; you need only appreciate the absence, for close to 20 years now, of an NFL team in the nation's second-largest city, which a few years before had boasted two.
So why the posturing by the powers that be in Raleigh? I don't believe for a second that the state couldn't find a way to raise the $62.5 million share the team had asked for as part of the total $250 million stadium renovation. More than anyone, Pat McCrory knows what the Panthers mean to the city and state as an economic development accomplice if not an outright tool, and what a calamity it'd be for Charlotte and North Carolina if the team decided to up stakes and split for, say, the nation's second-largest city.
I know, I know — the perpetual L.A. threat is just posturing on the team's part, a red herring teams dangle when they want more luxury boxes. Except there's ample precedent in the NFL for teams leaving when negotiations with their host cities and states break down. Jerry Richardson's estate requires the team to be sold two years after his death, at which point there's no guarantee of anything.
So it's apparent that the real posturing is coming from Mecklenburg County's own McCrory and House Speaker Thom Tillis of Cornelius, who says there's little chance of a local tax increase to fund the improvements without a referendum (which would never pass). Do you think either one of these guys, especially McCrory, wants to be known as the one who let North Carolina's NFL franchise get away?
No, this is what's known as "sending a message," appearing to the voters as if the fiscally responsible New Regime in Raleigh is taking a hard line on the avaricious NFLers. Why should public money pay for a private enterprise?
Because it does all the time. That's economic development. Is it b.s.? Of course it is. That's the way this game is played. Everyone involved knows this.
So this charade will go on for a little while longer, and then there'll be a "breakthrough in negotiations," and there'll probably be a designated hero who step forward to rescue the deal and keep the Panthers in Charlotte, for now, anyway. The team will keep making obscene amounts of money, and all will be forgotten in the rush of the next trip to the playoffs, whenever that might be.
And then we can look forward to chatter about a nice retractable-roof stadium to replace B of A, which turns 20 in 2016, and a reinvigorated effort by the Chamber and city and state leadership to bring a Super Bowl to the Queen City in, oh, 2024 or so.
UPDATE (3/17): A no-tax-increase bill that would route tax dollars earmarked for the Convention Center has begun its journey through the N.C. House, a receptive body. The city, through City Councilman James Mitchell, says it's not enough money. It may or may not be. That's for the Panthers to decide, sadly.
But turn your attention to the rationale of Republican state Rep. George Cleveland of Jacksonville: "Tax money of any sort should not be used to support private enterprise." Oh, I see. Can we assume, then, that our principled General Assemblyfolk will buck up and tell MetLife to stick its 2,600 jobs and $94 million in tax incentives from the state?