Sea Level Serves Coastal Dishes in Uptown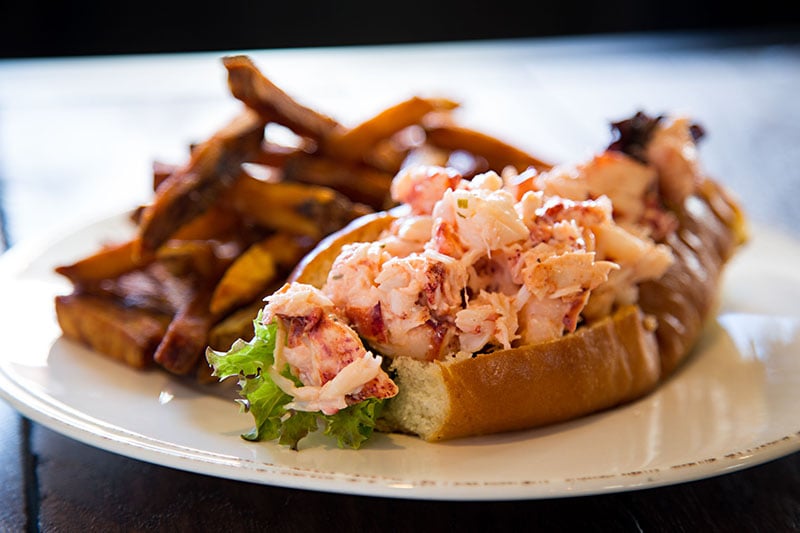 CALL ME crazy, but I've always been a little wary of seafood restaurants that look out onto asphalt instead of saltwater. Without the ocean breeze and the sun-battered deck and the pitchers of cold beer … well, you know.
But there are days when the four-hour trip to the North Carolina coast just isn't happening. So although Sea Level, at the base of the Hearst Tower, looks out onto 5th Street in uptown instead of a sandy beach, I was excited to venture inside for dinner.
Sea Level has an industrial feel, with exposed concrete beams and rustic brick. I immediately noticed the scent of hickory smoke, a campfire smell that drifted from the kitchen and bar to the front door. The restaurant's executive chef, Chris Boyleston, previously worked at Stagioni and Customshop, and he's created a robust menu of seafood dishes that are both accessible and inventive. Owner Paul Manley worked with producers on the Carolina coast and beyond to develop sustainable supply lines for the restaurant's seafood, listed daily on a "Fresh Catch" menu.
I ordered the Smoked Old Fashioned ($13)—which, along with several dishes on the dinner menu, is infused with that hickory smoke I noticed. The combination of the bourbon and smoke, while unexpected at a seafood restaurant, paired well with my meal. My dining companion ordered the Tiki Time ($15), a sweet, tropical-inspired cocktail with tequila that features dram and falernum, two syrupy liqueurs common in Caribbean drinks.
Sea Level has an impressive oyster bar with varieties brought in from across the country ($1.75-$4 each). They're listed on the menu from sweet to briny, and our server was quite knowledgeable about the subtle nuances among the choices. We picked the mild house oysters from Sea Level, North Carolina—a town of about 500 people in Carteret County, just north of Emerald Isle on the Outer Banks—as well as briny species from the Albemarle Sound and the Martha's Vineyard area. They arrived with a house-made cocktail sauce, fresh horseradish, and a mignonette sauce that was sharp and peppery without overpowering the oysters.
We were hungry, so we skipped starters (even though I keep hearing great things from friends about the mussels with garlic butter) and went straight to entrées. I ordered grilled salmon ($22) with black-eyed peas and a fennel-arugula salad. The salmon was crisply seared on the outside and tender in the center. I was particularly impressed with the peas, though, which were prepared almost like baked beans in a dark red sauce that, again, showed hints of smokiness. My friend ordered the lobster roll ($18)—a classic dish done right, with giant chunks of lobster and a buttery bun. It came with greens in a South-meets-North kind of marriage.
We ate in relative silence, quickly clearing the plates in front of us. And as I pushed back from the table, I could almost hear the sound of waves crashing onto the shore.
Sea Level
129 E. 5th St.
704-412-2616
Entrées: $14-$35
---
This article appears in the May 2016 issue of Charlotte Magazine
Did you like what you read here? Subscribe to Charlotte Magazine »
---