Searching for the Soul of Stock Car Racing
That's what Jeremy Markovich was doing when he went to Rockingham's first NASCAR race in eight years. He did not find it, but he found something else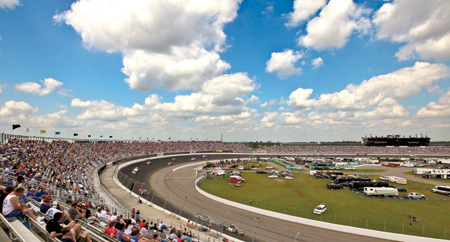 I bought a six-pack of Bud Light at the decaying Food King in downtown Rockingham because it was the best beer they had. At 6 p.m. on the Saturday night before the race, Harrington Square was deserted, save the lights stands left over from the race festival the night before. I walked out of the store, down East Washington Street, past the law offices and the workout place and the empty storefronts. I decided to ask somebody where I could get a drink. There was nobody to ask. There was just a town clock chiming and a train horn sounding and a breeze blowing and all of it whirled around and echoed in the empty streets. Except for the race banners hanging on every light post, you would have no idea that tomorrow would be the biggest day in Rockingham in eight years.
Tomorrow seemed like it would never come. First the mills closed. The jobs left. Then in 2004, the only NASCAR race left at the North Carolina Motor Speedway went away. Rockingham was withering.
But the speedway. The speedway was still there.
A lot of people around Rockingham know the story by heart. An old racer named Andy Hillenburg came up with $4 million to win the auction for the empty track in 2007 (the previous owner was Bruton Smith's Speedway Motorsports, which also owns Charlotte Motor Speedway). The same day, he called NASCAR and asked the people there how he could get a race back. For the next four years, Hillenburg cut the grass and paid the bills and made phone calls and never gave up, and last fall, he stood on a stage at the speedway, his speedway, and announced that NASCAR was coming back. The Camping World Truck Series would run a 200-mile race in April.
I had come to Rockingham to see this spectacle.
Hillenburg paused for a moment before he got up the nerve to give the command. "Drivers, start your engines."
Part of me wanted to find the soul of stock car racing, not just the big glossy thing full of impossibly designed cars and well-groomed drivers all narrated by legends with Southern accents. There was this time when NASCAR was just racin', a couple of guys who souped up their cars and then went out and raced, long before there were pit crews who lifted weights and drivers who gave in-car interviews during cautions. I had been to a few races at Charlotte Motor Speedway and was mystified by the county-fair atmosphere around it. The crowd smelled of elephant ears and sweat. But then I went inside and looked at the track and the lights and all of those beautiful colorful cars, and they cranked the engines up and flew past at a speed I could never grasp on TV. Before long, the buzz wore off and I got bored because I didn't quite understand the strategy and who was teammates with whom, and I couldn't listen to the radio because I only had a set of foam earplugs. And people would flick off Jeff Gordon and throw three fingers up on the third lap for Dale.
No, there was a time when Junior Johnson and Fireball Roberts and Cale Yarborough were young and fearless and gutsy, and they'd fight and flip their cars, and on some days you knew going in that they were unbeatable. More important, they raced in front of real fans in places like North Wilkesboro and Darlington and Rockingham. That sounded exciting. That was the old NASCAR, I thought.
The race at Rockingham Speedway was supposed to offer up some of that. Sure, it was a truck series race, but the trucks were harder to handle and the track was supposed to be slick, and there was going to be a lot of bumpin' and weavin', and guys hitting the wall in turn two because they hadn't been out at The Rock in a good long while. This was supposed to be the return to racing's roots. I figured I might as well see who showed up.
I pointed my car toward the track, ten miles east of Rockingham down U.S. 1. I rolled past the oversize antebellum houses on Fayetteville Road. I passed a historical marker that said General Sherman's troops came marching through here in March of 1865. It now stands nobly across the street from a gas station and a video store that's somehow hanging on.
Rockingham Speedway sits on 250 acres of land. Most of the RVs and campers and souvenir stands were in front. On the lonely back corner of the property, behind the test track, was the free campground. There wasn't anybody checking tickets or permits. The people back there were cheap. They were gritty. Raw. In other words, if True NASCAR Fan existed, he would exist here. I popped the trunk, grabbed my beer and tent, and walked up to a couple of guys I'd never met.
J eff the Fireman bumped into Mark Martin in Batesville, Arkansas, in 1988, and Jeff remembers it because Martin asked him very good, specific questions about his motorcycle. The Sprint Cup driver knew his stuff. Jeff was impressed. Then Martin said he had to run back across the street, but hey, why don't you come with me and meet somebody? So that's how Jeff met Jack Roush, who owned Martin's race car. And that's why Jeff still pulled for Mark Martin.
Then there was this story from the mid 1990s about this guy who Jeff worked with at the Air Force base in Charleston. "I say, 'What are you doing this weekend?'" Jeff said. "He says, 'Watching Star Trek.' And I'm like 'Nooo, we're going to Rockingham. There's a race up there.'" And Jeff and the Star Trek–watching firefighter rode their motorcycles up and sat in the backstretch grandstands and rooted for Rusty Wallace because he drove a car sponsored by Miller Genuine Draft, and MGD was their beer, and wouldn't you know it, Rusty won.
"And here we are," Jeff said, really trying to sell the drama, "all of these years later."
Jeff came back up to Rockingham this time because he wanted to write a story about it, something about recapturing youth on two wheels, maybe for a magazine about motorcycle riding. Ten guys said they'd go. Three actually did. Two of them left to go see the Little Texas concert up at the track a few minutes before. Now it's just Jeff and Dennis the Medic, who looks like George Wendt with a mustache and a Philadelphia Flyers pullover. Jeff really wanted this trip to have a deeper meaning, to tie together the loose ends of his motorcycle-riding NASCAR-fan life.
"I'm just here to party," Dennis said, dryly.
Dennis and Jeff slouched in their folding chairs. They'd pitched their tents directly under a cell-phone tower, next to a stand of pine trees. They were surrounded by RVs and a few Confederate flags. Their motorcycles were pulled up near the campfire. Jeff pulled a foil wrapped packet of kielbasa and peppers out of the coals and handed it to me. He grabbed my beer and put it on ice and told me to pull up a seat. Jeff was a big guy with a thick truck-driver mustache and a floppy camouflage hat and a Miller Lite in his hand, and his voice cracked a little, and he started into another story, about how he met team owner Doug Yates this one time and how Doug was kind of a badass, really.
Jeff continued on until the other two guys, Jerry the Carpenter and Robert the Plumber, came back from the concert. They kept soaking themselves in Miller Lite. They started talking about their wives. About work. About the things they'd come up here to get away from.
Jeff interrupted them. Get up, he said. Raise your beers. "To the guys who can't be here," he said, quite seriously.
"Aw, f— 'em," Jerry said, and Jeff laughed, because he's too nice to say something like that. Then everybody tapped their cans on the edge of the fire ring and took a long pull.
The Texas race was on the radio, and Dennis had the Performance Racing Network streaming over the iPhone that rested on his knee. Everybody had picks in a NASCAR pool. Dennis took Dale Jr. and wasn't overly happy about his choice. He cracked a joke that began with something about testicles and ended with "You'd have to be nuts to root for Earnhardt."
With about a hundred laps to go in the race on the radio, Jeff's eyes were bloodshot and he had trouble forming complete thoughts, but he still kept trying to tell his stories. He stood up. Mistake. Right when he got out of his seat, he started to wobble and pitched shoulder first into my chair, sending my Bud Light cartwheeling off into the darkness. We decided that deserved another beer.
With twenty laps left, everybody shut up and listened. Even Jeff.
A few minutes later Greg Biffle won the race in Texas and nobody was all that happy about it, because nobody picked Biffle in the pool. And so with Jeff out of stories and the beer running low and the cold creeping in around the dying fire, everybody started to grow tired of talking about women and racing and went off to their tents and zipped them up. And soon, the only sounds were of generators humming all around us, of David Allan Coe to my left and Jerry the Carpenter snoring loudly to my right, and the lights from the top of the tower at Rockingham Speedway were shining, overlooking it all from the distance.
I woke up hungry. I walked up to a blue-and-white tent that I could see from my campsite. There was a sign on the side.WORSHIP SERVICE SUNDAY… 9 AM Free Continental Breakfast SUNDAY… 7-9 AM
I grabbed a coffee and a Krispy Kreme doughnut, and Rev. David Benton came over and shook my hand and thanked me for coming by. He wore a ball cap and short-sleeve flannel shirt tucked into his jeans, and, like the rest of the Pee Dee Baptist Association, he had a handwritten name tag over his heart.
He kept staring at the tent flapping in the wind. The whole thing blew over earlier this week. It stayed up overnight. "I was praying," he said.
I hung back from the tent, but Rev. Benton asked me if I'd stick around for the service. While I waited, I thumbed through a pamphlet that offered me the CliffsNotes to discovering the Lord. It had a race car on the front.
A few minutes before nine, two men and two women started to sing, their voices trying to match the karaoke-style soundtrack, and when they finished one song, the leader of the group leaned over to the computer and clicked on the next one. I found a spot in the second row. The singers wrapped up. One remained on the stage. Rev. Richard Tyson was his name, and he looked out at the stragglers who were starting to wander in. "I'm only gonna preach for an hour and a half," he said, which got the desired laugh. No, this will only take ten minutes, he said. I'm going to teach you to run the race of faith.
If True NASCAR fan existed, he would exist here. I popped the trunk, grabbed my beer and tent, and wlaked up to a couple of guys I'd never met.
Rev. Tyson, a portly man in a polo shirt, stood on the plywood platform that raised him a few inches above the grass. He confessed that he hadn't followed NASCAR seriously since Earnhardt died. Then he cracked open his bible and found Hebrews 12:1: Wherefore seeing we also are compassed about with so great a cloud of witnesses, let us lay aside every weight, and the sin which doth so easily beset us, and let us run with patience the race that is set before us.
"We want to get to the end of the race. Amen. Jesus is just the start of the race."
He was preaching to about twenty people scattered out among the black folding chairs. "Those guys and those ladies, when they get in that truck, and put their headgear on, they got one thing on their mind, and that's runnin' that race. They gonna keep their eyes on the finish line."
Rev. Benton looked on from a seat in the corner. He was a preacher for eighteen years before he took over the Pee Dee Baptist Association. Before NASCAR left Rockingham, he used to set up two tents at every race. Now, there's just this one. It had been a while since the Baptists showed up out here to spread the Lord's word. Benton wanted to see how this went.
He listened as Rev. Tyson started working to the finish, his voice rising above the hum of the generator, his gaze turning toward the track. "Over there today, there might be someone that tries you. Don't give up on 'em. And don't give in."
Some people put their hands up. They dutifully answered every amen. Rev. Tyson leaned over to his computer to get the music ready.
"We're gonna sing one more song. You run the race. You keep your eyes on the lord Jesus Christ. You be faithful and God will bless you."
Going to a race at Rockingham is the closest thing a NASCAR fan can get to going back in time. Problem is, time travel isn't all it's cracked up to be. First of all, you'd be frustrated by all the things you take for granted now, but wouldn't have back then. Cell phones. Pit radios. Credit cards. We love nostalgia, but we don't like the way we'd get there.
And so it is with Rockingham, an old track with an old surface in an old town. But something's different here. Modern day speedways are built on a gargantuan scale. The stands go way up. And there are so many people. A huge place somehow becomes claustrophobic. Rockingham is like the little dive bar that you always went to, before it got popular and after success left it behind for the next big thing.
I walked up into the grandstands and saw Carson Brown and his wife Gwen, just sitting there on the aluminum bleachers, two hours before the race. They got their tickets the day they went on sale. I asked them why they came, and Carson said it was because Gwen had never seen a NASCAR race in person before. Also, she had forgotten her earplugs.
The Browns drove from Kernersville to sit twenty rows up above the finish line. There is no bad seat in the house, really. Richard Petty, who won eleven races here, said Rockingham was a great place for fans because no matter where they sat, they could easily see the whole mile-long track without having to turn their heads much. They could see right down into the cars when they came by.
Gwen thought the track would have been bigger than this.
Down on the track, Todd Bodine stood in his white firesuit, signing autographs.
"Tell me you're going to win today," one fan said.
"Okay, it's a deal," Bodine said. Next.
A kid with nothing to sign pulled out a $100 bill. Bodine signed it. "You givin' me that money?" he asked. Next.
"Welcome back to Rockingham," said a man with a long ponytail. Bodine posed for a picture with his two kids. Next.
Each truck was parked on the edge of the track. Most of the drivers were out too. Bodine, who won two races at The Rock before it closed, was already well into his autograph cadence. A fan walked up. Bodine greeted him with a "Hello" or "How are ya?" The fan responded by saying what he wanted. An autograph. Maybe a picture with his kid. Bodine signed. He posed. And then, the fan would say something in parting, and the next guy walked up and the whole thing started over again.
Bodine signed as much as he could. His hand didn't get sore from the Sharpie. Never does. "Used to it," he said.
He looked at the other drivers out on the track with him. "This is a neat deal," he told me.
As I walked away, one more man came up. Greeting. Request. Autograph. Then, the fan spoke.
"I hope you keep racing as long as they'll let you race," he said. Bodine smiled. Next.
I decided it was time to find Andy Hillenburg. He had passed by me earlier, on the way into the drivers' meeting, which he had taken the unusual step of opening to the public. In there was Gene McLaurin, the mayor of Rockingham for fifteen years. In there was Mike Helton, NASCAR's president and owner of a thick head of dark hair and a bushy mustache. They joked about how today, Hillenburg was more popular than the governor of North Carolina.
I saw him in passing a few times before the race, scurrying about with a key ring hanging from a belt loop and a blue polo shirt and black hat. Here he was walking around, not like he owned the place (which he did), but rather like he was helping out a buddy who owned the place. A photographer asked him for help getting a credential. A photographer would never have even been able to get close enough to Bruton Smith to ask.
His skeleton crew pulled this race together. They didn't have the time or money to print programs. They furiously tried to sell tickets from their tiny wood-paneled office. On race day, Hillenburg's son was up running the scoreboard. A groggy guy handing out stat sheets said he didn't sleep at all the night before.
A few minutes before the race, I was hanging out on the outer wall of pit road, watching a reporter for the Richmond County Daily Journal interview Kasey Kahne, when Hillenburg appeared at the end of the receiving line for drivers. Each driver would come out, they'd wave at the crowd, and they'd have to walk past Hillenburg and his wife. The old racer would smile and shake hands and look each guy in the eye, and say something, because he'd run races here before and you could just tell. He understood.
And then it was his turn. Hillenburg got up in front of the 27,000 people who had shown up at his track for the Good Sam Roadside Assistance 200. He paused for a moment before he got up the nerve to give the command. "Drivers," he said, "start your engines."
Finally. After eight years and fifty-three days, NASCAR was back. Hillenburg and his wife walked up into the stands, up the aisles, shaking the hand of each person who stuck out his or her hand. It took more than two minutes to get to the top.
I started off watching the race from the top of the media center in the infield. I'd followed Richard Childress up the stairs. We didn't speak. He was too busy watching. After about 25 laps of trying to figure out what was going on, I got restless. There were 175 laps to go. I had plenty of time. I walked down into the pits. I saw the gnarled tires that had come off of Ron Hornaday's truck after 61 laps, shredded by the gritty asphalt. I got down to the end of pit road and found Todd Bodine's truck dinged up. He hit the wall coming out of turn two. There was a guy welding something onto the chassis. Two other guys were under the hood with wrenches. Bodine sat in his truck, silently.
Everybody seemed to be enjoying themselves. I was still looking for something bigger. I felt like I hadn't found it.
I went back into the media center and found Tom Higgins sitting among the deadline reporters pecking away on laptops. Higgins covered the first race at Rockingham for The Charlotte Observer back on a hot Halloween in 1965. He wore a mesh hat he got from that race. Curtis Turner won it, he said. Did it with a broken shoulder. Guy had a lifetime ban from NASCAR, which was lifted because attendance was low and racing needed a shot in the arm. The Rock needed to sell tickets. Some things never change.
Higgins told me story after story. He was thrilled by the crowd. He didn't expect this many people.
I walked up to the top of the media center to watch the last couple of laps. Kasey Kahne was winning. He'd just flown in from the Sprint Cup race in Texas the night before and had stumbled into the Quality Inn in Rockingham at 3:15 a.m. Four hours of sleep were all he could muster. Kahne came from the back of the pack to take over the lead late in the race and didn't give it up. The crowd rose to its feet when the white flag came out. They roared when Kahne crossed the finish line. Moments later, he parked his truck in the winner's circle and the confetti cannon went off, and Hillenburg stood about ten feet behind the wooden trophy, smiling. Later, the two men shook hands. "Kasey, thanks," he said. "This is a big deal for all of us." Right after that, Tom Higgins showed Kasey Kahne his hat.
I got back out to the free campground as the Baptists were starting to take down their tent. Jeff and his friends were hanging around the campfire, drinking Yuengling. The race was kinda boring, they said. There weren't many wrecks. It was pretty clean. Jerry won twenty bucks from the pool, so he was happy. Jeff got a lot of good stuff for his story. He asked me about mine.
I tried to put the whole weekend in perspective. The guys at the campsite. The preacher. The autograph signer. The scene downtown. I had been searching for racing's soul all weekend long. Maybe if I'd had more Bud Light. If I'd thought more about that verse from Hebrews. If I'd watched the whole race more intently. Maybe I would have found what I was looking for. All I found was a race and some people who were glad to see it. The more I thought about it, that was exactly what I was looking for.
As I headed west on 74, following the haulers as they headed toward Kansas, I thought about something I'd seen during lap 20. A lone figure appeared on top of the Benny Parsons tower, a hundred feet above the grandstands, away from the crowd. He wore a black hat and blue polo shirt. It was Andy Hillenburg. He stood at the railing, alone. He looked down for a few laps. He was a fan. Then he turned and walked back downstairs.
Jeremy Markovich is a writer and television producer in Charlotte.