Secrets of the City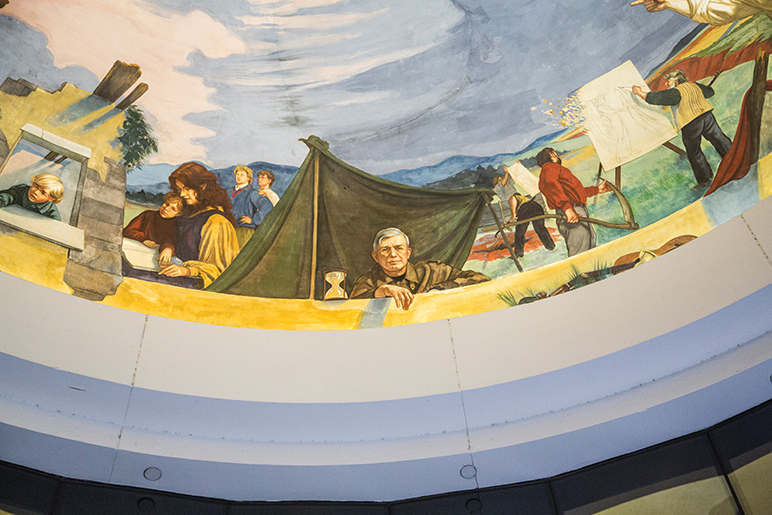 Our city, for all it gives us, tries to keep some things to itself—stories we've never heard, places we've never been, art we might've missed, people we've probably passed, and food we have to find.
WRITE THIS DOWN
A wooden display hangs on the left wall as you enter the Museum of the Alphabet, located in a nondescript brick building on the outskirts of Waxhaw. The intricate, hand-carved panel depicts a family tree that traces the origin of all known written alphabets. The trunk represents the picot-ideographic writing of the ancient Near East, which led to the first true alphabet. The tree divides into two main branches, one of which represents the early Greek that eventually led to our Roman-based version.
An older woman, quite tall, greets me, gliding toward me in a long, formless dress. La Donna Mann was once the director of the museum. Now, she's here as a volunteer. She tells me the museum's story: Opened in 1990, it was the pet project of William Townsend, founder of Wycliffe Bible Translators and the Summer Institute of Linguistics. Townsend wanted people to understand how alphabets develop and the importance of written languages.
Mann lets me absorb dozens of exhibits charting the evolution of written language across the globe. The Egyptian hieroglyphs exhibit includes a station where you can stamp your own name in ancient hieroglyphs. Other exhibits explain Aramaic and Indic alphabets, and one documents the story of Sequoyah, who developed a written language for the Cherokee. A hands-on Braille exhibit and other touch-based languages—such as "quipu" knots tied in alpaca hair, which ancient Andean cultures used for counting—are part of the tour, as is an examination of the origins of written music and mathematics. —V.B.
Tours available. Not recommended for children under 12. Free. Mon-Sat, 9 a.m.-noon, 1-4 p.m. 6409 Davis Rd., Waxhaw, 704-843-6066.
Other museums you may not know about:
The Museum of the Waxhaws
Not far from the Museum of the Alphabet, this regional history museum and memorial to President Andrew Jackson includes a Waxhaw Indian Village exhibit, which explores how the Waxhaws lived hundreds of years ago, and heritage garden. Don't miss the museum's Colonial dinners, Civil War events, and weekend gold-panning activities.
Free-$5. Fri-Sat, 10 a.m.-5 p.m.; Sun, 2-5 p.m. 8215 Waxhaw Hwy., Waxhaw, 704-843-1832, museumofthewaxhaws.org.
Latibah Collard Green Museum
This museum, founded by artist T'Afo Feimster and located about a mile west of Bank of America Stadium, is dedicated to African-American culture before, during, and after slavery. Visit on a Sunday, when the museum hosts an African drum circle. $7 for adults, $5 for children and seniors.
Tue-Sat, 10 a.m.-5 p.m.; Sun, 1-5 p.m. 720 Tuckaseegee Rd., 704-333-2426, latibahmuseum.org.
---
GRAYSON SKATEPARK

It does a superb job of hiding—a sunken concrete bowl near a recreation center, set off from North Wendover Road by a thick buffer of pines and pin oaks. But Grayson SkatePark is one of the best places in Charlotte for making your skateboard or bike careen, swoop, and fly. And it's evidence that the growing phenomenon of extreme sports isn't just for young 'uns: On a given day, half the people out there are over 30. —G.L.
Hours: Mon-Fri, 10 a.m.-sundown; Sat, 10 a.m.-5 p.m. (skateboards only); Sun, 1-5 p.m. (bikes only). Usage charges range from $2-$8 per person. 750 Beal St.
---
INDEPENDENCE ROSEGARDEN
​On the western edge of Independence Park, surrounded by a circular road. A short walk from the hospitals, where people are broken in some way. At the end of a long walking path, which ends without warning here. Rosebushes. Red, white, pink. Thorny. Surrounded by boxwoods, in squares and L-shapes. A few sunflowers, too. Arbors on either side. Beautiful. An English-style garden that stands out not only because it looks different from the surrounding scenery, but because it is complete. —M.G.
300 Hawthorne Lane (at the U in Park Drive), 704-432-4280.
---
HERITAGE IN SEASON
Between bites of fettuccine, take a moment to glance at the reproductions of photos around Stagioni restaurant in Myers Park, which help tell the story of the place.
Blanche Reynolds Gormajenko had this home built in the 1920s. She was a free-spirited world traveler who decided Charlotte could use a Tuscan villa. Designed by New York architect William Lawrence Bottomley, the Providence Road residence played host to many lavish parties and celebrations throughout the late 1920s and the remainder of Gormajenko's life.
Today the building, which has antique Cuban tiles on its roof, is designated a historic structure by the Mecklenburg County Historic Landmarks Commission. —V.B.
Take another look:
At Dilworth's Bonterra, the Johann Carl Loth artwork hanging above the wine bar is on loan to owner J.D. Duncan from Hugh McColl's personal collection.
The interior woodwork at the McNinch House was sculpted by Karl Bitter. Bitter also did the sculptural work for Biltmore Estate in Asheville, including the fireplace, mantelpiece, and andirons in
the library.
---
CAROLINA ROOM EXPERIENCE
A distressed map dating back to 1888 hangs on a wall in the Robinson-Spangler Carolina Room of the Main Library uptown. Librarian Thomas Cole explains that this map once hung in the office of a local architect. That architect gave it to the Charlotte Museum of History. The museum staff then decided it should live at the library, and the library decided it should hang in the special collections room. The original is too delicate to touch, so it's housed in an on-site vault.
The map details old townships surrounding Charlotte, back when "Morningstar" contained Matthews and Mint Hill fell within "Clear Creek," at a time when property owners became street names. It's one of several original maps outlining the early growth of Charlotte, Mecklenburg County, and the Carolinas housed in the Carolina Room.
Across the room from the map is a tall metal cabinet. It contains archived papers from Theatre Charlotte, the state's oldest community theater. Near the cabinet is a vault, which has the letters of James Parks McCombs, a prominent Civil War-era doctor who owned and leased several gold mines, including Reed Gold Mine. Most of the correspondence comes from supervisor Robert Gadd, including day-to-day affairs, such as work descriptions, payroll sheets, and documentation of the miners' personal problems. Keep digging, though, and several letters of interest surface. Gadd's brother, William, had been locked up for murder, and letters here detail an ongoing feud between the brothers after William's arrest.
Digging is what you do here. Back issues of The State, the newspaper from Columbia, South Carolina, line a curio cabinet next to the front desk. Not far from that are the Charlotte Music Archives. This modest space houses one of the most diverse local music collections in North Carolina. Archived vinyl, cover art, and photography of musicians from Thelonious Monk to the Biddleville Quintette line the walls.
Dig around for equally interesting finds in The Charlotte News and The Charlotte Observer archives.
The library is also the permanent depository for nearly 10 million photograph negatives, which the Observer compiled from 1956 to 1994.
The room can be overwhelming. But uncovering history takes time. —V.B.
Mon-Thu, 10 a.m.-8 p.m., Fri-Sat, 10 a.m.-5 p.m., Sun, 1-5 p.m.
Tip: Check out "Vanishing Victorians," a hands-on exhibit just outside the Carolina Room doors displaying historic photographs of razed uptown Victorian homes juxtaposed with more recent images of what stands on the lots in the 21st century.
---
A LITERARY TRIP TO ASIA
On the bottom floor of a brown office building off Kings Drive is a set of doors with stained-glass windows. Inside, a staircase to the right leads to an accountant's office and the Asian Herald newspaper. To the left is the most glamorous library in town.
The Asian Library has marble-tiled floors and ornate statues—including famous Rodins—in its large entry room. More than 130,000 titles line the shelves. Chinese children's books, Bill Clinton's My Life in Vietnamese, English books on religion and self-help—they're all here, along with tens of thousands of books in Korean, Chinese, Vietnamese, and Japanese.
Ki-Hyun Chun, an accountant and the publisher of the Asian Herald, started this library from his private collection because he believes "you experience a more abundant, enriched life through books," says his wife, Sunny Chun.
The library operates on the honor system. To borrow a book, you must become a member, and lifetime membership costs a mere $10—a small fee to be able to discover a book that's traveled here from the other side of the world. —L.R.
1339 Baxter St., 704-334-3450
---
MYSTERIOUS MASONS
Safe to say that Rocky Boyle, a past master Mason and senior deacon, knows some things about the secrets of the Masonry.
It's pretty easy to develop a reputation for being secretive when you don't recruit new members. That distinction sets the Masons apart from other fraternal organizations such as the Lions Club or Rotary. I've been asked to join Rotary no fewer than a dozen times in the past year, often by total strangers. Yet even though my wife's father is a Mason, he's never asked me to join.
Turns out, that's by design.
"No man can ever be a Mason unless he specifically asks to join," says Ric Carter, a Mason and editor of The North Carolina Mason magazine. "No man should ever feel pushed into Masonry. He has to seek it voluntarily."
Masons are divided into lodges; there are about 15 in the Mecklenburg County area. Charlotte's oldest Masonic lodge sits at the end of a long driveway off Sharon Amity Road near the Cotswold area. It's a square, brick building with six tall, white columns that support an arch stretching across the front doors. Aside from a glass entryway, the front of the building is windowless.
Like Boy Scout troops, each lodge sets its own meeting schedule in a unique space. Some lodges share buildings, and most buildings are typically marked with the Masonic symbol—a drafting compass and square with an inset letter "G." The letter represents two things: Geometry, the branch of mathematics masonry and architecture are founded on; and God, the "Great Architect of the Universe." In order to join, a prospective member must be a man who is at least 18 years old, and he must profess a belief in God. Atheists can't join the Masons. Despite that fact, lodges are explicitly forbidden from having discussions about politics or religion. Each lodge picks a handful of causes to support every year, including the state Masonic homes for children.
North Carolina's Masonic membership peaked in about 1980, as men who joined right after World War II started to age. Carter says although the secrecy of Masonic rituals is important, it has contributed to the decline in membership. "People think the Masons are secretly running the world," he says, "when, in reality, we have a hard time getting guys to sign up for a fish fry on the weekends."—A.R.
---
PIECES OF CHARLOTTE
The mosaic artist whose work dots the city
Tom Thoune is working on a giant sculpture of a Buddha head. It's his latest commission, and when it's finished it will be installed at Yoga One's University location. Right now it's in pieces. The head (sans facial features) is in his kiln, waiting to be fired. Nearby, in Thoune's charmingly cluttered backyard studio, an oversized ear rests on a worktable, waiting to be attached.
Although Thoune, 53, began his art career as a painter and figurative sculptor, many Charlotteans will recognize his mosaic work—even if they aren't familiar with the artist himself. Just outside his studio door, bags of broken pottery, ceramics, and china are piled up.
They've come to Thoune's backyard from all over the city. Sometimes donations are left on his door stoop. Others are collections gathered from entire neighborhoods, awaiting the right project. "You want to honor that," he says of the art he creates from the pieces he receives.
Charlotte has embraced his mosaics over the years, beginning with his first public installation at Spirit Square in 2000—the only one that bears his signature. Since then, Thoune's mosaics have gone up all over the city, at landmarks such as St. Patrick Catholic School, McGill Rose Garden, Levine Children's Hospital, the Brightwalk housing development, and the new Harris Teeter in Plaza Midwood.
"I do think I've been really lucky," Thoune says. He's surprised that his art—made from broken things most people would consider worthless—is appreciated in a city like Charlotte, which adores the new and shiny. His father, an interior decorator, taught him at a young age to appreciate old, worn things. "We broke a lot of his stuff," Thoune says, laughing. "Learning how to do something with [broken things] has been sort of an atonement."
We visit two of his favorite projects—"Finding New Ground," the two oversized mosaic pinecones that stand outside the police station on North Wendover Road in Grier Heights; and "Where East Meets West," the series of mosaics along the Lynx Blue Line in South End that he created in 2007 as an artist-in-residence at the McColl Center for Art + Innovation.
For the police station project, he chose pinecones because they're the symbol of the neighborhood. On each of the pinecones' "petals," he painted scenes from Grier Heights. Some display architectural sketch-like paintings of nearby houses. Others are more personal, as with one petal that pays homage to a longtime resident's grandmother whose biscuits won first prize in a baking competition. After circling the pinecones for a bit, he points straight up, toward the power lines overhead, and explains that the pinecones—weighing about 600 pounds each—were installed by a crane, which lifted them up and over the power lines to be set into place.
Thoune's "Where East Meets West" installation, along Camden Road near the East/West Boulevard light rail station, spans 360 feet and contains 33 vignettes that mimic industrial cogs. Up close, you can find pieces of wedding china next to marbles and melted glass, and also pieces of local history, such as fragments of a commemorative plate from the Southern Railroad. But the mosaic is best viewed from the sidewalk across the street.
From there the Southern and industrial themes are more obvious: a big leaf magnolia (to scale), a dogwood blossom, a cotton plant, a bottle tree.
"I feel like I've done something I've intended to do," Thoune says as we approach the last vignette. "Those old shards say, 'Do something with me.' That's what seduces me." We reach the last mosaic and spot stickers of googly eyes, which someone stuck onto a face Thoune painted on a ceramic plate. He laughs but doesn't make a move to scrape them off. The mosaic belongs to the city and its citizens now.
"Everything has that wrecking ball possibility," he says. "If [my work] gets blasted into smithereens or into outer space someday, I hope it sparkles." —A.A.
---
REFLECTIONS OF MAN
The Whitehall Corporate Center on Arrowood Road is home to several businesses, with tenants ranging from Toshiba to Novant Health to the University of Phoenix. Each day, hundreds of employees head in and out of the buildings. But the center is also home to someone you may have never met—a 25-foot-tall head that spins and breaks apart. His name is "Metalmorphosis."
Fourteen tons of stainless steel plates comprise the nondescript visage of a man, but when its motors spin the plates, it becomes a cluster of new shapes, in no way resembling a human. The reflective piece was created by Czech artist David Cerný, who has been at the center of controversy over the years for addressing social and political issues in his work—such as that time he changed the hue of a Soviet memorial tank to pink. But "Metalmorphosis," he said when it debuted in 2007, is more a reflection of his own psyche.
The statue's mechanics are currently under repair, as workers try to get it rotating again. But it still occasionally spits water. Even in a static state, "Metalmorphosis" mesmerizes. —A.S.
Other hidden art gems:
Under the overpass where Matheson Avenue crosses over North Davidson Street, a piece that reflects our county's history adds color to asphalt. William Puckett's "Matheson Bridge Mural" depicts the story of the 1775 signing of the Mecklenburg Declaration of Independence.
Sometimes hidden art can be found in the most obvious places. Artist Ben Long not only created the frescoes in the Bank of America building (see story below), he also made one for the Transamerica Square building a little farther north on Tryon Street. Inside the dome, check out "Continuum," which includes Hugh McColl and the University of North Carolina mascot.
Latta Park is one of the city's most beloved green spaces. Asheville's Robert Winkler used railroad ties from Dilworth's original streetcar line to create "Timeline," a swerving set of rails, weighing 8,000 pounds, installed last year.
At the start of each week, in the Mecklenburg County Courthouse atrium, tiny pewter heads suspended from the ceiling are arranged in the shape of a cloud. The heads, which are portraits of Charlotte citizens, are part of "Persistence of Vision," developed by Ralph Helmick and Stuart Schechter in 2007. By the end of each week, the heads, controlled by 1,600 motors, shift to become a face that hangs over the passersby. Then the face dissolves. The next week, the pewter heads again slowly work their way back into the form of another portrait. Each larger face was customized to represent Charlotte's cultural diversity.
---
BIG PAINTINGS, BIGGER BANK
The people approach the frescoes, just like they would many of Ben Long's works, with their heads bowed. But these paintings aren't in a church, and the visitors aren't looking down in prayer or reverence. They're staring at iPhones or chugging cups of coffee, scurrying into the Bank of America Corporate Center for another workday.
The symbolism—an artist's first secular work placed inside the tallest building in a city with a reputation for churches on every corner—is worth considering. But most of the people who pass the frescoes every day don't give them much thought.
The frescoes are triptychs—three paintings that are related and tell a common story. They dominate three enormous columns in the building's lobby, rising from halfway up the wall to the ceiling. Each has deep blues, reds, and greens.
The first work, "making/building," depicts the construction of the building, with workers and shovels and hard hats. The second fresco, "chaos/creativity," includes people from everyday life—a homeless man, a toxic waste handler—beneath six nudes who have slipped out of the masks of their societal roles. The third painting, "planning/knowledge," depicts a boy balancing a large staircase in front of a pyramid. It symbolizes perfection.
Long, a Statesville native whose works often explore aspects of the Christian faith, drew on an ancient Asian philosophy called Shingon for this triptych. Shingon, a school of Buddhism, explores the mysteries of mankind, and its central questions led to the three themes. It took Long and nine other artists four months to complete the frescoes in 1992.
Do these paintings in Charlotte's tallest building at the city's most prominent intersection define us as a city?
On a recent morning, a businesswoman drops her bag on the floor and everything spills out onto the tile. She crouches quickly, gathers everything, and shoves it all back into the bag.
Directly above her are the swirls of paint in the second triptych, the one about chaos. She never looks up. —A.R.
---
THE TRUE STORY OF THE CAMERA BUILDING
George Kaperonis has given up trying to correct the tour guides who walk past his office in the Rowe Arts Building at UNC Charlotte, spinning their questionable tale. "I quit opening the door and yelling," he says.
The tale is about the arts building, a large, brick structure with a gray horizontal stripe on top. Above the main entrance, on the far right corner of the roof, there is a skylight that some people (and tour guides) say looks like the pop-up flash of an old, Instamatic camera.
Kaperonis, gallery and facilities manager for the department of art and art history, concedes the resemblance. But he doesn't believe the building was designed to look that way: "As far as I know, the camera idea is just an urban myth."
He's right, says Murray Whisnant, the renowned Charlotte architect who designed the building in the late 1960s. Rather than a camera, the building "is really shaped like a square doughnut," he says.
So what about the clear, pop-up square on the roof? Whisnant designed that as a screen, of sorts, where students could project images that advertised their art, music, or theater shows. "One of the frustrations was that no one ever did that." Whisnant says. "It was more of a projector than it was a camera." —L.R.
---
THE MACHINE THAT SHREDS MILLIONS
Money comes to Charlotte to die. It takes its last breath before being ripped limb from limb (or cotton from linen, anyway) at the Federal Reserve building in uptown, which houses one of 28 cash-eating machines in the country.
For a device with as grand a task as that, I expected the cash-eating machine would be a cross between a wood chipper and Godzilla as designed by Rube Goldberg when he was going through his Salvador Dali phase. At the very least I envisioned spinning sparklers, calliope music, and a clown's horn at every million dollars shredded and sent up the trash tube.
But when I see the cash-eating machine—deep inside the building at the corner of East Trade and Davidson streets—I'm not impressed.
Apparently the government wasted no money in building a machine that turns money to waste. It looks like a big box. It has a white shell, is maybe five feet tall, three feet wide and 10 feet long. I don't have precise measurements because, for some reason, the people who run the place won't let me close to the machine that is crammed full of cash. Looks like I wore my cargo pants for nothing.
Anyway, there's something mesmerizing about watching all that money get pulverized. Could've bought a boat with that. … There goes my new tires. … Guess I'll send my daughters to a public university now.
As Terry Wright, the vice president of cash services, explains the cash-eating machine to me, I tell him I would not want to be one of the people whose job it is to put money into it all day. I don't need that temptation in my life. He says the key is that the people feeding the cash-eating machine must think of the money as a widget instead of as money because thinking of the money as money will be unfruitful. Good luck with that.
The Federal Reserve is like a bank for banks—they send their cash here when they get too much of it. The money-eating machine counts it, and sensors measure the size, shape, and structure of every bill. The ones that no longer are fit for circulation get eaten. Every week, the cash-eating machine shreds 10 to 12 percent of the money that it gets fed—that works out to three or four million notes, weighing two or three tons, all of it devoured, demolished, destroyed and sent to the Big Bank in the Sky.
Actually, a dumpster out back. —M.C.
---
A SILENT PRAYER IN THE WOODS
The smell of fresh-cut wood is strong here, from the pale, hardwood floors to the unadorned pews to the rafters that climb to the peaked ceiling. Floor-to-ceiling glass windows make it feel as if you're praying in a forest. Tree branches sway in the sunlight, a few hugging the chapel close. Nothing is ever completely still here; the scenery is alive.
Dedicated in 2008, the St. Joseph Adoration Chapel at Belmont Abbey College has a plain, white, marble crucifix, and only eight pews. Students wander in to kneel and pray between classes. They hunch over hand-held prayer booklets or scribble in notebooks. Some just sit quietly and gaze at the altar, framed by all those undulating leaves.
Belmont Abbey is home to a Benedictine monastery and a large, historic basilica with spires that can be seen from the main road. The adoration chapel is much smaller, located in a cluster of trees near a group of residence halls. This is intentional, says Rolando Rivas, director of marketing and communications for the college: The chapel "kind of makes you feel like you're in the presence of God through nature."
You can't find it unless you're looking for it. You won't go inside unless you're comfortable with silence.
There was a time when people worshipped outside in the wilderness. They found divinity in the trees and the sunlight and the smell of cedar. Here, in an air-conditioned building on a college campus, you can revive that ancient memory. —L.R.
Belmont Abbey College, 100 Belmont Mt. Holly Rd., Belmont.
---
HISTORIC SOUNDS
Six hundred forty mint-green pipes tower over the organ bench at Grace Covenant Church on South Boulevard. They are accented in gold, and they reach to the ceiling. That's where the sound spills out. Opus 1046, built in 1910 by Danish immigrant Mathias Peter Möller, is Charlotte's oldest original pipe organ. The sounds are as sweet as ever. In 2010, in a recording that's still available, two men squeezed onto the small organ bench underneath the 640 pipes, and they played The Open Diapason March in perfect tune for the organ's 100th birthday. —V.B
Grace Covenant Church, 1800 South Blvd.
---
BOTTOM-FLOOR BURRITOS
In the basement, you do crazy things for attention. It was spring 1998, and Johnny Bitter had left his job at First Union on the hunch that, in a city full of Taco Bells, there would be a market for a California-style burrito shop. But he chose a location, the bottom floor of a 32-story skyscraper, where good ideas can quickly collect dust.
So three business days before he opened, Bitter went upstairs and invited his old banking friends down for lunch, on him. He called it Free Wednesday. About 20 people came. He did the same the next day, and about 40 came. On Free Friday, the line went out the door.
That Monday, he opened for real, and the line of paying customers stretched down the hall and straight on through the next 16 years.
Johnny Burrito is still one of the city's busiest lunch spots, despite being located in an underground hallway at Two Wells Fargo Center.
During peak hours—from about 11:30 a.m. to 1:30 p.m.—Johnny serves two to three customers per minute.
"Always appreciate the casheesh," he tells those who pay with cash.
"Refills are free; we're here till 3," he says of the fountain drinks.
"Johnny's here. There ain't no Moe," he laughs, taking a slight shot at his chain-restaurant competition.
"You're the boss for the next 10 feet," he tells customers after they order, giving them unlimited access to everything in the fixins lane.
Johnny and his staff of eight—six of whom have worked here for 10 years or more—start each day at 7 a.m. They cook all the meats and cut all the vegetables and prepare the salsas—"from mild to wild," he says—and they mix up a special "El Diablo sauce," made of roasted chiles de arbol, that will make you sweat.
Johnny serves tamales on Tuesdays and Fridays. In the bottom of every takeout bag, he drops a pack of Canel's Chiclets chewing gum. On Fireball Fridays, he adds a fireball.
He's the counterpoint to everything else in the building, a guy dressed in a black shirt with little red chili peppers printed all over it serving two to three suits per minute, making a living on the philosophy that in a place where people come to work, at least the burritos should be fun. —M.G.
Mon-Fri, 11 a.m.-3 p.m. 301 S. Tryon St. #55, 704-371-4448, johnnyburrito.com.
---
A $2 TRIP TO MEXICO
Hidden among the endless stream of Latin establishments in the strip malls of Central Avenue is a bright orange brick building with a giant rooster statue facing its front door.
Inside Tacos El Nevado, just after 1 p.m. on a weekday, there's a line at the takeout counter and every table is filled. Two of the walls are as Clementine-orange as the building itself; half the tables are bright yellow, and the ceiling tiles are painted in pastels. The grease crackles in the screened-off kitchen, interrupting the dance music babbling from the television and the low murmur of conversation, all in Spanish, that fills the place. There's a family in the back with a baby in a high chair, two women chatting over fried sopes, and a man in khaki pants who seems far too buttoned-down for the occasion.
Order the tacos because it's a taco joint, and because every variation imaginable is here, priced from $2 to $2.75. There is tripa (tripe) and lengua (beef tongue), along with carnitas (fried pork), asada (grilled steak), and chicharrón (pork skin). Even the plain old pollo (chicken) is nothing like the dry, shredded variety you might find elsewhere. The moist meat is just fatty and spicy enough to drip from the tiny, soft, corn tortilla. Topped with a sprinkle of cilantro and onions, these tacos forgo heavy cheese or sour cream for the bright, flavorful accents served on the plate: lime, sliced radish, and roasted jalapeño and onion. Add one of the three available green and red sauces, and you can almost taste Mexico City: vibrant, pulsing, and nothing like a bland strip mall. —L.R.
Tacos El Nevado, 4715 Central Ave., 704-563-4667
---
WALKING THE LOOP
IBM used to make ATMs at the sprawling Innovation Park in the University area, and now a bunch of different companies (Wells Fargo, Aon Hewitt, Allstate, etc.) do a bunch of different things here (banking, human resources, insurance, etc.). Among the unusual perks of working here: Employees can walk along a half-mile corridor that is almost entirely inside. The roughly square-shaped loop includes a workout facility, a restaurant, and a coffee shop, not to mention a handful of offices. The people who use the loop are like mall walkers, only without fanny packs. And instead of coming here to spend money, they come here to make it.
Among them on a recent afternoon are a guy in a tie and a woman in heels and hipsters with iPhones—(hold on a second) TAKE OUT THOSE EARBUDS AND INVITE YOUR CUBICLE MATE TO WALK WITH YOU AND TALK TO THAT PERSON (thanks)—and a woman with purple hair and another who changed into purple sneakers and two women with lip rings that can't be worth it and my best friend in Charlotte, who works here and was in the hallway by coincidence as I turned a lap.
The corridor has been here since IBM built this place in the late 1970s and early 1980s, and functionally it's the same as it's always been. Aesthetically, it's not. Walkers used to share space with men driving forklifts. Now the only traffic is people, and lunch tables are scattered about. The halls once were gray; now they are white. Walking in there now feels like walking the corridor to the gates at the airport.
The people who walk are white and African American and Indian and Asian and Russian and lifelong Charlotteans, and there are more Ohioans than should be allowed in one place. Like the city, this place started off as one thing and then became something else, something better. These people are walking in circles in a place that keeps changing. — M.C.
---
When my wife and I moved from the suburbs to the Plaza Midwood area this summer, I asked a friend what I should expect.
"You'll hear the helicopters a lot," he told me.
Being closer to the center of the city means being closer to the excitement, good or bad. And a helicopter overhead usually means the latter.
As it turns out, helicopters operating in Charlotte airspace—news choppers, air ambulances, and the police department's "Snoopy 1"—can pretty well do what they please, as long as the pilots talk to each other on a specific frequency.
"Everybody operates on different guidelines and different rules," says Jason Schwebach, a vice president with Carolinas HealthCare System, who runs the hospital's MedCenter Air program, including its three helicopters.
Each licensed organization has its own specifications: What routes to take, flying altitude, how long to hover over a particular area. MedCenter Air has designated routes from airport landing pads to accident scenes to hospitals. Its pilots try to avoid flying over residential areas when possible, but even those rules can be broken.
"If there's active CPR going on in the back of the helicopter, the flight nurse can say to the pilot, 'Hey, we don't have time to take the route. You need to fly the fastest, straightest path possible to the hospital,' " Schwebach says.
One thing we won't see in Charlotte is a helicopter flying among the uptown skyscrapers, not because it's prohibited, but because no building inside the I-277 loop has a helipad.
"Most major metropolitan areas, places with high-paid executives, typically would have a helipad, even just for emergency reasons, on the roof. And Charlotte doesn't. It's odd." —A.R.
---
WHAT LIES BENEATH?
Before Lake Norman was created 51 years ago, a rural community thrived on the 50 square miles now underwater. The lake covered plantations, cemeteries, and textile mills. Here are a few things that still lie beneath the surface. —C.M.
Abandoned plane: In September 2013, Charlotte fire­fighters looking for a missing boater on Lake Norman saw something strange on their SONAR—a single-engine plane on the lake bottom. Thirty years ago, flight instructors using a seaplane failed to retract the landing gear before landing on the lake, and the plane sank. Everyone escaped without injury. For now, the plane remains where the firefighters found it—in the waters of the southeastern side of the lake, near Cornelius.
Blown-up bridge: When the lake came, several old roads had to be rerouted. Instead of dismantling the Beatties Ford Bridge, which carried N.C. Highway 73 across the Catawba River, the Army Corps of Engineers decided to use it for a training exercise. In early June 1962, the soldier-engineers planted explosives and blew it up. The steel skeleton and concrete pillars crashed into the water. They're still at the lake bottom, along with, some say, the rusted-out shell of a 1950 Lincoln.
Southern home: A handful of old plantation homes stood in Lake Norman's floodplain. Some were moved and others demolished. A Winston-Salem preservationist tried to save and move the 1820s Elm Wood (Graham) plantation home in Lincoln County. But after the barn where he was storing furniture and other interior items burned, he abandoned the project, leaving the hollowed-out home to be submerged.
Mill villages: In Catawba and Iredell counties, at the northern tip of the lake, three generations of families lived and worked in the Long Island and East Monbo mill villages. The mills closed to make way for the lake, and workers removed most of the box-framed homes. But some remnants of foundations can still be found at the lake bottom.
For more information about what's underneath Lake Norman, visit Davidson College's archives and special collections at sites.davidson.edu/archives/community/under-lkn.
---
HOW TO SCORE GOOD SEATS LATE
One of the blue dots could be me. Why didn't I order these tickets months ago, anyway? I knew I wanted to go. I waited and waited and now here it is, the day of the show, and all the blue dots on the ticketing website's seating chart tell me the good seats are gone. Any ticketing site does this; they don't advertise it, but they sell last-minute seats. It's 3 p.m and the show's at 8, and I'm going to miss it—oh, what a fool! But then, a light blue dot turns dark blue. Maybe a staff member gave up his seat; maybe a designated handicap ticket wasn't sold. But I've gone from out to in. I'm in the third row, and the strategy of waiting until the last minute to buy tickets again proves foolproof—at least until it doesn't. —M.G.
---
HOW TO BEAT TRAFFIC
When I was growing up in Charlotte—before Interstate 485 opened—the most reliable traffic information came from Jeff Pilot, the pseudonymous traffic reporter on WBT radio. Back then, the station sent a small airplane over Charlotte, helping us get to work and school. A series of people played the role of Pilot through the years, and the name was short for Jefferson Pilot Corp., the insurance company that owned the station. Once, in the 1980s, Jeff Pilot helped guide an ambulance to an accident scene, giving the driver turn-by-turn directions.
Jeff Pilot is gone—the station gave up the name in 1998—but it's remarkable how little has changed on our roads. I dug up a traffic report from a March 1985 afternoon when Jeff Pilot directed drivers around slow traffic at Independence Boulevard and I-277. Another report from 1994 included a warning about delays on southbound I-77 between Mooresville and Davidson. Sound familiar?
As long as people want to live here, we'll be griping about the traffic. Here are a few shortcuts Jeff Pilot would recommend if he were still on the air. —A.R.
Uptown to South Charlotte
Take Queens Road West away from town. Turn right onto Selwyn Avenue. Take a left onto Colony Road and use it to zip around SouthPark Mall. Take a left onto Sharon View Road, then hang a right onto Old Providence Road. A left onto Rea Road and then a quick right onto Providence Road, and you're past the usual bottleneck spots on Providence.
Avoiding Independence Boulevard
From uptown, take 7th Street southeast. Turn left on Pecan Avenue. Take a right on Commonwealth Avenue to bypass Plaza Midwood. Bear left onto Woodland Drive, and turn left onto Eastway, and then make a right onto Central Avenue to head east toward Albemarle Road.
Going North
Statesville Avenue runs parallel to I-77. If you're headed toward Mooresville during rush hour, follow it until it becomes Statesville Road north of I-85. A little farther north, it becomes Old Statesville Road and runs northeast to Mooresville. If you're going toward Highland Creek, take Old Statesville north, then make a right on Eastfield Road.
---
THE AIRPORT OVERLOOK
No matter how much changes, watching airplanes take off and land still stirs a sense of wonder in people of all generations.

It's a fleck in the sky at first, but as it approaches, it grows. So does the noise it brings with it. The plane, coming from somewhere fantastic, plops softly onto runway 18C/36C at Charlotte Douglas International Airport and screeches to a halt. As it does, the people at the airport overlook swing their heads from left to right like fans at a tennis match.
No invention shrunk the world more than the airplane. From here to there is nothing, and it doesn't matter where there is. Or here, for that matter. The whole world is ripe to be explored, and that's what all those people in the 17 planes I watch take off and land in an hour are doing, right now. They are off on an adventure, off to see the world, headed somewhere amazing, to do something righteous, to climb a mountain and kayak a river and hit the winning shot and kiss the girl and eat one steak the size of a Volkswagen for lunch and another one for dinner.
That's how I like to think about it, at least, because I'm sitting in a lawn chair in an airport overlook sweltering in the 90-plus degree heat, and there's no way I'm doing that to watch some schlubs on their way to an insurance conference.
Another fleck becomes a plane as it arrives from somewhere fascinating.
Beautiful people come.
Another plane becomes a fleck as it heads somewhere glamorous.
Beautiful people go.
More than a dozen people around me watch, as people have been doing since this overlook opened in 1989. Experts at the Smithsonian's National Air and Space Museum say airport overlooks started appearing in the 1930s—not long after commercial airports. But gathering to watch people come and go began long before that.
My great-aunt was a newspaper reporter in the 1920s in Pennsylvania. Her job was to go to the train station and take notes on who arrived and who left, then put that information in the paper the next day. Before that, people gathered at the city gates to watch as travelers came and went. In the Bible, Lot met two angels as they arrived at the city gates of Sodom. That turned out badly, and yet thousands of years later, we still like to gather to watch people come and go.
The fact that giant metal tubes full of people thunder magnificently down from six miles high onto a piece of concrete that's 10,000 feet long and 150 feet wide makes the overlook more interesting than a train station or city gate, of course. But the overlook still serves the same purpose. It gives us a place to welcome family back, to bid our friends good-bye and to imagine ourselves going with them—or to somewhere better.
As one plane after another comes and goes, I wonder where I might go next, what grand adventure I'll be on when I turn from a fleck into a plane and float down softly while some guy watches from an overlook, daydreaming about getting out of his lawn chair and going somewhere. —M.C.
Want to go?
The airport overlook park is on the north side of the airport. From Old Dowd Road, turn toward the airport. The park is a few blocks up on the left.
---
A SOLID EDUCATION
It's Sugaw, sugar: A strange tale explains how this church and school got their name. Sort of.

The small, stalwart building overlooks a busy corner of North Tryon Street in the old Derita neighborhood, at the intersection where Sugar Creek Road changes from East to West. It's been here since 1837, when the streets were dusty dirt paths—the same year Congress founded the Charlotte Mint to capitalize on the discovery of the area's gold.
Today, the little brick building is humble and easy to overlook, overshadowed by its neighbors: the Asian Corner Mall with its potholes and parking lot car-washers, a Rite Aid Pharmacy, and Sugaw Creek Presbyterian Church, established in 1755. The church built it to house the distinguished Sugar Creek School, a classical Presbyterian school for boys 6 to 12 or 13. With the help of a Frenchman named Mr. Gillet, the students built their school, molding bricks out of mud, using creek sand as mortar, and making shingles out of wood.
Today, instead of educating young boys, the building serves as a small museum, with a random collection of artifacts that spans the 1800s through the Korean War.
To visit, call the church and leave a message for Bradford MacKay. He'll connect you with Charlene Sawyer, a member of Sugaw Creek Presbyterian and the museum's volunteer curator.
Sawyer will take you on a brief tour of the space, and she won't let you leave before she tells you the controversial tale of how the school's name came to be different from the street on which it sits.
The community was named for the Sugaree Indians, the original inhabitants of the area. The tribe didn't have a written language, so the spelling has always been a matter of debate. The church and the street names matched until 1924, when Sugar Creek Presbyterian became Sugaw Creek Presbyterian at the request of the church's pastor, Rev. M. E. Peabody.
To this day, nobody knows why the pastor wanted to change the church's name.
All historical evidence—including a mention in A History of the Sugaw Creek Presbyterian Church by Neill Roderick McGeachy—shows "Sugar" as the original, true spelling of the creek and nearby church.
101 Sugar Creek Rd. W., 704-596-4466. —A.A.
---
GOLD MINES UNDER THE STADIUM
For several decades in the early 1800s, people from all over the world came to Charlotte looking for fortune. They dug and crawled through miles of tunnels as deep as 400 feet below the surface. Miners crushed so much rock looking for gold that the city used some of the waste to pave streets—sometimes with small flecks of gold still in it.
The largest mines—the Rudisill and St. Catherine—formed a network of tunnels that still travel under South Mint and West Summit streets, and also beneath Bank of America Stadium. Dozens of others exist, but their exact locations remain unknown. Back in the late 1980s, when construction crews blasted rock for the foundations of what would become Bank of America Corporate Center on the Square in uptown, they came across granite rocks with gold veins and the old wood frame of a mine still intact. —C.M.
---
WHERE THE POWER PLAYERS SPEND THEIR GOLDEN YEARS
They won't say who lives here. The workers, the staff members, the chefs: They'll all say they can't say, and they'll say it's because of the Health Insurance Portability and Accountability Act, or HIPPA. It's the truth.
But they do tease. "Let me tell you this story. It's someone whose name you'd recognize," they'll say. Or, "I'd better not say who it is, but he did the funniest thing yesterday."
At Southminster Retirement Community on Park Road, more than 300 residents live in a peaceful village of cottages and apartment homes. And there's a good chance that you know many of them, but you won't ever know for sure. —M.G.
---
A FREE PASS
Festivals, beer tasting, yoga, and other opportunities to enjoy the city without opening your wallet
'Tis The Season
Novant Health Thanksgiving Day Parade
Nov. 27, 9:30 a.m. Uptown Charlotte
What's free: A Thanksgiving tradition since 1947, with dance and vocal performances, marching bands, floats, and balloons.
Christmas at the Library
Dec. 1-23 (Monday-Saturday only), 5 p.m. Billy Graham Library, 4330 Westmont Dr.
What's free: Story time, carolers, and a nativity scene with live animals.
Matthews Hometown Holidays and Downtown Holiday Stroll
Dec. 6, 4 p.m. Station St.
What's free: Goodie bags for the kids, tree lighting, carolers, and Santa's helpers,
who will guide you along the festive streets of Matthews.
Feeling Artsy
Mint Museum Randolph and Uptown
Wednesdays, 5-9 p.m. 2730 Randolph Rd. and 500 S. Tryon St.
What's free: Entrance to the oldest art museum in the state, where you can view permanent collections of high fashion, American paintings, and craft and design.
McColl Center for Art + Innovation
Thursday, 5-9 p.m.; Friday-Saturday, 12-5 p.m. 721 N. Tryon St.
What's free: Entrance to this contemporary art center, which includes exhibitions and open studio hours for its artists in residence.
South End Gallery Crawl
First Friday of the month through Dec. 5, 6-9 p.m. 1517 Camden Rd. What's free: Entrance to art galleries in the South End neighborhood, which stay open late for the occasion.
Libations
Beer Tasting
Common Market
Most Wednesdays (Plaza Midwood), 7-9 p.m.; first Thursday of the month (South End), 6:30-8:30 p.m. 2007 Commonwealth Ave.; 1515 S. Tryon St.
Wine Tasting
Common Market
Most Tuesdays (Plaza Midwood), 6-8 p.m.; first Wednesday (South End), 6:30-8:30 p.m. 2007 Commonwealth Ave., 1515 S. Tryon St.
Birdsong Brewing Co.
Thursdays, 6:30 p.m. 2315 N. Davidson St.
What's free: A tour of the brewery, including insight into the company's history and brewing process.
Game Day
Pre- and Post-Game Party
WFNZ Coca-Cola Dog House
401 W. Morehead St.
What's free: A tailgate party with indoor and outdoor patio seating, live music, and football broadcast on more than 15 television screens for every home Panthers game.
Belk Bowl FanFest
Dec. 30, 4 p.m. Bank of America Stadium.
What's free: Before the game begins, the FanFest event outside the stadium will include a live performance by country music star Miranda Lambert.
Getting Around Town
Gold Rush Trolley
Monday-Friday, 6:40 a.m.-6:30 p.m.
Center City
What's free: The red and gold trolley that runs along Trade Street from Central Piedmont Community College to Johnson C. Smith University.
Fitness
Yoga on Tap
The Olde Mecklenburg Brewery
Tuesdays, 6:30-7:30pm.
4150 Yancey Rd.
What's free: Bring your own mat
to this yoga class presented by Lululemon. —E.R.