Senioritis
A Mooresville businessman takes on AARP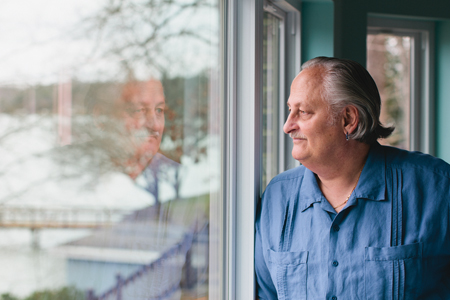 John White sits on the deck of his Catawba County home, looking out at Lake Norman on a crisp December morning. The sunlight bounces off the water, its reflection undisturbed. A crow breaks the silence. White finds peace here even as, a few hundred miles up the road, President Obama prepares to give a White House briefing on issues that make his blood boil—debt, taxes, and gun control.
"Obama's character is a scary thing," he says. "It's a scary thing." The 63-year-old, who served on a nuclear submarine during Vietnam, believes the president doesn't have the country's best interests at heart.
That's part of the reason he decided to launch the advocacy group National Association of Conservative Seniors last October. White runs a small advertising business that focuses on the medical industry. Many of the older people he meets believe no one in Washington is looking out for their needs. "They lose heart about what's going on in the government," White says. "Somebody's gotta fight for them."
White started spreading the word about his new organization to family, friends, and business contacts. He's grown NAOCS to roughly 20,000 members from across the country, including many people upset with AARP.
"They're really not standing up for conservative values," he says of the politically powerful lobbying group for retirees. AARP did not endorse a candidate last year but drew the ire of conservatives when it backed health care reform in 2009.
White wanted to create an organization that mirrors AARP—but with an explicitly conservative slant. By lobbying policymakers and bombarding them with phone calls, he hopes to convince them to support "traditionally conservative values," such as a strong military, lower taxes, and reduced spending. NAOCS members—who pay dues of up to $5 a month—can get discounts on everything from Vegas vacations to diabetic testing supplies. And "gold patriot" members can access an online click-to-call directory to reach lawmakers' offices in Washington.
He spends his own money—into the six figures so far—to help fund the organization, which he runs from an office in his basement. His 27-year-old daughter, who shares his conservative beliefs, helps out a few hours a day. "I kinda drag them along," he says of his family, chuckling.
As conservatives rally against the president in his second term, groups like White's will become more common, predicts Michael Bitzer, a professor of political science at Catawba College. "This [organization] may be the next son or daughter of the Tea Party," Bitzer says.
NAOCS started running national radio ads in December, and White hopes to hire a Christian lobbying firm soon. He wants to make sure lawmakers get the message. "I'm going to stay the course," he says, "because I don't think they should get away with what they get away with."