Sensoria: This Modest Literary Festival Is More Than Words
The music, visual arts, history, culture, food, and film fest is sweeping in scope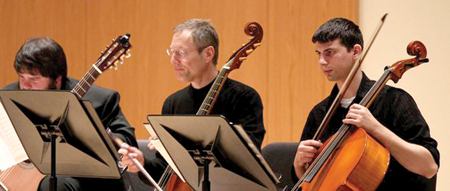 Seventeen years ago, Central Piedmont Community College started a modest literary festival. Since then, Sensoria has grown to include music, visual arts, history, culture, food, and film. Here are the must-see events at this month's festival:
Bechtler on Campus pairs modern visual art with music. The music of Dr. Craig Bove, a composer and CPCC professor, will be included alongside that of luminaries such as Philip Glass and Igor Stravinsky. Musicians from across the Charlotte region will perform. During the concert, images from the Bechtler's (now-closed) Geometry and Experimentation: European Art of the 1960s and 1970s will be projected on a large screen, exploring the interplay of art and music. April 16 at 7:30 p.m. in Halton Theater
CPCC's technology program will lead the lecture and demonstration, The Art of Immersion: A New Way of Telling Old Stories, which will examine how social media, blogs, and video games are changing the way people share stories. April 16 at 11:30 a.m. in Tate Hall
In From Grits to the Allman Brothers: Why America Looks to the South for Authentic Culture (April 17 at 11 a.m. in Tate Hall), W. Fitzhugh Brundage, professor of U.S. Southern history at UNC Chapel Hill, explores what makes the South unique.
See the full lineup at sensoria.cpcc.edu.