Setting Up a Heated, Strange Race For Charlotte Mayor
Candidate Ford's GIF tweet was a masterstroke ... to poop on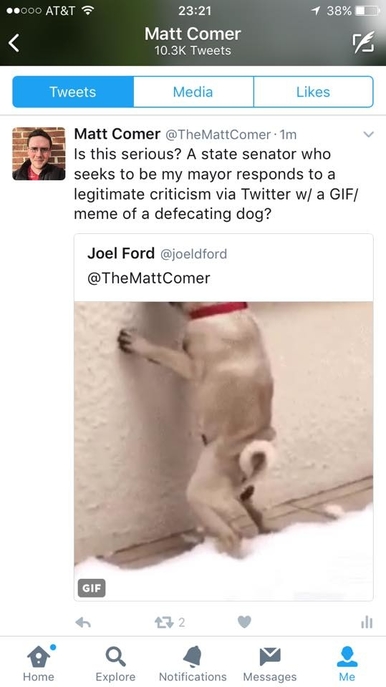 Charlotte mayoral races tend to be sedate affairs. For seven election cycles, Pat McCrory easily dispatched with his Democratic challengers. (Gosh, remember that guy?) Even in the post-McCrory days, with five mayors in less than three years from 2013 to 2015, the campaigns haven't exactly shaken the city to its foundations. Even a pre-primary tiff last time around, between incumbent Mayor Dan Clodfelter and Jennifer Roberts over who was misrepresenting whose record on education spending, came across as an effort to get anyone excited about the race. Primary turnout was less than nine percent.
Roberts went on to defeat Clodfelter in a runoff and Edwin Peacock III in the general, and it's been nothing but severe turbulence for Roberts since. Some of it's been self-inflicted, much of it's been forced on her: the continued corrosion of the state under House Bill 2, a response to a Charlotte nondiscrimination ordinance she championed; her shaky response to the post-Keith Scott unrest in September; and a freshly awakened minority community inclined to blame her for the city's failure to ensure widespread economic opportunity, something Roberts campaigned to expand in 2015.
It all sets up a more competitive, and weirder, mayor's race than this city is used to. Candidate filing doesn't even begin until July 7. But Roberts took care of her re-election announcement back in December. Two of the people who share the dais with Roberts at City Council meetings have gone public with their candidacies: Democrat Vi Lyles, the mayor pro tem; and Republican Kenny Smith, one of only two GOP council members, who did not hesitate to take aim at Roberts' presumed vulnerability. Smith's campaign slogan is "Charlotte Deserves Better."
There's a third Democratic candidate, Joel Ford, a three-term N.C. senator and former Mecklenburg County party chair. He's known as a more moderate, even conservative Democrat; the Observer editorial board recently cast Ford as a "formidable" mayoral candidate and "an independent thinker" for his support for compromise with legislative Republicans on HB2 repeal.
This week, Ford responded to accusations that he's a homophobe by tweeting a GIF of a defecating pug.
Yep, he did that. Local gay activist Matt Comer has often criticized Ford via Twitter over his support for an HB2 compromise and other LGBTQ matters. Ford has generally responded with snarky GIFs or memes. "I think I liked McCrory's cold shoulder as mayor better," Comer tweeted at 10:10 p.m. Tuesday. Ford responded at 11:20 with the pooping pug, the significance of which was not immediately clear. "Disgusting," Comer wrote on Facebook. "Inappropriate."
Ford deleted the tweets at midday Wednesday, called Comer to apologize and schedule a coffee with him, and issued a public statement, which began: "I want to apologize to Matt Comer for my Tweet late last night. It was inappropriate and for that I am sorry. To provide context, I am tired of being slandered by some people on Twitter as anti-LGBT and homophobic. I have worked to find solutions that are realistic and impactful but some people do not see it that way, which I understand and respect."
The incident also prompted this delightful headline from WFAE: "Joel Ford's Campaign Manager Will Limit Ford's GIF Use After He Tweets Out Defecating Dog." That speaks for itself.
Clearly, last year, the lines of decorum were redrawn. You never know—that kind of social media savvy and unfiltered hip-shooting might appeal to enough voters to get Ford over the top. The primary is September 12, a little less than six months away.