Seven Charities Worth Your Dollar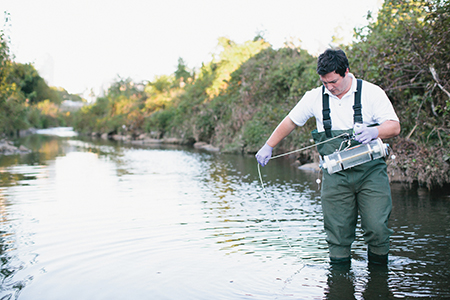 Charlotte has no shortage of charitable groups; the challenge is deciding which cause deserves your attention. Here's a good place to start. These organizations feed the hungry, house the homeless, protect the water supply, support kids, honor veterans, and help families bring home their loved ones.
---
PHOTOS BY LOGAN CYRUS
Catawba Riverkeeper Sam Perkins works on Little Sugar Creek near Kings Drive.
Catawba Riverkeeper Foundation
What they do: Promote enjoyment of the Catawba River, maintain water quality, and protect the water system from coal ash pollution, sewage, and encroaching developments.
Why you should donate: "Charlotte is 100 percent dependent on the Catawba River," says Executive Director Rick Gaskins. "If the water becomes contaminated or we run out, we have no backup source."
Geographic reach: The river runs through 24 counties in North and South Carolina and serves 1.7 million people.
What's next: A family-friendly paddling trip through 180 acres of spider lilies—the world's largest collection of this rare flower. The springtime tour leaves from Landsford Canal State Park, south of Rock Hill, S.C.
To volunteer or donate: Call 704-679-9494, or visit catawbariverkeeper.org.
---
Blake Bourne and Thomas Norman of Charlotte Bridge Home.
Charlotte Bridge Home
What they do: Help veterans transition home after military service by connecting them with resources for employment, health care, education, and more.
Why you should donate: "The numbers are staggering," says founder Thomas Norman. "There are 56,000 veterans living in Charlotte. We have connections with over 100 organizations that assist them."
Success Story: Charlotte Bridge Home has helped more than 500 veterans and their families with basic needs, such as buying a house, finding daycare, and applying for jobs.
What's next: The job summit on February 25 uptown connects veterans with local employers. Last year about 400 employers participated.
To volunteer or donate: Call 704-332-8802, or visit charlottebridgehome.org.
---
A group of Circle de Luz students, including 2014 graduates.
Circle de Luz
What they do: Mentor and support Latina girls through monthly workshops on topics such as health and college preparedness. Students are nominated in seventh grade by teachers and participate through high school graduation, when each girl receives a scholarship of at least $5,000.
Where they recruit: Charlotte-Mecklenburg middle schools that meet three requirements: 75 percent or more of the students qualify for free or reduced lunch, the Latino population is 15 percent or more, and a Communities in Schools program is in place to decrease a relatively high dropout rate.
Why you should donate: "Latina girls have the highest dropout rate in the country," says Program Manager Mary Kathryn Elkins. "Our current class of five girls will all be first-generation college students."
To volunteer to donate: Call 704-516-8690, or visit circledeluz.org.
---
A friendship garden on Distribution Street.
Friendship Gardens
What they do: Partner with 65 local gardens, which in turn donate a portion of their harvest to Friendship Trays, serving daily meals to about 750 homebound, elderly, and disabled Charlotteans.
Why you should donate: "One dollar donated to us can reach so many people," says Program Director Henry Owen. A broccoli seedling may be grown by an inmate, planted in a school garden, harvested by a second-grader, cooked by Community Culinary School of Charlotte, and delivered by a volunteer to a needy recipient.
What's next: An Urban Farm Project at Garinger High School, including a greenhouse, an aquaponics tank for raising fish, and sites for classes and internships.
To volunteer or donate: Call 704-975-4005, or visit friendship-gardens.org.
---
Joan Scanlon-Petruski founded the Kristen Foundation after her neighbor went missing.
The Kristen Foundation
What they do: The foundation is named after Kristen Modafferi, an 18-year-old Charlottean who went missing in 1997. It helps fund nationwide searches for missing adults.
Why you should donate: "Money and acting fast gets these people home," Director Joan Scanlon-Petruski says. "Every missing person is somebody's loved one. Two thousand people go missing every day in this country."
Success story: This year, Scanlon-Petruski says she brought two Charlotteans home within a few days by working with the families and police.
To volunteer or donate: Call 704-996-5066, or visit kristenfoundation.org.
---
The center has been around since 1974.
The Relatives
What they do: Since 1974, the crisis center on East Boulevard in Dilworth has housed unaccompanied youth ages 7 to 17. The organization also helps young adults under age 24 avoid homelessness.
Why you should donate: The crisis line receives 2,500 phone calls, counsels 360 youth, and houses 320 each year, says Executive Director Brennon Graham.
Success story: "I recently met a young man who was living on the street, whose family had abandoned him," Graham says. "We gave him housing and helped him make steps toward his goal to become a paratrooper. I went to his graduation from basic training."
What's next: NeighborCare, a program that houses children while caregivers receive emergency medical treatment, plans to shelter 100 kids next year.
To Volunteer or donate: Call 740-377-0602, or visit therelatives.org.
---
Executive Director Dale Mullennix at the Urban Ministry Center.
Urban Ministry Center
What they do: Assist the homeless with services ranging from hot meals and showers to counseling and art therapy. The interfaith network serves an average of 350 people each day.
Success story: "We recently piloted a program following a model of giving homeless people housing first and then resources," says Executive Director Dale Mullennix. "We put 14 people in apartments, and it cost $14,000 per person yearly. UNCC conducted a study and found that the average [chronically] homeless Charlottean costs taxpayers $40,000 yearly. We now house 85 people in apartments at Moore Place in Druid Hills and 90 individuals in apartments throughout the city."
What's next: Raising $4 million to build 35 more apartments.
To volunteer or donate: Call 704-347-0278, or visit urbanministrycenter.org.