Seven Feet of Burn
A Charlotte Bobcat gave me a snarky reply to a snarky Tweet. Am I legit now?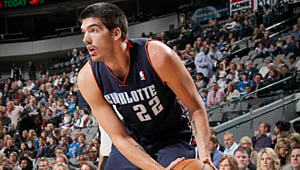 Byron Mullens is a 7-foot-tall man with a Twitter account. Sometimes he tweets about equestrian education.
Who in Charlotte owns horses??Need to take some lessons!

— byron mullens (@byron22mullens) January 30, 2013
Sometimes he tweets about stringed instruments.
Sometimes he tweets about his knee.
About that last one. Mullens and guard Kemba Walker were speaking at an elementary school Thursday as part of the Cats Care Day of Service. Their message: stay in school.
Mullens left Ohio State after his freshman year. Walker declared for the NBA draft after his junior year at UConn. I pointed this out on Twitter:
One of the quirks of Twitter is this: If you include somebody's handle in your conversation, they can see what you're saying about them. The Bobcats had included Mullens' handle in their tweet. So did I.
Later that morning, Mullens tweeted. It was not kind.
Burn.
He deleted the tweet a short time later, but not before some of my friends had seen it. Ouch, they said. You just got internet posterized by Seven Feet of Smooth. What did you say back to him?
Nothing, actually.
Would I have said what I said to Byron Mullens straight to his face? Nope. Did he have a point? Yes. Byron Mullens does have a better job than me. He makes more than a million dollars a year playing basketball. Let's just say I make less than that, and I've chosen a career path that is probably not going to keep me up at night, trying to decide which corporate board of directors I need to sit on.
Twitter fights are dumb. They almost always start as two people trying to out-clever each other. Then it turns personal. And then you realize: Did I just put all that time and energy into trying to prove a point to someone I've never met? Did that just happen? What am I doing with my life where I need to shout at strangers?
I've already had my
Not-Sure-How-Real-Twitter-Is moment
. Part of me wants to attach some greater meaning to this, as if somehow a response from a professional athlete to my mild Darren Rovellian trolling somehow legitimizes me. I was a nobody before, but now that a Bobcat has responded to me, I'VE MADE IT. Come on. I'm better than that.
Of COURSE I called my friends. Of COURSE I took some sort of weird glee in it, like when a comedian sees you in the audience and starts razzing you. He's picking on me, you think. He's picking on ME! But no, I didn't let it escalate into a Twitter fight.
I'm better than that. But not really.
—