Sex and Religion
Amy Steinberg takes on two taboo topics in "Oh My God Don't Stop" at Petra's Piano Bar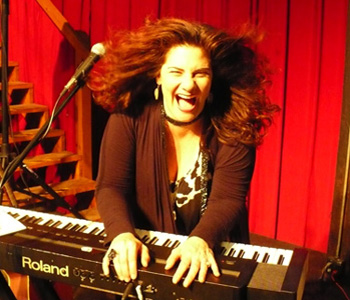 Performer/writer/musician Amy Steinberg describes her show, currently at Petra's Piano Bar, as a "one-woman extravaganza about spirituality and sexuality." Indeed, Steinberg is unafraid to go there. And she goes with such unabashed joy that even the reluctant will want to come along.
Steinberg encourages us to embrace God — whatever our vision/version of God might be, embrace ourselves, and embrace each other. She took time for a chat about her show (which is selling out) and the journey of faith she and her characters are on.
Revue: Your show is about sexuality and spirituality. Some people would rather keep the two separate and, in fact, keep one hidden. But those people probably don't come to your show, do they? Should they? What could they learn?
Amy Steinberg: Everyone should come to my show! They may learn how to laugh. Life is too short to take it so seriously. I think sex is a major aspect of being a human, and it's silly to ignore that fact.
Revue: There are six characters in the show, and you play them all — from a God-like creator to the bi-curious wife of an evangelic preacher. Do you have a different costume, different voice, and different mannerisms for each of these characters?
AS: Little prop changes, and different postures and hand gestures. Accents, tonality shifts, and general different vibrations.
Revue: What inspired you to create these characters and to talk so openly about two issues that make a lot of people squirm?
AS: They are my favorite things to talk about! I wrote it from a selfish place. I just want to enjoy making art.
Revue: Do you have a favorite character in the show? Who is it?
AS: I love all the characters equally, but my favorite scene is hands down the blow job scene.
Revue: Is there a character who's most like you? Or is there some of you in all or nearly all of them?
AS: They are all me.
Revue: Do you talk about your own spiritual or religious belief and your own faith journey in the show? How would you summarize your beliefs?
AS: Yes and no. Each character goes on a journey to some kind of awakening. My beliefs are from a "New Thought" perspective. I am studying to become a minister of those teachings. Nutshell: God is everything, you are one with God, and the power to create your life is in your hands.
Revue: What's next for you? Do you plan to take this show on the road? (I know you've done it outside Charlotte, but will you continue to?)
AS: I am in talks with a few spaces in Asheville, and I'd love to bring it to a bigger venue here in Charlotte. I could do this show every day and be overjoyed. It's delish.
Revue: When you're not writing or performing, you're leading the One Love Choir at Spiritual Living Center of Charlotte each Sunday at 10:30 a.m. at Actor's Theatre. What's that about?
AS: The Spiritual Living Center of Charlotte teaches the same philosophy I just mentioned. We believe in creating positive change in the world by being that change. Our choir is awesome! We now have a full band too and we rock out to all kinds of songs on Sundays — from spiritual stuff to modern rock and pop. It's a great way to start your week. Come on down!
Revue: Anything else people ought to know about you or the show?
AS: Hello world! I hope you will come see my sweet show. I thank you, Page, for asking me these questions. What a gift.
Buy advance tickets (for $15; they're $20 at the door) online at www.amysteinberg.net The show's first February performance sold out, so it's been extended into March. Catch Steinberg's act on Feb 25, March 4, or March 18 at 7:30 p.m. at Petra's Piano Bar at 1919 Commonwealth Ave. in Plaza Midwood.