Shadows by the Sea
Fifteen years ago, a Charlotte woman began a new career as a police officer on an enchanted island. A few months later, she was found shot to death near the base of North Carolina's oldest lighthouse. Today, the case has been reopened, and the search for answers continues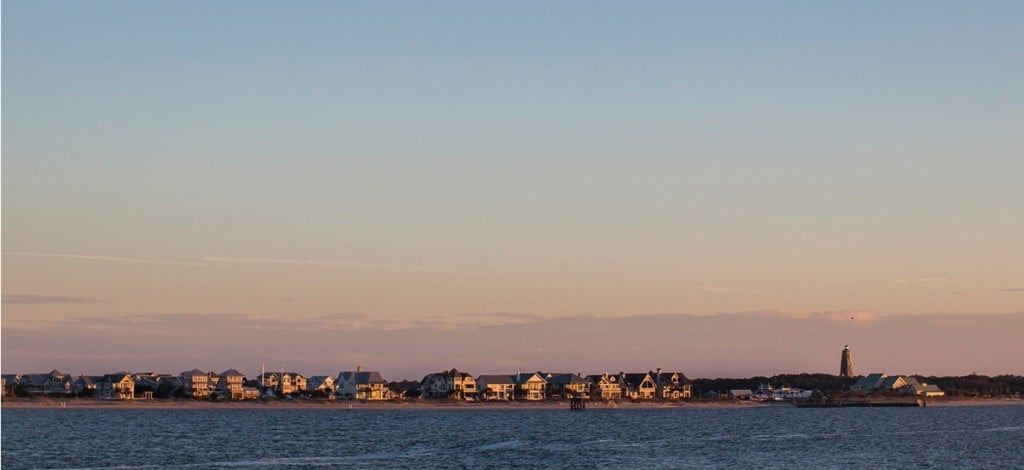 The .40 caliber slug tears through the officer's skull at nearly 700 miles per hour, shattering bone and ripping gullies into tissue.
It's minutes before midnight, nine days before Halloween, 1999. Here, beneath the turret of North Carolina's oldest standing lighthouse, 218 miles from her hometown of Charlotte, the officer takes her final breath.
When someone pulls the trigger on a Glock handgun, it moves a part inside the pistol called the striker. Tension from a small spring slams the striker into the back of a bullet. The force of the impact ignites the bullet's primer, sending the round hurtling through the barrel of the gun, as the spent casing is ejected to the side. The entire process takes just a fraction of a second.
How a pistol works is a matter of science and mechanics. It is established fact.
And it is one of the few details of Davina Buff Jones's death that isn't still a mystery.
***
It takes 20 minutes to travel from the mainland to Bald Head Island. With the blast of a horn at the top of the hour, the ferry eases away from Deep Point Marina in Southport and chugs toward open water, diesel engines rumbling. In the grassy marsh on the right, a white ibis sticks its scythe of a beak beneath the surface. To the opposite side, tanned shrimpers mingle along their rusty trawlers, nets pulled high.
When the ferry slips past the NO WAKE buoy, visitors crane their necks, looking for the first sign of the island. Soon they see the tip of the treasured lighthouse.
Old Baldy was erected in 1817 from red bricks. The walls of the lighthouse—five feet thick at the base—are slathered in a mixture of sand and lime, giving the structure the appearance of dirty concrete. Its unmistakable façade made a cameo in the 1980s movie Weekend at Bernie's, which was filmed on the island. Back in the days when the warning beam ran on kerosene, the lighthouse keeper had to climb 108 steps and a 10-rung ship ladder to reach the off-center lantern room. Today, electric lights burn at night, illuminating the lantern room but little else. It is no longer a navigational aid. It is simply a decoration.
Once they arrive on Bald Head, guests cruise around on golf carts or bicycles or just walk. Visitors can't have cars. The pace is intentionally slow, designed to make the people who can afford a house there feel as if they've escaped the troubles of the mainland. At the tip of Cape Fear, the 12,000-acre barrier island is largely a protected nature preserve home to stunning wildlife. More than 80 percent of the land is undeveloped. Narrow asphalt cart paths cut black streaks through dense maritime forests of live oak and cedar.
A small grocery store and a post office with wood siding and a tin roof give the island the feel of a small town. Two swim and racquet facilities and a lush golf course make it feel like a country club.
During the 17th and 18th centuries, Bald Head was a popular hideaway for pirates, including Blackbeard. Later, Bald Head served as host to a base for the U.S. Life-Saving Service, a precursor to the modern-day Coast Guard. During World War II, a mounted horse patrol used the island as a lookout post.
The houses on the island today, many of which look like stately Southern plantations, are worth millions. Unlike many beaches in the Carolinas, Bald Head isn't lined with miniature golf courses with tacky sculptures and green plastic grass. Instead, the island has manicured croquet greenswards. The distinction is clear, if only implicit.
***
The evening of October 22, 1999, a Friday, Davina Buff Jones stopped for Basic cigarettes and a Coke before boarding the ferry to Bald Head. The sun was beginning to set to the stern as the boat pulled out of the marina.
Davina, 33, was still a rookie. She had joined the island's department 10 months earlier. Physically unimposing, Davina was barely five feet tall and cracked 100 pounds only after she strapped on all of her police equipment. She had thick brown hair, cut short in the front but left long and curly in the back. On her right ring finger, underneath black, fingerless gloves, she wore a ruby and gold ring, which she'd given to herself as a birthday present that year. Davina was wearing her uniform that night—a navy-blue cotton polo with matching ripstop nylon pants and black boots. Her badge, No. 4206, was clipped to her belt, just left of the buckle. On the ride over, Davina noticed three Latino men drinking beer on the ferry deck. She made them pour the contents out into the Cape Fear River.
Like many first-year cops, Davina didn't believe in bending the rules for anyone; she was energetic and assertive, perhaps to a fault. She refused to tear up citations after writing them, no matter whose name the guilty party dropped. The previous summer, vacationers had complained to island management about Davina's sharply worded warnings and aggressive driving.
Davina had grown weary of the wealthy families who wanted special treatment, of the rich teenagers trying to sneak beer and pot and condoms into the woods. She was looking forward to the winter, when Bald Head settled down and the population shrank to just a handful of full-time residents.
As the ferry landed on the island, Davina and her partner, Officer Keith Cain, set out on what started as a typical, slow shift.
They took a supper break around 10 p.m., but before they could begin their meal, a call came in about a stolen golf cart near the marina. Davina and Cain drove separately, he in a Chevy Blazer and she in a white Ford Ranger pickup. It was the only department vehicle in which her feet could comfortably reach the gas and brake pedals. They didn't find anything suspicious around the marina, so they returned to headquarters, a single-story trailer in the center of the island.
Davina sat at her desk, typing away at her computer. Cain went to the microwave to reheat his food. Without warning, Davina popped up and said she was going to take a ride around the island. Cain called back for her to wait, but she was already gone.
At 11:19 p.m., Davina stopped at the pay phone booth at the marina and made a call to her ex-boyfriend, who'd just broken up with her that week. The phone booth was a red box, styled like the ones in London. The call lasted only a couple of minutes, and then Davina was back on the road, cruising toward Old Baldy.
The base of the lighthouse is a dark place. The electric lights in Old Baldy's lantern room don't illuminate the ground immediately beneath the structure. A streetlamp nearby does little to break the deep black of the ocean at night, and the din of crickets and croaking frogs trembles from the darkness. A narrow cart path runs parallel to the lighthouse property. A chapel, the village post office, and town offices sit on the east end of the street; there's a visitor's center and gift shop to the west.
That was the scene that night, when Davina apparently made a traffic stop. She called in to dispatch:
"C-COM, 4206. Show me out with three. Stand by please."
Moments later, another transmission.
"There ain't no reason to have a gun here on Bald Head Island, OK?" Her voice was steady and clear, each word measured. "You wanna put down the gun. Come on, do us a favor and put down—"
Her signal broke up into loud, crackly feedback.
Near the marina, just before midnight, an island worker heard what he thought was the lid of a trash can slamming shut.
***
Davina grew up in the 1970s and spent her teenage years working as a hostess at her parents' restaurant, The Peddler Steak House, on South Tryon Street in Charlotte. The steak house sat just outside Charlotte's city limits, in unincorporated Mecklenburg County, on a block that was also home to an ABC Liquor Store, a dog groomer, and a florist. Before diners could make it into the rustic dining room, to the salad bar and hand-cut steaks, they would meet Davina, a scrawny teenager with big hair and a toothy smile.
"She was just so gregarious, outgoing, extrovertish," her father, Loy, told me. "You just had to like her, couldn't help but like her."
Loy and Harriet Buff bought the franchise after he tired of traveling as a salesman. They had always wanted to own a restaurant and took pride in giving free meals to cops and firefighters. All three of their daughters, including Davina, worked after-school shifts. They served NASCAR drivers and, once, the entire UNC basketball team, including Michael Jordan.
The restaurant closed years ago—there is an Embassy Suites in its place today—after the Buffs moved into a modest, two-story blue home on Oak Island, on the southern edge of North Carolina's coastal plain, where they had vacationed for years.
They embraced life by the sea, as much as they could. Loy and Davina would go fishing with Loy's father on the Yaupon Beach pier, but mostly because Loy's dad loved it. Loy, a golfer at heart, didn't enjoy fishing. And his daughter was equally impatient with the hobby
Courtesy OF THE BUFF FAMILY
Before going to work that night, Davina created a tunnel for her two Australian shepherds to come and go from her home as they pleased.
I first met Loy and Harriet in 2007, just a few months before the eighth anniversary of their daughter's death. We sat in the lived-in den at their house on Oak Island, looking out onto a golf fairway. The shooting cast the home into a nearly permanent state of mourning. Talking about Davina is still painful. Loy and Harriet call her Dee.
"She was my best hostess we ever had in 20-some-odd years," Harriet told me. "A gift for gab." Harriet's gaze landed on a small end table dense with photos: Davina in a red cowgirl hat. Wearing a fancy dress. With her Australian shepherds. In each one, she's grinning.
But as friendly and extroverted as Davina appeared, her parents delicately explained, she was equally sensitive and hostile. One minute, she could be hyperactive—almost frenetic—and jovial. The next, she would be sullen and withdrawn. Davina was the classic middle child, often overshadowed by the siblings on either side.
When she was in eighth grade, Davina sat on her parents' bed and looped a belt around her neck. There wasn't anything to hang it from, and she didn't try to pull it tight. One of her sisters found her there, sitting. As a student at West Charlotte High School, she swallowed a bunch of Tylenol pills. Doctors had to pump her stomach. "Dee did what she had to to get noticed," her sister, Beverly, said to a newspaper reporter, explaining the incidents. Yet Davina never had a problem attracting attention from young men.
"Her problem was—Momma talkin' here—choices," Harriet told me. By her 30th birthday, Davina had been married, and divorced, twice. In 1994, she was charged with simple assault for spitting on the mother of her then-husband's child during an argument.
She was a tomboy: smoking, spitting, and cursing. She could be brash and insensitive. She didn't shy away from confrontation. "She couldn't learn to keep her mouth shut," Harriet said. "When she saw mistakes, she would bring it to the boss."
But there was a feminine side to Davina too. She was self-conscious about her hips, which were uneven and looked lopsided. That was especially noticeable when she wore dresses. She loved getting dressed up but did so less often after someone pointed out the physical flaw.
Her struggle to fit in, with men and at work, spilled into words, scribbles that covered the backs of envelopes and filled stacks of journals.
"She wrote down almost everything she did," Loy told me.
"Too much down," Harriet interjected.
One entry was dated not long after Davina saw Forrest Gump. "Life is not like a box of chocolates," she wrote. "Life is like a can of jalapeños. You never know which one is gonna burn your ass."
***
After he heard Davina's broken radio transmission, Officer Cain ran to the Blazer, started the engine, and charged out of the parking lot, slowing down at every intersection to scan for a sign of Davina's truck.
He called back to dispatch.
"She happen to say where she was out at?"
"Negative. She started to advise and said [standby] and then her radio keyed up and I could hear her advise someone to put the gun down. Did not get a location."
The dispatcher continued attempts to raise Davina on the radio, but every call was met with silence. "All units, hold your traffic till we can make contact with 4206."
Cain's search of the island ultimately ended at the base of the lighthouse, where he came upon the white Ford Ranger. "Located her vehicle," he called back to dispatch. "I cannot find her."
The sergeant stepped out of the SUV and called Davina's name. Her pickup was sitting at the west end of the alley, backed into a dead end about 20 yards from where the street disappeared into the shadows that envelop sand and trees. The truck's parking lights were on, and the engine was running.
Cain didn't notice it at first, but Davina's flashlight was sitting on the tan cloth seat of the truck. She never got out of the truck at night without it.
The wooden door at the base of the lighthouse was open. Slowly, Cain walked toward it. He looked in the doorway and found nothing. He turned to his left and started creeping in the direction of the lighthouse foundation's museum, which was still under construction about 200 feet away. Cain inched up to what appeared to be a pile of dirt and trash in the cul-de-sac.
The pile was Davina.
She was lying on her stomach, legs slightly splayed. Her head was turned to the side, right cheek resting on the asphalt. Her hair was slick and matted. Her Glock pistol rested underneath her right hand.
Cain's next transmission was breathless, panicked, and garbled. Only the last three words came out clearly: "… rescue for help."
"4205, you're advising you need rescue?" the dispatcher asked.
"C-COM, go ahead and start rescue this way 10-18," Cain responded, using the numeric code for urgent. He bent down and grabbed Davina's left wrist for about 10 seconds.
Cain keyed his radio once more, asking the dispatcher if more help was on the way from the mainland. Affirmative. "Also advise if you need anything further."
"I just need rescue here now," Cain said, stressing that last word. Twelve minutes had passed since Davina's last transmission. "She's got a head injury, and I'm not getting a pulse."
Finally, the island's rescue squad pulled up. Cain and the village fire chief kept pistols trained on the dark woods as paramedics grabbed Davina by her limbs and belt loops, scooping her lifeless body off of the pavement.
Courtesy BRUNSWICK COUNTY DISTRICT ATTORNEY
***
A few hours later, the light blinked on Wade Horne's answering machine.
Horne, Bald Head's town manager, had been out with friends in Myrtle Beach. It was nearly 3 a.m. when he walked back into his dark house on the mainland. The messages on the machine were from the EMS chief, saying there was a problem.
As town manager, Horne was ultimately responsible for Bald Head's staff of about 40 employees, including Davina, whom he had hired in January 1999.
"I thought she would be a good police officer," he told me years later. "She had the credentials—she was a little inexperienced—but I thought she was a good person."
Police officers on Bald Head are more likely to help an elderly resident carry groceries inside than to investigate violent crime. News of Davina's shooting was shocking.
"Bald Head would be one of the last places you'd expect to have a police officer killed on duty," Horne said.
After he learned about Davina's death, Horne took a quick shower and called his staff. He arranged for the sheriff to pick him up in a boat, and together the two raced across the mouth of the Cape Fear River toward the island. He walked into his office around 4:30 a.m. It was full of cops.
Meanwhile, Davina's body was on a metal gurney in a brightly lit room at Dosher Memorial Hospital in Southport. Blood was on the skin not protected by her gloves, dried and caked into the crevices around her fingernails.
Just before 5 a.m., the local medical examiner began his review of Davina's body. Investigators from the county sheriff's office and the State Bureau of Investigation waited to the side of the room.
In the space to indicate valuables, the doctor simply wrote "police equipment." No mention of the ruby ring. He significantly overestimated Davina's height and weight. And in the section of the report that asks for a medical history, the doctor simply wrote "None," ignoring the boxes for "Smoking" and "Depression," which even a cursory review of Davina's medical history would have indicated.
His four-page report was incomplete, inconsistent, and, in some places, factually incorrect. Perhaps the most glaring error is the way he diagrammed Davina's head wound. The doctor drew a rough circle behind and slightly below the right ear.
Even years later, talking about that initial exam made Davina's parents flush with anger.
"There was no bullet hole behind her right ear," Harriet told me.
"The bullet hole was where it was," Loy jumped in, growing animated. The leather chair squeaked and crunched as Loy spun around and waved his arms above his head. "It was right here in the center of the back of her head."
Photos taken during the examination confirm that. The graphic images show a gaping hole, about the size of a golf ball, in the center back of Davina's skull.
The medical examiner would later blame the series of errors on a lack of sleep and a rush to quickly provide information to investigators. But the missteps foreshadowed more serious errors that would undermine the investigation.
***
As the medical examiner finished his report, around 6 a.m. on October 23, 1999, an SBI agent drove Loy and Harriet to their daughter's house on Oak Island, not far from their own, to conduct a search.
When they arrived, they noticed a pair of shoes propping open the back door, with a gray plastic tarp creating a makeshift tunnel of sorts that allowed Davina's two Australian shepherds, Lord Adam and Precious Queen, to go outside at their leisure. It was a new arrangement—her friends and relatives said they had never seen it before.
Inside, on the kitchen table, was a list of things Davina planned to do after her shift ended: Buy laundry detergent and heartworm pills for the dogs. Pick up a prescription from the pharmacy. There was a check mark beside the reminder to put oil in her truck. The shocks needed to be replaced too; Davina scribbled that the Firestone in Southport could do it for $170.
Loy sorted through more of Davina's writings. Nothing seemed out of the ordinary. Davina's feelings were scribbled on just about every scrap of paper. On her calendar, she wrote her work schedule for October, November, and December.
The agent found a pill bottle for Effexor, an anti-depressant.
It was empty.
Back on the island, the blades of a state police helicopter sliced through the autumn dawn, the downdraft pounding sea oats flat into the marsh.
Courtesy N.C. STATE BUREAU OF INVESTIGATION
Police marked evidence, such as a shell casing in the leaves. But the crime scene was botched.
On the ground, an investigator found a lone shell casing. He dropped a yellow plastic evidence marker, No. 7, on the ground next to the empty brass.
As the sun rose Saturday morning, another worry began to hover above the scene, a worry about appearances: There was a wedding scheduled for Sunday at the chapel beside the lighthouse. The sight of the crime scene could hurt one of the island's biggest moneymakers.
Someone turned on the fire hose.
Blood becomes foamy when sprayed with water, like dark, freshly mixed Kool-Aid spreading across the asphalt, eddying up in the dirt. Swirling. Soaking into the ground.
Less than 12 hours after Davina died, with agents at her house holding a pill bottle and her parents trying to come to grips with their daughter's death, the crime scene at Old Baldy was ruined.
***
Tuesday, about 90 hours after the shooting, hundreds of police officers from across North Carolina poured into a Southport funeral home to honor Davina. The patches on their uniforms read Charlotte and Durham, Myrtle Beach and Shallotte. Most had to stand outside the building under a chilly, cloudless sky.
During the service, Davina's uncle compared her to a shooting star. "How quickly seen, how soon disappeared and gone, how long remembered," he exclaimed. Tears fell.
The county sheriff cradled a folded American flag, sent from Jesse Helms's office in Washington, and carefully passed it to Harriet Buff.
At the end of the service, a dispatcher called Davina's badge number over the police frequency, a tradition common at law enforcement funerals known as a "last call."
"4206?"
Unlike the last time a dispatcher called Davina's number, this time, no one expected an answer.
"4206?"
The silence was sharp.
The Buffs scattered Davina's ashes from the pier where she used to go fishing with her grandfather. Old Baldy towered in the distance.
On Bald Head, black mourning ribbons fluttered in the breeze from street signs and tree trunks. Two bouquets of daisies and tiger lilies sat, propped up by an arrangement of red bricks, in front of the white picket fence near the lighthouse.
***
In the weeks that followed, two theories about Davina's death emerged: cold execution or meticulously planned suicide.
"It sounds selfish, but we need to know if there is a murderer running loose on our island," an island resident said at a town meeting held a few days after the shooting.
Someone hinted at the possibility of suicide.
"We don't have conclusive evidence to suggest that," said Karen Grasty, the island's police chief at the time.
Still, one newspaper account of the meeting noted that many attendees "seemed relieved by the possibility that Jones had taken her own life, rather than dying at the hands of a killer still on the loose."
Speculation about suicide continued throughout private conversations on the island and back in Southport on the mainland. People worried that a murder would spook potential tourists—the lifeblood of Bald Head's economy. Property values would plummet, they feared.
"It was something that was sticking out that could be an ugly situation," Horne, the town manager, told me. "I do remember one comment from a citizen that, you know, 'We really don't wanna … hear this murder thing.' I think a lot of people didn't want to believe that it even happened at all.
"Small-town rumors fly real fast," he added. "For every truth that's out there, there's at least three rumors flying around that's not true."
Days later, the full autopsy report was released. The regional medical examiner in Jacksonville—a more experienced physician than the doctor who performed the review in Southport—said suicide was "highly possible."
"I can't even talk about it, I'm so upset," Loy told the local newspaper. Reporters played a tape of Davina's last radio transmission to her sister, Tanya.
"None of it makes sense," Tanya said. "None of it." Tanya said she could hear the fear in Davina's voice. "She was scared. She was honestly scared."
***
Seven weeks after Davina's death, Brunswick County prosecutor Rex Gore released a written statement to the media. "I am satisfied that Miss Jones was killed by her own gun, and by her own hand," Gore wrote. He listed several factors that led to the decision: a lack of credible suspects, the gunshot wound to the head, and a forensics test performed by the FBI crime lab confirming the bullet that killed Davina came from her own gun.
He cited the autopsy report, which noted the up-and-to-the-left trajectory of the bullet. Gore noted the path of the bullet, combined with a "hard contact" gunshot wound, were both "consistent with suicide."
Gore, a Baptist lawyer, was first elected in 1990, after serving as an assistant in the prosecutor's office. During the later years of his tenure, his website included a quote from the fifth chapter of Amos in the Bible: "Let justice roll on like a mighty river."
When we first met in 2007, in his large office in the town of Bolivia, he proudly lifted picture frames from his desk, turning them to proffer a good look at his grandchildren—three girls, triplets. He talked about his church, where he worshipped for decades. He and his wife sang in the choir there. They had been high school sweethearts.
Gore talked in quiet, measured tones, the way a good Southerner handles an uncomfortable topic. Softly, but unequivocally, he explained that Davina took her own life.
"That decision was not made without a lot of thought. It was not made in a vacuum," he said. "Our conclusion was that evidence wasn't there to support a homicide. But when you looked at all that was there, the likely answer was a suicide."
Gore said investigators ruled out all possible suspects for murder. Police checked out and quickly cleared any of Davina's friends, lovers, and acquaintances who originally might have been considered suspects. The police couldn't come up with anyone else who could have pulled the trigger.
Yet there was little forensic evidence to point to, because so little survived the quick fire-hose treatment of the scene.
"That was an unfortunate situation," Gore told me. "There's no question it would have been better if Ms. Jones's body had not been removed." He paused for a minute, either gathering his words or for dramatic effect—I couldn't quite tell. "But it was. And you have to deal with the fact that it was."
The destruction of the physical evidence didn't necessarily make his job more difficult, he said. After all, good prosecutors build their case on the evidence they have, not on evidence they wish they had. Still, extra evidence might have helped convince others that Davina did, in fact, commit suicide. "It would probably have lessened the opportunities for speculation," he said.
The investigation was meticulous, Gore insisted, despite the missteps made within the first 12 hours after Davina's death. And he said there wasn't a rush to paint this as a suicide for the good of Bald Head's public relations.
"For any of us to come to the conclusion that an officer may have taken their own life is not something you can do lightly. It's not something you can just pull out of a hat one day and say, 'Well, I'm gonna close this thing down.' "
***
Horne and other Bald Head officials came up with theories of their own, based on an informal, independent investigation that ran concurrent with Gore's inquiry. They believed Davina didn't kill herself.
"To me, what really is bothersome about this whole thing is that we're never really gonna know the answer. We're not," Horne told me. "The evidence was lined up on both sides, and I think a reasonable person could argue either side. I believe that."
Bald Head's small police force was not the lead agency investigating Davina's death. That duty fell to the Brunswick County Sheriff's Office and the State Bureau of Investigation, which is called whenever a law enforcement agent dies on duty.
"They don't have an obligation to agree with us," Horne said. "What they do have an obligation to do is to weigh all the evidence and make the best decision. I think they did that, even though I disagree with the decision."
Davina's parents, of course, disagree with the decision too. "I said there's no way that child could have committed suicide," Loy said.
At the time of their daughter's death, the family couldn't say much to defend their position, except that they knew Davina couldn't have killed herself. They just knew.
After Gore's ruling, the Buffs called a family meeting.
"Loy told the girls that we were going to fight this, no matter what it took or how much it cost us," Harriet said. "Because we knew her."
***
Families of police officers killed in the line of duty are entitled to death benefits and payouts from the state of North Carolina. Police officers who commit suicide are not eligible. In late 2003, the North Carolina Industrial Commission came to Wilmington for a hearing, trying to decide what to make of the case of Davina Buff Jones.
If Davina committed suicide, she didn't leave a note. But Gore, throughout his handling of the case, pointed to a series of pendulous, erratic interactions leading up to her death to suggest that it was her hand alone on the gun.
Between 1994 and 1998, Davina received outpatient treatment for "adjustment disorder with mixed emotional features and chronic depression." The National Institutes of Health describe adjustment disorder as "an emotional and behavioral reaction that develops within three months of a life stress, and which is stronger or greater than what would be expected for the type of event that occurred."
Davina sought treatment from Dr. Keith Reschley, the family doctor. Davina visited Reschley regularly, especially in the last year and a half of her life. Reschley prescribed her Zoloft, an antidepressant, in March 1999. But in September of that year, a little more than a month before Davina's death, Reschley changed the medication and wrote her a prescription for a 30-day supply of Effexor.
Five nights before the shooting, on October 17, 1999, Davina was at home, contemplating the end of her on-again, off-again relationship with a cop from Oak Island named Scott Monzon. The couple met in the same law enforcement training class in 1998. Davina called Will Hewett, another ex-boyfriend and a former deputy sheriff, to talk about the breakup. She was upset but not crying.
At one point in the conversation, Davina said something that troubled Hewett.
"She simply stated that she would just go for a swim in the ocean and not come back," Hewett testified at the Industrial Commission hearing. "She just said that she'd messed everything up, that she had messed up her personal life."
Hewett considered driving to her house, but Hurricane Irene was rolling up the coast, closing a connecting bridge on the route between their homes. With rivers throughout the region cresting their banks—about a month after Hurricane Floyd brought horrendous floods to the eastern part of the state—Hewett decided to stay home but to keep Davina on the phone for another hour to make sure she was OK.
Three days later, Davina had been back in Reschley's office for an appointment. She told her doctor she had experienced a suicidal thought the previous week that involved wanting to walk out into the ocean "until she couldn't swim anymore," almost the same proclamation she made to Hewett on the phone. Reschley referred Davina to a psychiatrist and set an appointment for October 27. But he didn't believe the comment warranted hospitalization. In his opinion, it was more of a fleeting thought than a true suicidal ideation. Plus, he said, swimming out to sea was "not that lethal" of a threat. Just to be safe, he made Davina promise that if she started seriously contemplating suicide, she would call him before doing anything drastic. In Reschley's estimation, Davina was at "low risk" for suicide when she left his office.
That night, October 20, Davina called Monzon. She wanted to talk about their relationship. She asked him to come over, just for a minute. When he pulled up to her house, Davina was drunk. She didn't drink often, and it was out of character for her to be out of control. Monzon noticed she seemed desperate to talk with him. He calmed her down, put her to bed, and left, thinking the issue was resolved for the night.
But Davina popped out of bed and followed him home. She staggered onto his doorstep, still desperate to talk. He made up his mind then: Their relationship was officially finished. He sent her home, only to have her make several more back-and-forth trips throughout the night. Finally, Monzon called police and asked an officer to warn Davina to stay off the roads and sleep off the booze.
At last, she gave in.
Davina and Monzon spoke three times on Friday, October 22, in the hours before the shooting. The first was in the afternoon, and the second was in the evening.
"She asked me something to the [effect] that, no matter what had happened, no matter what lies ahead of us, would we still be friends," Monzon later testified. "And I told her yes.
"I still felt she was a good friend of mine, even though both of us had said things and done things we probably regretted."
Less than an hour before her death, Davina placed the final call, from Bald Head's marina, from the red phone booth. Once again, she wanted to know whether the couple could remain friends. Monzon noticed Davina was "uncharacteristically quiet" during the chat.
"If you knew Davina," he testified, "you'd know she was loud. When she was happy, she was loud. She was talkative. She wasn't as loud—her voice wasn't as loud as it normally was."
Monzon told Davina he had to go.
He remembered her reply.
"Talk to you later."
***
Those events—the doctor's visits, the prescriptions, the boyfriends—they were enough to leave Gore thoroughly convinced that Davina died by suicide.
"This lady had 170 visits to the psychiatrist in a five- or six-year period," Gore told me. "Three days before she died, she talked about suicide with her doctor."
He made a face that suggested there was only one logical conclusion—ignoring another line of events that might lead to another, unknown suspect.
The week Davina died, she told her father she would be looking into drug activity on the island. Davina said she had arranged a meeting with a sheriff's investigator who handled narcotics cases. She wanted to go undercover to help track down drug runners and distributors.
She told Monzon the same thing, months earlier. He warned her about getting involved. But she was persistent.
"She told me several months before she was killed, she got information they were making big drug deals down by the lighthouse," Monzon told a private investigator in 2000. "Not quarter bags. Kilos. Big suitcases of money were being transferred."
Some months before the shooting, Grasty, the police chief at the time, said she received a call from the federal Drug Enforcement Agency asking for help on a surveillance operation. The chief later told a newspaper reporter that cocaine had been found in a public place on the island but claimed she was ordered not to talk about the incident.
A decade earlier, in August 1988, a vacationer taking an early-morning jog on the south end of the island stopped to inspect a soggy pillowcase in some tall grass near the water. Inside, she found eight kilos of cocaine—worth about $3 million on the street. Traffickers used the shallow inlets and hidden creeks to make drops of marijuana and cocaine.
But throughout his tenure as district attorney, Gore remained adamant that the smuggling had dropped off significantly. Despite the abundance of concern about narcotics trafficking on Bald Head, Gore did not believe the island had a trafficking problem.
Regardless of Gore's stance, in the weeks before her death, Davina warned people close to her that she would be investigating drugs on the island. Her father worried.
"I said, 'Hey, you be careful,' " Loy said.
***
To a parent, losing a child is the worst fear. To lose her and not know how is a nightmare. To lose her and to also be told she did something that you believe, in your heart, she couldn't do is just maddening.
Davina's parents have a list of reasons to believe their daughter was murdered.
She suffered loss and stress before, they say, and, although the experiences were trying, she coped with them without turning to suicide. She had not tried to take her own life when either of her marriages failed. She was looking for a new job and had sent resumés to police departments across North Carolina, including Charlotte-Mecklenburg.
None of her journals indicated suicidal thoughts or the type of planning that would have been necessary to carry out an elaborate suicide disguised as murder.
And she had that to-do list, the one Loy Buff found on the kitchen table the morning after the shooting.
"You can't tell me that somebody would make a note to themselves if they were planning to kill themselves later that day," Loy told me.
Beyond these subjective assessments of Davina's mental health, the Buffs pointed to physical evidence that seemed to lend credence to the murder theory. There were no cuts, scrapes, or bruises on Davina's face—injuries that likely would have been present, the family said, if she shot herself while standing and then fell face-first onto the asphalt.
There would have been no way for her to break her own fall.
The state crime lab did not find any gunshot residue on Davina's uniform, her radio, or on her left-hand glove. Technicians did find residue on the back side of the right-hand glove, though the commission later concluded those particles could have come from the regular handling and firing of Davina's gun at a shooting range.
Photographs clearly show blood smeared on the tailgate of Davina's patrol truck. But the crime lab never received samples of the blood for analysis, an oversight that would not be explained for more than a year.
Perhaps most vexing is the fact that the crime lab did not find any fingerprints on Davina's gun. Not one. A person isn't capable of wiping down a pistol after being shot point-blank in the head.
The Buffs also believe it would have been impossible for Davina to shoot herself in the back of the head and achieve the up-and-to-the-left trajectory the bullet took through her brain.
Dr. Alan Berman, a clinical psychologist hired by the Buffs to conduct a "psychological autopsy," testified that this was "a most unlikely scenario."
During the commission hearings, three people similar to Davina's size tried to re-create the positioning. They reached and pulled and twisted, tangling themselves into awkward contortions. The industrial commission's report later noted "strained maneuvering" among each of the test subjects.
"For anybody to say it's not possible for her to have shot herself like that, they're wrong," Gore said to me. He believed it was actually pretty easy for Davina to pull the trigger.
His theory, shared by other investigators and pathologists, was that Davina held the Glock pistol with both hands and brought her arms over her head, turning the gun upside down. She pressed the barrel to the back of her head and pulled the trigger with her thumbs. This would explain the blood on the back of Davina's hands.
He also noted that there was no evidence of a struggle—or anything else at the scene to indicate that a crime occurred. Analysts did not find any rips or tears to Davina's clothing, other than some fraying to the right knee of her trousers.
Gore believes the errors made at the crime scene were not the results of carelessness but of inexperience. Most people at the scene had never been involved with such a high-stakes investigation. They were riding adrenaline, jittery with fear and, maybe, a little morbid excitement. But Gore insisted the cops were not lazy.
"Your death or my death should be the same as an officer's death in theory and the law. That's the way it's supposed to work. But the reality is that when an officer dies, law enforcement puts on an extra press and they work hard. I mean, they're gonna protect their own."
***
On July 19, 2004—nearly five years after Davina's death—the Industrial Commission handed down a ruling the Buffs were aching to hear: Their daughter did not kill herself.
"The determination of suicide is very unlikely," the ruling read, "and the Commission finds that plaintiff has proven by sufficient evidence that her manner of death was not suicide but rather by homicide."
The commissioner who wrote the ruling made a point to excoriate investigators for their handling of the crime scene. "The disturbance of the site where (Davina's) body was found and the disturbance and contamination of the crime scene make it impossible to make a definitive showing that the manner of death was suicide."
The state paid $25,000 to Davina's estate, plus legal and attorneys' fees to the Buffs.
"It's not the money," Harriet said. "It's to prove that she did not do this."
The family's celebration didn't last long; the state filed an appeal, which sent the case to a three-person panel for further review.
As the case wound its way through the appellate process, Gore asked his staff to conduct an internal review of its handling of the case. But despite the prosecutor's insistence, the second Industrial Commission proceeding and a similar case heard at the federal level in 2006 would both point toward homicide. The commission doubled its previous award, upping the amount to $50,000, and the Department of Justice awarded the Buff family an additional $147,000.
In the federal report, officials from the Department of Justice wrote that there was "substantial and significant doubt as to suicide" because of the difficulty Davina would have had in positioning the gun.
Much like the industrial commission hearings, the federal report raised questions about the way police and prosecutors handled the case, suggesting "the existence of some investigative biases in focus, coverage and thoroughness of activity."
"Despite the extensive investigative effort," the report said, "there were some prime suspect leads which appear not to have been pursued in the SBI-led investigation."
The report zeroed in on the long list of evidentiary questions, the lack of fingerprints on the gun, the absence of a suicide note. Collectively, the examiners wrote, these were circumstances "that lend credence or support to a homicide theory, or at least help raise significant doubt about a self-inflicted, elaborately planned death."
***
As the various reviews undermined his suicide theory, Gore asked for periodic reviews of the Jones case. At one point, in 2005, he brought together everyone involved in the case—police, prosecutors, and analysts.
"We went over every piece of evidence that anybody had," Gore said. "We made a determination: If we're wrong, let's find out." He asked the State Bureau of Investigation to take an unbiased look at the case.
"Take this file. Independently. Go back over it. Let's answer the questions," Gore recalled telling the SBI, punctuating the demand by dropping pieces of the investigative file onto his bourbon-colored desk.
The SBI agreed to Gore's request, and investigators spent nearly a year delving into the original case files while also tracking down new information based on leads the Buffs provided. In May 2006, the bureau sent a letter to Gore, outlining the conclusions special agents made at the end of the search.
"It has been our intent to make a thoughtful review, without emotion, influence or finger pointing," David Allen, the special agent in charge, wrote in a five-page memo.
The SBI determined that the blood on the back of Davina's pickup truck got there when her partner, Officer Cain, was frantically trying to secure the scene in the minutes immediately after the shooting. Allen said that crime-scene technicians long ago came to this conclusion but that no one had thought to seek their input.
"The blood on the truck was the source of much speculation and could have been resolved by asking the crime scene agents who processed the scene," Allen wrote.
The SBI faulted the Industrial Commission's inquiry process for making assumptions "based on incomplete and missing key testimony which might have resolved some of the questions."
Allen dismissed concerns about the integrity of the crime scene—raised by the Buffs and by every civil panel that reviewed the case—as exaggerations.
"It would seem that the totality of circumstances ranging from her mental state to the facts at the scene are more consistent to a staged event by Jones resulting in her death."
In other words, the SBI believed Davina invented the traffic stop, acted through the radio call, and faked the scene in an elaborate attempt to make her suicide look like a murder. Investigators believe she meticulously planned every detail, down to the makeshift tunnel she set up in her backyard so her dogs would be able to get outside without her.
The agency recommended the case stay closed, the files stored in boxes.
Loy Buff once wore a sandwich board to one of Gore's campaign events, calling him a liar.
"I think he's a crook," Loy said. "I think he covered up Davina's murder. And I don't care whether he thinks so or not. I'll die telling him that he is a coward." Loy spat out the last word as if it were sour.
Gore told me he couldn't "fuss about" the Buffs' anger.
"The evidence points one way," he said. "We all know that, for families, that's a hard thing to accept."
How a person died, in truth, is never as important as that they died at all. Weighed against the larger reality that Davina is no longer here, it might seem insignificant to debate theories of suicide against murder. But to the survivors who knew her, it's the most important question. Given the way Davina died, there is no memorial to her on Bald Head Island, no sign that she ever served the people there or tried to protect them. To Davina's parents, that not only hurts but it makes them believe even more deeply that the cause of their daughter's death might have been covered up to keep the identity of this island oasis undisturbed.
"To allow a plaque over there or to allow anything like that—oh, no, no, no," Harriet told me in our first meeting. "You don't want people over there to know that a police officer was murdered.
"But it's OK to have one commit suicide."
Even through his final day in office in 2010, though, Gore refused to accept the allegation that he covered up a police officer's murder.
"I personally am not, and law enforcement is not, vested in this being a suicide to the point that we're willing to ignore the possibility that we're wrong," Gore said. "We never have been."
On a cold Tuesday in December last year, the ferry runs aground.
The 64-foot boat, Adventure, is on a trip from Southport to Bald Head just after 9 a.m. Fifty-three people are onboard, and when the vessel's Carolina-blue keel digs into a sandbar near channel marker No. 16, bodies fly. Twenty-one people wind up in the hospital.
The accident halts the normal rhythm on Bald Head, the cycle of comings and goings that beat to the ferry schedule. Like Davina's shooting, the sandbar is an abnormality rising from the water, a disruption to the predictable on Bald Head.
A few hours later that same day, on the mainland, new Brunswick County District Attorney Jon David, wearing a navy-blue suit and a sea-foam-green tie, looks at the cameras and reporters facing the podium. He's called a news conference to announce the results of his probe into Davina's shooting. David, 43 and tall, with a triathlete's physique, had promised to take a fresh look at the Jones case when he was elected to office in 2010.
"I think that it's damaging to the office of district attorney in general when you have a widespread community belief that there's been some type of cover-up," he had said not long after reopening the investigation.
While David looked into the case, his predecessor, Gore, pleaded guilty in August 2013 to allegations that he conspired with an assistant DA in a fraudulent travel reimbursement scheme. Gore received 18 months of probation.
Four months later, in the waning days of 2013, David is ready with the results of what is at least the eighth separate review of Davina's death in the nearly 15 years since she died.
"We don't know exactly what happened," he says a week before Christmas Eve, rubbing his palms together. "That's our most honest answer."
That leaves open the possibility—however remote—that the case could eventually move forward as a criminal case. Loy and Harriet Buff have long clung to that hope, hiring private investigators throughout the years to sift through the evidence and come up with new leads. The Buffs placed some of their papers, including Davina's journals and other belongings, in the care of friends and relatives who are to keep the records private unless a criminal case moves ahead.
Last fall, six years after I first talked to Loy about his daughter's death, I called to ask for another interview. This time, he declined. In an email, one of the Buffs' family friends told me Loy and Harriet don't want to relive the pain of their daughter's death only to have their hopes dashed once again. "I'm afraid the Buffs have been through so much, for so long, that they realized they lost time with their living family," the friend wrote. "That's now their focus."
David, too, declined interview requests for this story. For the past two years, he and a team of retired FBI agents previously unconnected to the case sifted through the investigative files. Despite the fresh perspective, the group reached an impasse. Some believe Davina's death was murder. Others lean toward suicide. The only decision they could agree upon, David says, is that Davina's death was not definitively suicide.
Still, then, they don't know. Even FBI agents who track terrorists and the savviest white-collar criminals—men who have no emotional attachment to this case—can't reach a consensus.
Davina Buff Jones's death is officially classified UNDETERMINED.
Two days after the news conference, the Coast Guard and a crew of contractors drag the Adventure off of the sandbar. After the boat chugs away, as the tide comes in, all signs of the accident disappear.
This fall will mark 15 years since Davina's death. As time has elapsed, with new waves of vacationers eager to watch sea turtles hatch and hear stories about Blackbeard, memories of the shooting have faded. The area around the lighthouse looks similar to the way it did before her death. There's the museum and the metal-roofed post office and the chapel where blood was washed away before the wedding.
The white picket fence remains too, without a marker for the woman who died alongside it.
Everything on Bald Head Island seems normal—as regular as the sunrises and sunsets that help draw thousands of visitors here every year. And each night, as the oranges and pinks fade and the sky turns black, a soft welcoming light shines from Old Baldy, while the land surrounding it remains in a state of deep, natural darkness.
Adam Rhew is a regular contributor to this magazine. He started researching the Davina Buff Jones case in 2007. Reach him on Twitter: @AdamRhew.