Shakespeare and Beer at Up Stage
In NoDa, Up Stage spotlights the city's underground theater scene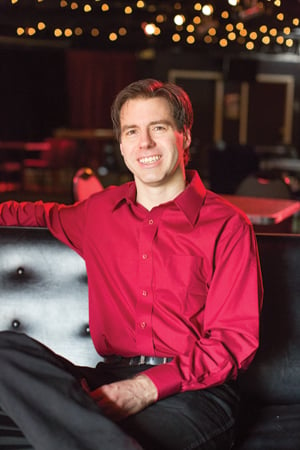 On a Thursday night at the height of March Madness, local bars are scrambling to lure basketball fans with extra TVs and beer specials. Michael Ford, owner of Up Stage in NoDa, isn't expecting a spike in sales.
He's spending the night hanging curtains, rearranging tables and couches, and assembling elaborate sets to conjure a police station, a cabaret-style theater, and a basement laboratory. His goal? To court theater geeks. He's transforming the 3,300 square-foot loft bar into the world of Bohemian Grove, an experimental, soap-opera-style play put on by local theater companies PaperHouse Theatre and The Machine. "We're talking about dinner and a show," says the 42-year-old Ford. "It's nothing too revolutionary. Actually it's a pretty old idea … but I think it lost a lot of favor because it's a lot more work than just running a bar."
Several years ago, as manager of the 900-square-foot bar Roux—the event space for Boudreaux's Louisiana Kitchen in NoDa—Ford realized that sticking a microphone at the back of the room and asking bands to play wouldn't be enough. NoDa has too many other good music venues. He wanted to create a niche for himself and build a scene, something that could generate momentum.
So when he bought the bar then-called Wine Up in July 2012, he set out to attract more theater groups and performance artists. So far, he's held scores of productions, including poetry performances, comedy shows, burlesque shows, and experimental theater. Ticket prices range from $5 to $15, depending on the show.
"It's nice to take performances out of the [traditional] theater," says Matt Cosper, writer and artistic director for The Machine. "You get a chance to change people's perceptions toward a show by putting it somewhere new."
Up Stage has an open feel: a slew of tables and chairs covered in faux crushed velvet, several deep-seated couches a few feet from the front of the short-nosed stage. The homey, dimly lit décor allows audiences to settle in and relax. During shows, Ford and his bartenders zip through the audience taking drink orders. Patrons can also eat: Up Stage began offering Boudreaux's menu early this year. Ford says the bar is nearly booked for the rest of the year.
He's in good company. Snug Harbor in Plaza Midwood occasionally hosts plays and other performances, while The Chop Shop in NoDa—mainly devoted to live music—sometimes stages comedy and other shows. NoDa Brewery hosted the wildly popular Chickspeare productions last summer. Heist Brewery, also in NoDa, recently announced it was turning one of its extra rooms into a performance space for theater groups, performers, and artists.
"There's a lot of talented people in this city with no base of operations," Ford says. "I enjoy helping them create things that might not get a chance to be seen anywhere else."