Shakespeare in Love
Writing your own vows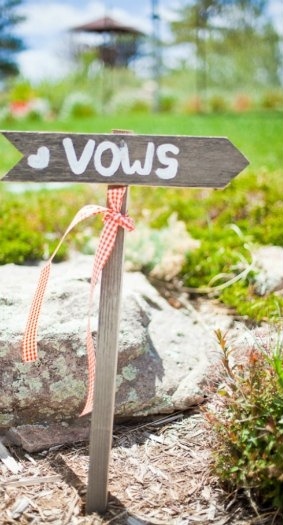 Making the decision to write your own vows is an intimidating undertaking to say the least. Declaring and defining your love in the most personal way in front of all your wedding guests can be quite unnerving. Nevertheless, it is deeply romantic, momentous–and totally worth it. So before you concede to writer's block, read on for a few pointers. When speaking from the heart, one can never be a poor writer. Direction and focus are the two essentials. Great work will follow. I promise.
1. Get a Move On. Don't delay when it comes to beginning the writing process. Procrastination rarely makes for good work. Starting early can be as simple as compiling a list of attributes you love most about your fiancé. Gather all the details, big and small, that make him the love of your life. In brainstorming and thinking in broader terms, the initial writing won't be nearly as intimidating. Keep adding to the list as you think of additional items. This will work as your inspiration board for writing.
2. Set The Date. Talk with your fiancé to set a date for finished versions of your vows. This will help you both stay on track with the writing process. It will also help you both determine the logistics. If you've both decided to keep your words to yourself until the ceremony, it's important to pass both vows along to your officiant or a trusted friend or family member who can read them to compare the two. They should be roughly the same length and similar in tone. These are two things you should discuss together when setting a final draft date. Decide on a tone together so neither person needs a re-write after finishing.
3. Time Machine. When beginning your outline–or even your list, draw on key events and milestones in the relationship. Think back to the first "I love you" and the moment you knew he was the one. How has he shaped your life since becoming a part of it? What qualities that he possesses are the most special to you? What words would you use to describe how he makes you feel? Jot down all of these answers and subsequent thoughts you might have.
4. Keep your focus. Remember, although these are vows recited to one another about your personal love, they are recited in front of your wedding guests. With any speech, you must keep your audience in mind when writing. Keep the inside jokes to a bare minimum. You want the guests you've chosen to share this personal moment with you to be able to understand what you're saying.
5. Candor is key. Be true to yourself when writing. If your personality is playful and bubbly, weave a bit of that into your words. Though these are solemn vows of steadfast devotion to one another, they should be reflective of yourself as well. Don't be afraid to let that shine through. Personality in writing is both charming and sincere.
6. Set goals. Consult your list. Look to parents and grandparents. Imagine yourselves 50 years from now. What do you hope to accomplish together along the journey? Jot down plans you wish you fulfill both together and on your own. Ask yourself what acts and qualities make a marriage last. These are the promises you will recite in your vows and these are the promises you will keep in your marriage. List them all out, no matter how small or seemingly insignificant. Remember, it's often the little things that turn out to be the big things. Don't be afraid to reference the little things.
7. Condense. Take each list separately and edit down to the most important items. Leave the ones that mean the most to you and the most to the two of you as a couple. Once you have your two lists narrowed down, you'll have focus and direction for writing the final product.
8. Consult the classics. Look to famous writers, favorite books, films, anything you wish for both help and inspiration. Feel free to weave in a meaningful quote with your own words or simply use these examples as a springboard.
9. Timing is everything. Keep your words down to about a minute of speech. Though it sounds quite brief, it's actually not. By limiting yourself to one minute, you'll be sure to keep your focus–as well as your audience. As mentioned above, set this time goal together. It's important that both speeches be roughly the same amount of time.
10. Practice, practice. Recite your words in front of a trusted individual who will offer constructive criticism. It's always important to get a second opinion in the writing process. Further, practicing ensures a non-rushed speech and a necessary familiarity with your words. It's important to be able to look into the eyes of your husband to-be while reciting your vows rather than reading them off the page. Now, relax and breathe. Remember, though others are listening, you're speaking to only one person–the love of your life. What could be easier than that?
photo: The Schultzes