Shop Jeffre Scott to Support Charlotte Humane Society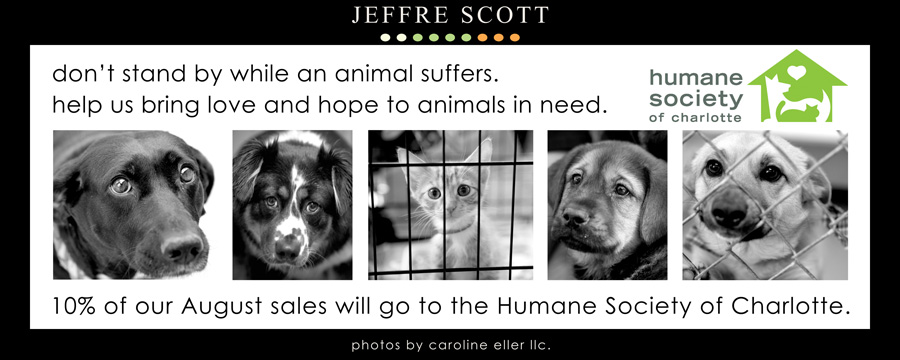 Look pretty. Save puppies. It's a win-win.
For the entire month of August, Jeffre Scott will donate 10% of his store's profits to the Charlotte Humane Society. Lucky for me, I have been scraping residue out of my favorite jar of moisturizer and going without concealer for weeks now just waiting for an excuse to go on a beauty spree, and now I have one. A very sweet, cuddly, soft, lovable one!
I mean, would you just look at those cuties? I admit, I am highly susceptible to any and all things cute. I subscribe to The Daily Puppy, I spend hours rating tiny felines on Kitten War, and I follow a blog entitled "Well, That's Adorable." I also sob during both the "I am a shelter dog" commercials and the Sarah McLachlan ASPCA commercials. I also happen to be the very proud and somewhat obsessive owner of two shelter-adopted cats (who are THE BEST), and hope to one day be the owner of at least one shelter-adopted dog. Basically what I am saying is that I plan to blow a lot of cash at Jeffre Scott in support of my favorite cause of all time, and you should too.
If you've never visited the Charlotte Humane Society, you should make the trip. The volunteers that make that place possible will warm your heart—and the infant kittens being bottle fed in the kitten room will break it.
You should also vote for my little furballs on KittenWar.com. Search for their names (Marty Meowski and Sawyer Meowski) and memorize their cute photos so that when they pop up in a Kitten War battle, you know who who to pick as the winner.
Happy shopping and puppy snuggles!