Shop Talk with Tara Davis
Charlotte designer Tara Davis, founder of Flow by Tara Davis, dishes about what her sewing machine has in store for 2012.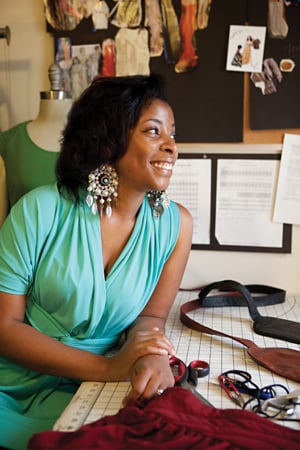 What defines Flow by Tara Davis's aesthetic? It's a cosmopolitan-chic collection.
When we met you in 2009, your collection focused on dresses. Any recent additions? We launched into handbags and belts in December 2009 using recyclable leathers.
What's next? The fall collection is called "Cozy." The name comes from a signature quilting technique that you'll find on the sleeves, collars, shoulders, and bodies of the dresses. And I'm doing a small collection for the Mint Museum's ArtFusion exhibit this month. Ooh! Explain the vision behind ArtFusion. The exhibit deals with surrealism combined with fashion. I've created a five-piece, all-dress collection, and the designs are all inspired by the museum's surrealist artwork. It incorporates influences like abstract detail, architecture, distortion, and classic silhouettes.
You closed your studio last November in a move toward wholesaling to local boutiques. What's the shift been like? It's a whole different can of worms. You're not dealing as intimately with the customer as you were in the studio; it's strictly about business. But you're still trying to keep the client in mind.
Where can we find Flow by Tara Davis in Charlotte? 72 Shoe Boutique in Blakeney and Ruby's Gift in NoDa. We'll be available online next month at flowbytaradavis.com. For now, you can also shop handbags and belts online at USTrendy.com.
Favorite spring trend? Novelty prints, like bird prints and graphic pieces.
Best fashion advice? Be best dressed wherever you go, day or night. Also shop with versatility in mind. I try to create dresses that can be worn for more than one occasion.
Personal style staple? A white or black tank for layering under a blouse or a dress.
Biggest fashion mistake of your past? Blue eye shadow and red lipstick in high school.