Shore Bets: A 2021 Guide to Enjoying Lake Norman
A look at the pearls scattered throughout the Lake Norman area—in dining, entertainment, and activities on the water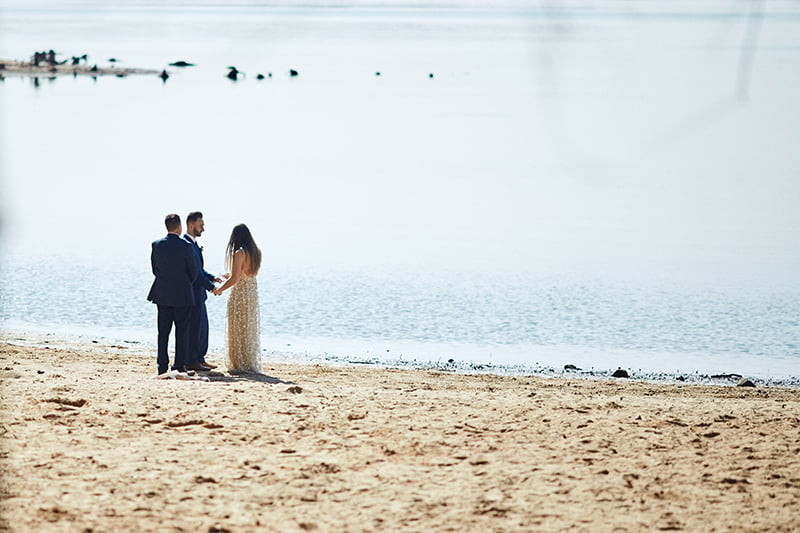 Lakeside Activities
A Look at the New Latta Nature Center and Preserve and Carolina Raptor Center
"So this is the brand-new raptor center," says Michele Miller Houck, technically the Carolina Raptor Center's associate executive director but someone who, on the center's website and in her email signature, has adopted the title of "Chief Wonder Maker."
"And it'll have 40 enclosures. It'll have an outdoor classroom and health and wellness center for the birds—so, essentially, this is where the diet is prepared. This is where the quarterly health checks are done on the birds. This is where they would come if they had an injury. This is for our resident birds that live at this facility—which will be probably between 60 and 80 birds that will live here."
It's midday on a January Friday at Quest, the new, multimillion-dollar science education center for the nonprofit Raptor Center and Latta Nature Center and Preserve (6345 Sample Rd., Huntersville); 1,460-acre Latta, Mecklenburg County's largest nature preserve, has hosted the Raptor Center since 1984. No one else is around—we're all still slogging through the winter of COVID—and Houck and I keep our masks on and our conversation properly distanced.
But eventually, Houck and the rest of her team hope, as many as 100,000 children and adults per year will roam the trail that leads to new enclosures for owls, eagles, hawks, vultures, shrikes, and even a laughing kookaburra, and take in bird shows at a new, 200-seat Duke Energy Amphitheater.
This alone would be a significant step for the Raptor Center. But those improvements join hands with the now-completed, 13,000-square-foot Quest, a modern education center for Latta with water-themed interactive exhibits, meeting spaces, classrooms, and an indoor fountain that demonstrates how Charlotte gets its drinking water: rain that collects in nearby Mountain Island Lake.
The back part of Quest serves as an introductory stop for the Raptor Center, and the building's design allows visitors to take in the hydrological Latta exhibits in front, then the Raptor Center space in back. From there, they can head behind the building to the bird enclosures and amphitheater. Houck expects 20 of the enclosures to be finished this year.
Even after nearly 40 years, and even though Latta and the Raptor Center are technically separate entities, they've never integrated their missions this fully. The complex's touchstones are "innovation and collaboration," she says. "We just think that we're stronger together." —Greg Lacour
A Visit to Lake Norman State Park (and Others)
Even boomtowns have oases. Here's Lake Norman's biggest: nearly 2,000 acres of pines and mixed hardwoods, 30 miles of mountain biking and hiking trails, a 125- yard sandy beach, and 32 sites for camping—and, of course, fishing. The state park (759 State Park Rd., Troutman) opened in 1962 after Duke Power donated the land, and the lake's sediment-rich waters teem with crappie, perch, bass, and channel catfish.
The park, about a 45-minute drive from Charlotte, hugs the northern edge of the lake near Troutman, and trails meander along the edges of coves and inlets. On a chilly Sunday afternoon in January, families ply the tracks with their dogs and, at the bottom of a peninsula near the visitor center, a father and his two young sons cast lines from a sandstone boulder that juts into the water.
If you don't need the expanse or care to drive that far, check out any of a trio of local parks in Cornelius: Ramsey Creek Park (18441 Nantz Rd.), with its 44-acre waterfront area; Jetton Park (19000 Jetton Rd.), with its reservable decks and gazebos; and Robbins Park (17738 W. Catawba Ave.), a newer offering with a disc golf course and an expansive play area for kids. —G.L.
Discovery Place Kids: Huntersville's RainyDay Sanctuary
For 11 years, this Discovery Place location (105 Gilead Rd., Huntersville) has topped the must-visit list for area families. The imaginative stations here allow kids to play in a pretend grocery store, laboratories, and an obstacle course that extends to the center's high ceilings. —Andy Smith
Carolina Renaissance Festival Returns
Hear ye, hear ye! The annual festival (16445 Poplar Tent Rd., Huntersville) returns this fall to transform 25 acres into a 16th-century European town, complete with jousting and turkey legs. Let the post-plague revelry begin. —A.S.
Historic Celebrations at Rural Hill
Historic Rural Hill (4431 Neck Rd., Huntersville), an open, 265-acre rise just 16 miles north of uptown, is a popular space for weddings and similar events along with, normally, the beloved Loch Norman Highland Games and North Carolina Brewers and Music Festival in spring and the Rural Hill Amazing Maize Maze in fall. As of this writing, COVID has canceled the Loch Norman Games, at least, a major downer for a property devoted to Scottish history; its founder, John Davidson, built a mansion there in 1788, some 60 years after relatives of his had sailed from Scotland. (The remnants of the house, which burned down in 1886, remain on the property.) Couples still go there to exchange vows among the tree stands, though—and once, says executive director Jessica Bustamante, a falling walnut conked a bride on the head during the ceremony. —G.L.
Cornelius History on Foot
The town offers two 1.25-mile tours, one each for north and south of Catawba Avenue. Highlights include the former site of the Cornelius Cotton Mill, co-founded by J.B. Cornelius, for whom the town was named in 1905. The mill building was demolished in 1997 and replaced by the town hall and (progress?) a Food Lion. —G.L.
Picks and Tricks at Carrigan Farms
The 170-acre family farm (1261 Oakridge Farm Highway, Mooresville) is perhaps best known for its haunted trail in October, but owners Doug and Kelly Carrigan host weddings and school tours throughout the year, too. Swim in the Quarry beginning in mid-May, pick strawberries, apples, or pumpkins from April to mid-November, or schedule a family photo shoot any time you like. —Taylor Bowler
A Trip Around the Track at GoPro Motorplex
This outdoor, 0.7-mile, 11-turn karting facility (130 Motorplex Dr., Mooresville) is modeled after a historic track in Parma, Italy. Drivers must be at least 16 to race—the karts reach speeds up to 55 mph—but this year GoPro added the Mini Motorplex, a remote-controlled racing experience that's open to all ages. —T.B.
---
Food
A Saucy Survey: 5 Lakeside Pizzas to Try
Tour the world without leaving the lake
Naples-Style: The thin, wood-fired pies at Aliño Pizzeria (500 S. Main St., Ste. 401, Mooresville) follow a traditional mold. Authenticity points: The tomato sauce is made from San Marzano tomatoes, found only near Mount Vesuvius.
Chicago-Style: Deep-dish lovers in Charlotte point to Matt's Chicago Dog (19732 One Norman Dr., Cornelius) for a prime, multi-layered pie. The box is heavy, so you can pretend you worked out today.
New York-Style: Hand-tossed, NYC-style pizzas at Giovanni's Pizza and Pasta (559 Winecoff School Rd., Concord) are regularly praised by northern transplants—and we all know which style has the most gatekeepers.
Buffalo-Style: Yes, Buffalo has a style, too: Expect a fluffy crust with toppings that cover the entire surface. The aptly named Taste of Buffalo Pizzeria (9610 Sherrill Estates Rd., Ste. B, Huntersville) does it right.
Detroit-Style: Pellegrino's Trattoria (275 N. Main St., Ste. C, Troutman) slings many styles, including Detroit's: rectangular, semi-deep slices with cheese cooked into the crust. —A.S.
Croon the Pit Stress Away at Saeed's
We can't think of a better Lake Norman bar that an Iranian mechanical engineer opened behind a gas station-turned-snow cone shop and which, thanks largely to the patronage of Dale Earnhardt Jr., draws NASCAR drivers and crew when they feel like singing karaoke. COVID restrictions have hurt Saeed's Bar & Grill (20832 Catawba Ave., Cornelius) as they have other bars; a longtime patron set up a GoFundMe in January on behalf of owner and founder Saeed Safaie. But Saeed hangs on with karaoke; a menu with burgers, dogs, subs, and other racin'-appropriate grub; and young NASCAR stars like Cole Custer and Ryan Blaney, who drop by every now and then. —G.L.
'Strip' Sips at The Soda Shop in Downtown Davidson
The Charlotte area doesn't have much in the way of college-town "strips," the strings of cheek-by-jowl small businesses that have served generations of undergraduates. But Main Street in downtown Davidson is a kind of miniature Franklin Street in Chapel Hill, with its antique stores, the hobnobbing hub of Summit Coffee, and Kindred, perhaps the region's best restaurant. The Soda Shop (104 S. Main St., Davidson), open since 1951 across Main Street from the imposing brick structures of Davidson College, embodies the cozy atmosphere of downtown: You can squeeze into booths or perch atop old-fashioned soda fountain stools to inhale classic burgers, fries, and shakes. —G.L.
Say 'Hello' to Hello, Sailor
Joe and Katy Kindred's second restaurant (20210 Henderson Rd., Cornelius) serves Carolina classics like fried catfish, blue crab claws, and hushpuppies with a side of honey butter. Think of it as a Palm Springs inspired fish fry with a tiki bar and sweeping lake views. Enjoy calabash shrimp in the midcentury modern dining room, sip a Negroni slushie on the covered patio and watch sailboats dock for lunch, or treat the kids to chocolate and vanilla swirl soft serve. If you order something to go, get the Lobster Roll on the Kindreds' famous milk bread. No matter how you slice it, a meal here tastes like an instant vacation. —T.B.
Rise, Shine, and Soak Up Sun at Café 100
This family-owned restaurant (100 Huntersville-Concord Rd., Huntersville) in a converted blue house serves breakfast and lunch until 2:30 p.m. daily. Order a bacon and egg combo, Greek frittata, or a Café Sunrise mimosa at the seven-seat counter. Stop in for lunch on a sunny day and enjoy a panini, wrap, or burger on the patio that overlooks the garden. —T.B.
… and Don't Forget Dessert at Mooresville Ice Cream Company
This 97-year-old ice cream parlor (172 N. Broad St., Mooresville) serves classics like Nana's Banana Pudding and My-Oh-My Peanut Butter Pie, and it occasionally unveils new recipes like Flavor #88, in honor of Dale Jarrett's 2014 induction into the NASCAR Hall of Fame. Stay and order a banana split at the counter or grab a cone to go and stroll downtown Mooresville. —T.B
---
Drink
Lost Worlds Brewing Brings Adventure to … a Cornelius Shopping Plaza
Dave Hamme is a relative newcomer to the beer world, but being a business consultant gives him one key insight: "As craft beer's been maturing and growing, we had to differentiate ourselves." He injected a love of archeology and adventure into Lost Worlds Brewing (19700-D One Norman Blvd., Cornelius), modeled after the explorer clubs of the early 1900s. Maps, artifacts, and the replica skull of a woolly rhinoceros—an extinct species that dwelled in Pleistocene Asia—adorn the walls.
Hamme's brewery at One Norman Plaza is less than a year old, but it gets national attention in beer publications and competitions. When we chat in January, he shares "three pillars" that drive Lost Worlds' success in our booming beer sector.
The first, "whatever you're doing, you've got to do right," is why Hamme hired industry vets. Lost Worlds opened in April 2020 as a fully formed concept: Head brewer Dave Gonzalez—formerly of NoDa Brewing, Rivermen Brewing Company, Foothills Brewing, and Rock Bottom Restaurant & Brewery—crafted brews that medaled in the NC Brewers' Cup and the Great American Beer Festival. Content strategist Sherri Johnson's past clients include Miller Brewing Company; she brought along a graphic designer from those days to create Lost Worlds' intricate cans and merchandise.
The second pillar, Hamme says, was to build a "lifestyle brand" beyond the cans and apparel. One example: Lost Worlds calls its bartenders "Adventure Guides," and each staffer is trained to regale visitors with the explorers' tales that inspired the brewery's decor.
The third pillar, "community," has been the most difficult for a place that opened during the shutdown last year. They've partnered with nonprofits Pat's Place Advocacy Center, Shirley's Angels, and Cornelius Animal Shelter, and the brewery hosts yoga sessions, hiking groups, and, soon, speakers from the archeology field.
While his core customer base comes from the Lake Norman area, Hamme hopes to host travelers when the world opens again. "Everyone has a great travel story they want to share," he says, "and the key for us is to give them a place to do that." —A.S.
Have a Glass at Davidson Wine Co.
This urban winery (121 Depot St., Davidson) is like a candy store for oenophiles, who endure limited options at craft breweries. Choose from more than 35 varieties, including Barolos, pinotages, petit verdot, and ports. Order appetizers like crab and lobster dip and charcuterie, or splurge on gluten-free chocolate mousse pie. —T.B.
A Lakeside Flight A rundown of beers to try at LKN breweries
Vista
A West Coast IPA with hints of grapefruit and citrus. Lost Worlds Brewing (19700-D One Norman Blvd., Cornelius)
Go Reap Yourself
A pale ale infused with the world-famous hot pepper Carolina Reaper. Ass Clown Brewing Company (10620 Bailey Rd. E., Cornelius)
Brown Sugar Brown Cow
A malty "mocha brown ale." D9 Brewing Company (11138 Treynorth Dr., Cornelius)
Mother of Human Kindness
A creamy hazelnut stout. Primal Brewery (16432 Old Statesville Rd., Huntersville)
River Otter Red
An Irish Red with a bit of roasted barley. Eleven Lakes Brewing (10228 Bailey Rd., Ste. 201, Cornelius) —A.S.
Caffeination Stations: The Lake Norman Coffee Roundup
Summit Coffee Co. (128 S. Main St., Davidson): It expanded to Chapel Hill, NoDa, and Asheville, but Summit's flagship store remains in the same 19th-century building in Davidson.
Cabella's Coffee Shop (1250 N. Highway 16, Denver): Have a warm caramel latte by the fire or take it to go and stroll the waterfront park around the corner.
Good Drip Coffee (108 S. Main St., Ste. A, Davidson): Enjoy a matcha latte with a pecan-pie pop tart and watch the foot traffic along Main Street.
Public Grounds (21314 Catawba Ave., Cornelius): Sip local roasts from Black Powder Coffee, savor pastries from Bakery 28, or enjoy kombucha from Lenny Boy Brewing Co.
77 Grounds (605 Jetton St., Ste. B, Davidson): This new addition to Davidson serves Pure Intentions Coffee and dairy-free oat and almond milks. —T.B.
---
Out On The Water
Get Educated at the Ride LKN Wake & Surf School
The instructors at this school (114 Bowfin Cr., Mooresville) tailor lessons in wakeboarding, wakesurfing, and wakefoiling to people of varying skill levels, from newcomers to riders ready for pro tricks. The business also offers private charters and summer camps for kids, with tubing, wakeboarding, and surfing lessons. —A.S.
On Board with Aloha Paddle Sports
This waterfront shop (400B N. Harbor Pl., Davidson) at North Harbor Landing in Davidson rents kayaks, too, but it specializes in paddleboarding. A private introductory lesson costs $60 ($35 for ages 10-16), and Aloha also offers paddleboard yoga and 90-minute sunset paddle tours. It's a lake, so don't worry about surf, but watch those boat wakes. —G.L.
Dragon Boat Festival Breathes Fire Afresh
Here be dragons, again: On October 16, leviathans descend upon Lake Norman for the 15th annual Dragon Boat Race, part of the annual Charlotte Asian Festival at Ramsey Creek Park. The team competition is part of a Chinese tradition that's more than 2,000 years old. COVID canceled last year's event, but organizers from the Carolinas Asian-American Chamber of Commerce and the Charlotte Dragon Boat Association confirm that the 200-meter bout is back for 2021. —A.S.
Essential Boat Tours on Lake Norman
Four options to traverse the lake in style
Queens Landing: This cruise service operates two boats with dining included: the luxurious The Lady of the Lake yacht or the replica Mississippi riverboat The Catawba Queen. (1459 River Highway, Mooresville)
Captain Gus' Lake Norman Laugh Liner: Think the Funny Bus on water. Capt. Gus Gustafson is a published author and an ideal fishing partner. (Little Creek Access Area, 4880 Burton Ln., Denver)
Charlotte Cycleboats: This party boat experience, highly popular for bachelorette shindigs, gives you the chance to work off those drinks by powering the vessel together. If you hear lots of yelling on the lake, it's probably this boat. (400B N. Harbor Pl. Dr., Davidson)
Celebrate on Lake Norman's Biggest Yacht: Carolina Grace, a 100-foot luxury yacht and event venue, is the largest vessel of its kind on the lake. It's outfitted with two bars, offices, four bathrooms, a heated upper deck, and room for more than 100 guests, which makes it a coveted wedding venue. But it offers intimate experiences, too, like dinner cruises and yoga classes. (18020 Kings Point Dr., Cornelius) —A.S.