Shrimp + Artichoke Crepes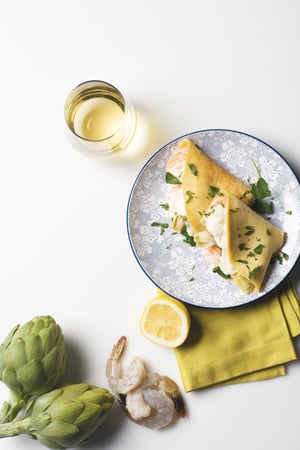 Great recipes are meant to be shared—and adapted. Bistro La Bon owner Majid Amorpour gave his decadent crêpe recipe to Café Monte owner Monte Smith, and the Café Monte kitchen turned it into a favorite—in this shrimp-and-artichoke version and an equally popular lobster-and-crab one—at the classic French restaurant (6700 Fairview Rd., 704-552-1116, cafemonte.net). Now you can make the recipe your own.
Shrimp and Artichoke Crêpes

Serves 2
2/3 cup lemon béchamel
(see recipe below)
1/2 cup quartered artichoke hearts
1/2 pound small shrimp, peeled,
trimmed, and deveined
3/4 cup heavy whipping cream
Pinch kosher salt
1/2 cup baby spinach
4 warm crêpes
1 tablespoon chopped parsley
In a large sauté pan over medium heat, combine béchamel, artichokes, shrimp, and heavy cream. Add salt and simmer until shrimp turns pink, indicating that it is cooked through. Fold in spinach and remove pan from heat.
Fill crêpes with shrimp, artichokes, and spinach. Spoon remaining béchamel on top of crêpes. Sprinkle with parsley.
Lemon Béchamel

Makes about 3 cups
1 tablespoon unsalted butter
1/4 large sweet onion, sliced
4 cups whole milk
1 whole clove or 1/4 teaspoon
ground clove
Pinch ground nutmeg
1/2 bay leaf
Pinch kosher salt
1 lemon, juiced and zested
Melt butter in a sauté pan over medium heat. Add onions and sauté until translucent, 2 to 3 minutes.
Transfer onions to the top of a double boiler over medium-low heat and add milk, clove, nutmeg, bay leaf, and salt. Add water to bottom of double boiler and simmer for one hour, stirring frequently, until béchamel coats the back of a metal spoon.
Pass béchamel through a mesh strainer to remove onion and whole spices. Add lemon zest and 1/2 teaspoon lemon juice. Taste and season with more salt as needed.
Béchamel can be refrigerated for up to 4 days.

TIPS:
This recipe makes extra béchamel. At Café Monte, the kitchen uses béchamel as a base for other creamy sauces, like alfredo.
No one—not even Café Monte chef David Sullivan—likes trimming artichokes. Buy canned artichoke hearts and rinse well before using.
These crêpes are even better when served with a nice white wine. Café Monte owner Monte Smith suggests a good Sancerre.
Use your favorite crêpe mix. The key is to use a hot pan with plenty of nonstick spray for easy flipping.
The easiest way to devein shrimp—that is, to remove the blue line running along the back—is to use the tine of a fork to loosen it and then rinse the shrimp in cold water.
Presentation is important. Try folding your crêpes as the restaurant does: start with a fully open crêpe; spoon filling onto one quarter of the crêpe; fold it in half and then in half again to form a wedge.