Simple Math …
... via an extremely complicated formula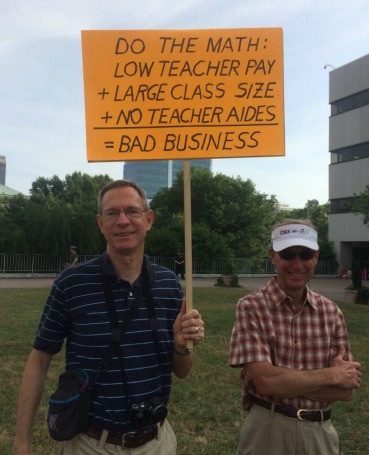 "Seven percent. A seven percent pay raise. That's what we passed this year for North Carolina teachers. That's simple math. But math is lost on Senator Hagan."
That's from a TV ad N.C. House Speaker and U.S. Senate candidate Thom Tillis released in late August (video below). After last week's debate between Tillis and U.S. Sen. Kay Hagan, I devoted some space to Tillis' patronizing tone toward Hagan during the debate. But that's style. What about the substance of the "seven percent" claim?
It's anything but simple. It's so complicated, in fact, that the Speaker and Governor McCrory's office can't seem to agree on whether seven equals seven or five-and-a-half (from WRAL):
When Gov. Pat McCrory wrote to welcome teachers back to the classroom, he touted a "substantial" pay raise that amounted to "an average pay increase of 5.5 percent for teachers."
That might have been exciting news, except that legislative leaders have been touting a 7 percent average pay raise for more than a month …
The teacher pay raises lawmakers passed this summer have been tinged by politics and obscured by confusion ever since they were rolled out.
Part of that conflict stems from the fact that 7 percent—or 5.5 percent—is an average raise, but the actual amount a teacher received varies depending on how long he or she has been in the profession. Also, whatever the raise, it affects only the state-funded portion of a teacher salary, not any supplemental funding provided by local systems like Wake County.
But the governor, state House members and state senators have seemly contributed to the confusion by putting out different numbers—5.5 percent versus 7 percent versus an even higher estimate of the average, depending on how it's calculated.
This handy chart breaks it down. The numbers apply to teachers with a bachelor's degree but no master's or national board certification. Those with four years' experience or less do, in fact, see a seven percent pay raise—in the state portion of their salaries, which varies from district to district. For teachers with five to 11 years, the raise ranges from 10 to 18.5 percent. Anyone with more experience will see a raise of as much as 9.5 percent (15 years) and as little as 0.29 percent (30 years).
Call it what you will—it's not "simple math." And the debate over teacher pay—an extraordinarily weird one for a U.S. Senate race—tends to obscure a couple of other critical facts.
Even a seven percent pay raise fails to compensate for cuts to resources such as textbooks and teacher assistants because of economic stagnation and student body growth. Also, a career teacher in North Carolina public schools who stays in the system for 25 or more years, earns a master's degree and national board certification, and performs well enough to retain his or her jobs can hope to earn no more than $61,000 per year, just a hair more than someone who earns a living loading and unloading trucks, ships and tanker cars.