Sip and Stroll, Yiasou Greek Festival, Charlotte Gets Weird and More, Sept. 10 to Sept. 13
Don't fret those post-vacation blues. Charlotte has a healthy collection of festivals and social events this weekend, including the annual Greek festival and Sip and Stroll.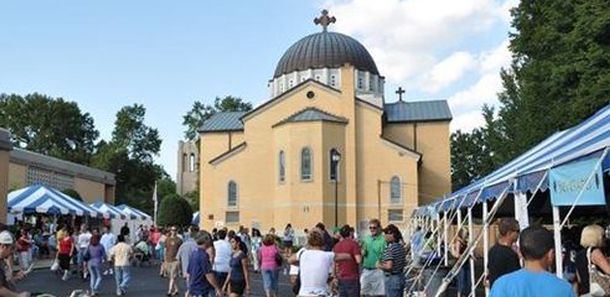 The post-holiday blues are real this weekend. Luckily, the Queen City cooked up more than a few social events this weekend. Get out there and enjoy yourselves, Charlotte. See y'all out there!
Thursday, Sept. 10
Yiasou Greek Festival
Since 1978, Charlotte has flocked to this festival. And we mean flocked. The four-day festival features live Greek dancing, music and entertainment plus Greek food and cathedral tours. The festival begins today at 11 a.m., but hours vary throughout the weekend. Admission is $3. For more information, go here.
Pangaea International Mix and Mingle
DJ KATO provides the host of international tunes tonight at this semimonthly Uptown networking event. Appetizers tonight also take on a worldly flair. The networking night starts at 6 at Sports One, 521 N. College St. There is no admission fee.
Friday, Sept. 11
Sip And Stroll
Art and wine pair together like, well, art and wine. This two-day festival on the EpiCentre's roof, offers wine tastings, meet-the-artist opportunities and an art fair. The festival kicks off at 6 p.m. Friday and lasts until 9 p.m. It resumes Saturday at 1 p.m. Ticket prices vary for the festival at 210 E. Trade St. Buy tickets here.
Charlotte's Most Wanted
For the second year in a row, you have the chance to score a date with one of the Queen City's most eligible residents. The date auction benefits Project Halo and takes place at Bubble, 210 E. Trade St., from 7:30 p.m. until 10:30 p.m. Tickets are $10.
Red, White and Blue Paint Party
It's not Labor Day weekend anymore, but that doesn't mean you still can't party your hard-working American butt off. Come dressed in white and get ready to get covered in the colors of America at this paint party. Doors open at 9 p.m., and there's free admission before 11 p.m. with an RSVP. BAR Charlotte is at 300 N. College St.
Charlotte Gets Weird: GFW Three-Year Anniversary Bash
This three-year anniversary party is taking on a videogame theme, so be prepared to let your inner nerd shine. The party has a festival-sized light and video show and some of the region's top DJs. The party is at 10 p.m. at Label, 900 NC Music Factory Blvd. Ticket prices vary. Buy them here.
Saturday, Sept. 12
The Fitness Bar Walk
Labeled as a "carb-negative" pub crawl, this fitness-themed night on the town will certainly get your blood pumping. Each stop on the crawl is anywhere from half a mile to a mile apart from each other. Tickets to the crawl are $5 in advance or $10 at the door. Bust out your workout gear for even more fun. For more information and to buy tickets, go here.
Woofstock 2015
Get ready for a groovy good time with your furry loved one. We mean your dog, obviously. Hosted by the Great Dane Friends of Ruff Love and Blue Ridge Boxer Rescue, this event features a silent auction, one free drink, food trucks and lots of adoptable dogs. Admission is $5 for the fest at Amos' Southend, 1423 S. Tryon St. The fun starts at 11 a.m.
Tawba Fest
Hop over the border for the second annual installment of this music fest. Doors open at 2 p.m., live music starts at 6 p.m., and the festival lasts until 10 p.m. There will be more than two dozen food vendors on site along with a slew of craft beers. There is no admission fee for the fest at 2850 Cherry Road in Rock Hill. Go here for more information.
Greek Fest After Party
With a festival as big as the Greek Fest, it only makes sense that there's an after party. In its eighth year of post-pita-party pandemonium (sorry), this party lets loose at the Visulite Theater. Music is provided by DJ duo Thanasti and Kosta X. Doors open at 10 p.m. at 1615 Elizabeth Ave.
Sunday, Sept. 13
Festival of India
We go from Greece to India this weekend. Featuring the arts, music and food from across India, this festival is sure to bring a worldly flair to your Sunday. Tickets are $6 in advance to the festival that also is on Saturday. For more information and to buy tickets, visit here.
Send Jared an email at DuskTillDawnblog@gmail.com, or send him a tweet @Jared_Misner.

Also by Jared Misner:

→This Weekend's Social Events
→Bowling For Books, First Friday Fort Mill, Electric Luau Party, Soulmatic Carolina Music Fest and More, Aug. 6 to Aug. 9
→The Moon Walk, Candy Fest, Silly String Party, Booze Cruise and More, July 30 to Aug. 2
→Christmas in July, More Christmas in July, National Dance Day, National Tequila Day and More, July 23 to July 26