Six Stops During a Visit to Seagrove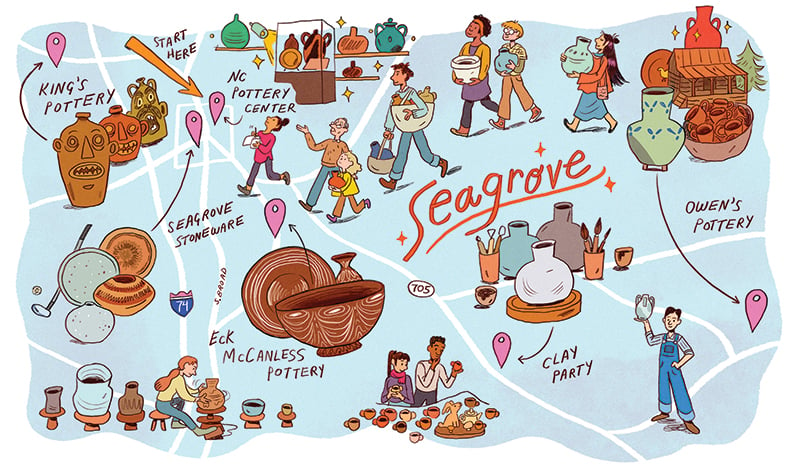 UNDERNEATH THE GRASS and wildflowers and dirt is one of our region's earliest resources: clay. Now, hunks of the terracotta-colored material are spun on the wheels of nearly 100 potters in Seagrove, the slippery clay tamed by their fingertips into mugs and teapots. Seagrove's countryside is considered the nation's pottery capital, and it's only an hour and a half away.
DO
North Carolina Pottery Center
Find permanent and rotating exhibits containing more than 800 pieces in this museum. Start here for a sweeping education on the history of the craft, from its roots in the Native American tradition to contemporary sculptures.
233 East Ave., 336-873-8430.
Clay Party
Groups of six to 18 can try their hands at creating their own pottery goods. Potter and owner of Thomas Pottery Bobbie Thomas is known for her whimsical creations, such as her depiction of a bunny tea party.
1295 S. NC 705, 336-879-4145. Call ahead.
SHOP
Seagrove Stoneware
It's fitting that the mayor of Seagrove is also a potter. In addition to David Fernandez's stunning collection of vases, plates, and bowls, he also creates high-performance golf putters made out of clay.
136 W. Main St., 336-707-9124
Owens Pottery
Members of the Owens family have spun clay for generations, making their pottery shop the oldest in the state. Their famous red glaze stands out among the earth tones usually seen in the pottery world.
3728 Busbee Rd., 910-464-3553.
King's Pottery
Rover, Conrad, Billie, Rory—a list of names hangs in Terry King's periphery as he molds an expression onto a clay jug. King's Pottery is known for its face jugs, and each one gets a name.
4905 Reeder Rd., 336-381-3090
Eck McCanless Pottery
This second-generation potter's shop feels more like an art gallery. McCanless is known for his agateware pottery, which he makes by turning multiple colors of clay together to create a unique spiral pattern.
6077 Old US Hwy. 220, 336-873-7412