Size Matters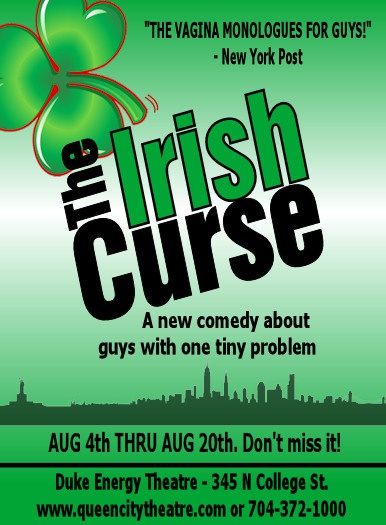 Those brave, outlandish lads at Queen City Theatre Company are up to their usual naughty antics. This one comes in the form of a play that's been called the male version of The Vagina Monologues.
The Irish Curse (Aug 4-20) is about, according to the tagline, "guys with one tiny problem." The action takes place in a Catholic church basement as a group of Irish-American men meet each week at a support group for those unhappy with the size of their equipment.
The play, written by Martin Casella, premiered at the New York International Fringe Festival in 2005, where it won the Overall Excellence Award for Outstanding Playwriting. Its European premiere was at the prestigious Edinburgh Fringe Festival in 2006. Glenn T. Griffin directs the Charlotte premiere. The theme may be "a tiny problem," but the laughs are sure to be big. Details here.