Sleepovers for Strangers
For these travelers, crashing on a stranger's futon isn't taboo, it's practical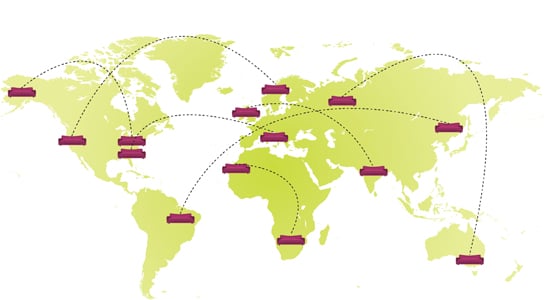 Andi Perullo sits on her couch, legs folded beneath her, hands wrapped around a big cup of coffee. She's pretty and inviting, and it's a very nice couch — a clean foldout futon that creaks pleasantly when you sit on it, like it's happy to have you.
In fact, Perullo's is one of the more popular couches in Charlotte. Just about every other day, a stranger sends her an e-mail and asks to sleep on it for free.
She often says yes.
Perullo is one of Charlotte's highest-rated members on the popular social networking site CouchSurfing.org. Since 2004, the site has grown to include more than 1.7 million members in 237 countries. The premise is simple, if more than a little strange: sign up, create a profile, and you're welcome to crash with strangers around the world.
Perullo, a twenty-seven-year- old acupuncturist, has stayed with or hosted people from Mexico to Morocco. During a recent trip to Brazil, she and about 600 couch surfers gathered for a "Pan-American Collective" event on Copacabana Beach.
"I have met thousands of people," she says. "Some of my best friends are couch surfers. I can't imagine my life without them."
In January and February 2010, an average of 14,432 new CouchSurfers signed up each week.
Perullo's couch came with her on the move from New York City. Big tourist draws like Manhattan are surfing hotbeds, and there Perullo participated in regular museum visits and bar meet-ups that drew hundreds of people. The Charlotte scene is far smaller, but more popular than you might think — its 261 members put it second to Asheville in North Carolina.
"Charlotte is kind of a generic city, but you have people from lots of other places that have interests in international travel," says D. I. von Briesen, whose five young kids get a kick—and occasional juggling or hemp-weaving lesson — from the people he and his wife host. Many are just passing through, but von Briesen says a good host does more than offer a place to sleep. People cook dinner for their guests, show them around the city, give rides to and from the airport, even throw dinner parties. "In general it's not just a free place to stay," he says.
Kristi Lanning's first guests were two women headed to Ohio in a moving truck; her friends thought she was nuts. They ended up grilling and talking into the night, and Lanning has since taken surfers to NoDa, Latta Plantation, and Bobcats games. "I stay in contact with most of them," she says.
It's the personal connections that couch surfers say keep things safe. Most won't respond to some- one without photos and a detailed profile, and prospective hosts and surfers might talk first over the phone or a cup of coffee. Most importantly, members can vouch for one another and usually leave detailed (and permanent) reviews on profile pages to help the next host decide how to respond to a request. "You can always say no," Lanning says.
But that seems pretty rare.
A Collection of CouchSurfing Hosts
Click the photos to find out more about these hosts.