Slice House Pizza Opens in Downtown Huntersville in Former Lupie's Cafe Location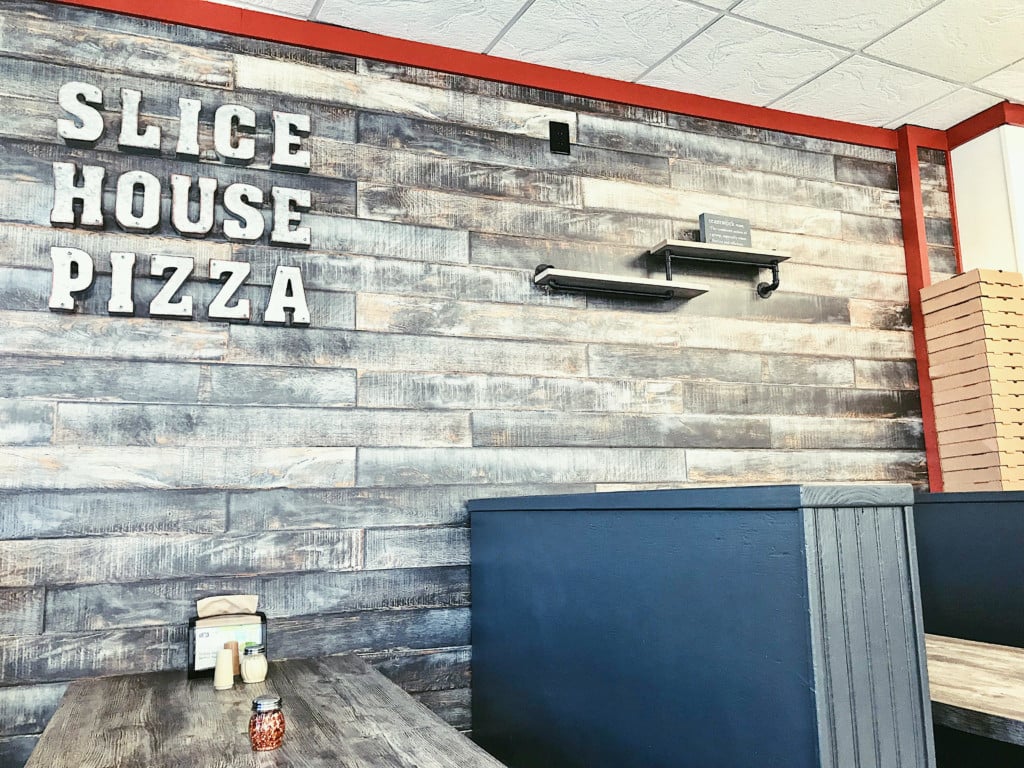 A good New York-style slice of pizza can be hard to come by in the Carolinas… emphasis on "slice."
The Huntersville area has a few great pizza places already—The Vinyl Pi, Taste of Buffalo Pizzeria, Hawthorne's NY Pizza & Bar, and Mama's Pizza Express all have their strengths. But none of them have what the newest pizza joint on the block offers: by-the-slice pizza and a comfortable, modern atmosphere that doesn't lose its warmth. Hawthorne's, Taste of Buffalo, and Vinyl Pi have tasty pizza, but they don't offer it by the slice regularly.
Slice House Pizza just opened on February 7, and the mom-and-pop casual stop has already made waves in the community. It's hard not to notice it, after all. Inhabiting the former Lupie's Cafe location smack dab in downtown Huntersville, adjacent to Cafe 100, across the street from Discovery Place Kids, and just a short walk from Crafty Beer Guys, Slice House Pizza has a piece of prime real estate in the burgeoning suburban area. It is located at 101 South Old Statesville Road.
Co-Owner Giovanni Trevisan says he's been eyeing the spot for a while.
Trevisan comes to Huntersville from Concord, where he once co-owned Rosario's Pizzeria. He sold his half of the pizza shop to his partner after 13-and-a-half years of business together and took up the Slice House endeavor with his wife, Cynthia, who co-owns the space with him. If you've been to Rosario's, you may notice a similar menu at Slice House, however, Trevisan says he added more kid-friendly items because of the restaurant's proximity to Discovery Place Kids.
All three places serve pizza-by-the-slice, but Slice House differs from Rosario's and Mama's Pizza Express thanks to its atmosphere. Even though it's family-owned and has a welcoming vibe, the interior doesn't suggest that of an average pizza shop. You know the kind: the Italian flag's green, red, and white dominate the space, and the furniture is typically unremarkable. Instead, at Slice House, warm, gray shiplap covers the walls, and bright light filters in from the wall of windows bordering the sidewalk. It has a modern industrial feel without being too hip—rustic wall decor keeps it comfortable. A stark contrast from the vibrant purple walls, brown wooden booths, and eclectic decor of Lupie's that stood there once before, Slice House completely transformed the place into something more calming and modern.
Oh, and yes, the pizza is delicious.
For a single slice of cheese pizza, my total was around $2.50 with tax. It was a quick and simple experience ordering up at the counter, where you can almost see into the half-open kitchen behind it. I was given a number for my table, and my pizza was brought out to me on a silver tray with parchment paper—a step up from the grease-laden paper plates I'm used to with by-the-slice pizza places. A decent size for the price, the pizza slice came out hot with a crunchy crust. It's just the right size to fold and chomp into just like you typically would with NY-style pizza. Slice House currently offers 14 types of pizza in addition to a robust menu of traditional Italian dishes—manicotti, spaghetti and meatballs, and linguini with clam sauce are just a few. The hero sandwiches and wraps ($8.50-$9.50) are sure to draw in a lunch crowd as well.
Trevisan was born in Canada, but his parents are from Italy. He and Cynthia love Huntersville and plan on moving their lives to the town from Concord, hence the restaurant switch.
Though they're still getting their bearings straight (I stopped in on their second day of business), the restaurant has plans to offer alcohol in addition to their fountain drinks. Trevisan tells me that, within a couple months, Slice House Pizza will have about six local brews on tap (supporting Huntersville's D9 Brewing Company, Olde Meck, Cabbarus Brewing Company, and other Charlotte favorites) as well as a few wine options.
There will be no liquor, and the restaurant is open from 11 a.m. to 9 p.m. Slice House is closed on Sundays, because, you know: the day of rest. You can call them at (704) 274-9264 or visit their website for more information.