Sloan Boutique Moving to New SouthPark Location
Opening date scheduled for late November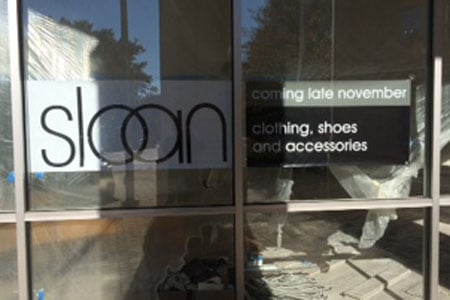 After 15 years at their location on East Boulevard, Sloan Boutique is moving to a new space in the Village at SouthPark. The move, prompted by a desire to have a one-level store, to be centrally located, and to be near other boutiques, is scheduled for late November. The new Sloan location will be in the space formerly occupied by 8 the Salon.
"After 15 years, it's time for a change," Bess York, manager for Sloan Boutique, says. "It's always good to reinvent [yourself], but we will not be losing our friendly neighborhood ambiance."
Although the new store will be 1,000 square feet smaller than the current location, the new space will allow for all departments (shoes, jewelry, and clothing) to be housed on the same level. York feels that the move to a one-level store will allow associates to have "quicker access to shoes and accessories when helping customers, and be able to give more comprehensive service."
The new location will have an updated look courtesy of Beth Keim from Lucy and Co., and will also feature new fashion lines not previously offered in their Dilworth location. The new Sloan store will also have more parking options for guests, and the boutique, to be consistent with neighboring shops, will be open seven days a week with extended hours. Although there will be some noticeable changes, customers will still experience the level of customer service that has made Sloan popular with Charlotte shoppers.
"The move means better service and accessibility for our customers," York says. "I think people are loyal to Sloan because we are honest and friendly. Shopping with us is like spending an afternoon shopping with your girlfriends."