Small Space, Big Style in Chantilly
One couple trades a sprawling suburban home for a cozy bungalow in an urban neighborhood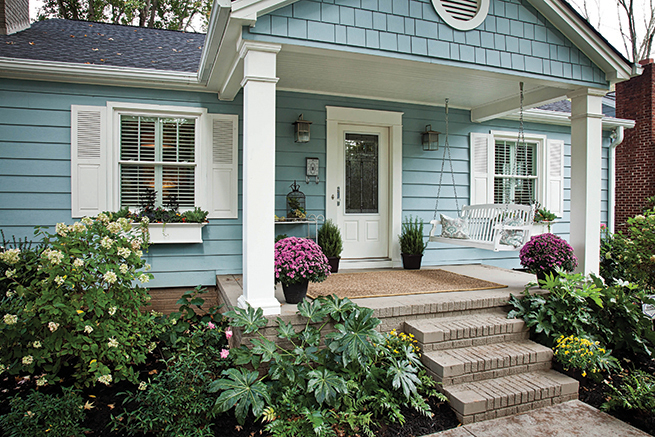 Jack and Kim Trouten started flipping houses in popular neighborhoods like Elizabeth and Plaza Midwood in 2010. Most of the time, the couple purchases homes in need of a little TLC, adds modern amenities, and puts the homes back on the market, using the profits to start all over again.
When a tiny 1940s bungalow in the Chantilly neighborhood came on the market in June 2012, the couple was drawn to the location and the home's original features, including a brick fireplace and oak hardwood floors.
"It was a charming old mill house in a former working-class neighborhood," Kim explains. "It didn't have a lot of pretty details, but it had a lot of potential."
The fact that it was a foreclosure listed at just $112,500 added to its appeal. There was just one problem: The home was listed through a Freddie Mac program that required the home to be owner-occupied.
The Troutens owned a 3,200-square-foot home in Weddington. But since their son and daughter had grown up and moved out, the traditional home on a two-acre lot had started to feel too big. Up for an adventure, the couple decided to trade in sprawling suburban home for the hum of an urban neighborhood.
"We thought, 'What's the worst thing that can happen?' If it doesn't work out, we'll sell," Kim recalls.
They sold their home in Weddington complete with all of the furnishings—right down to the china in the cabinets—within 24 hours of putting it on the market and set to work remodeling their new, smaller home. It took five months to transition the 800-square-foot, two-bedroom, one-bath house into a light-filled bungalow, including a new master suite and an expanded kitchen, living room, and office for an additional 1,000 square feet of living space.
During that renovation, though, doubts crept in. "Jack felt like a character [from the movie] Elf, like the house was too small for him," says Kim. "We thought we'd made a huge mistake." But when the details started coming together, both Jack and Kim became smitten with the home.
To take advantage of the added space in the once-cramped kitchen, Kim mixed a vintage hutch from The Depot at Gibson Mill with gray cabinets, granite countertops, and stainless-steel appliances. In the dining room, she added a whimsical touch to a glass table and leather chairs by using a burlap runner and tree branches as a nature-inspired centerpiece.
The highlight of the addition is the understated "morning room," where Kim drinks her coffee and reads the paper before work. She chose a diminutive linen sofa and matching chairs with chrome accents from West Elm and a glass and chrome coffee table from a consignment shop; a handmade chalkboard with a Bible verse hangs over the sofa.
"It's a feminine room; the modern furniture and cool colors make the room feel fresh," Kim says. "Because it's a small space, all of the pieces have to be either beautiful or useful; I wanted to fill it with pieces I love."
Kim works in a "pocket office" adjacent to the morning room. She purchased the once-drab desk in the center of the room from the Habitat for Humanity ReStore and applied a coat of white paint to restore its vintage charm and complement the judges paneling on the walls. A colorful oversized painting of a bird is a focal point on the back wall. The space is flooded with light thanks to oversized windows and doors that lead to the patio.
In the backyard, Kim used her skills as a master gardener to create a fragrant border of sweet tea olives and holly surrounding the stained concrete patio. Jack strung white lights to help define the space and cast a soft glow over the seating area. Their new master bedroom also overlooks the picturesque yard.
Kim mixed flea market finds with pieces from big-box stores to create a one-of-a-kind look. A Victorian-era iron bed is flanked by modern mirrored side tables, while a scrap door that Kim purchased at ReStore and turned into a mirror blends vintage and modern. In the en suite bath, she mixed a vanity from Pottery Barn with sparkling sconces and stone floors.
"We want to keep as much character in a home as we can, but we wanted a spacious master bedroom and modern master bath," Jack says. "I know how to make a space functional, and Kim makes it beautiful."
In addition to creating a home that is a blend of his-and-hers style, the Troutens discovered that downsizing fits their new lifestyle.
On Friday nights, they walk a few blocks to grab dinner from a food truck in Plaza Midwood or sit on a patio with a glass of wine.
"We decided that if we were going to live here, we wanted to be invested in the community," says Kim.
In case they needed another reason to feel at home in Chantilly, their kids rented homes nearby. In fact, all four Troutens now live on the same street.
"We all love it here," Kim says.