Smitten with Creativity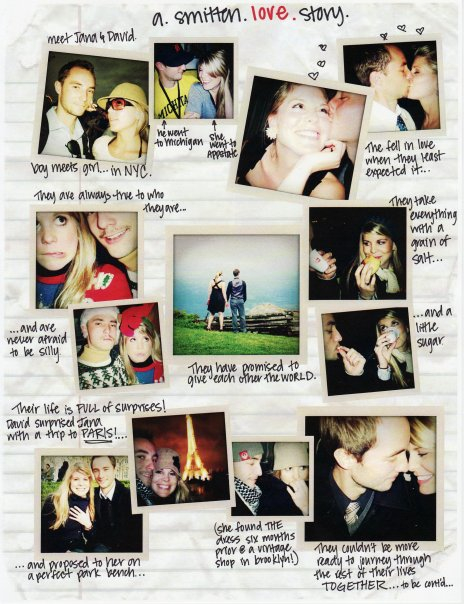 I went to seven weddings last year. Yep, I said seven. So that means I got seven save the dates, seven invitations, and definitely more than seven engagement party and bridal shower invitations. I have to say, the more creative, the more personal, and the more genuine these invites were, the more I loved them. Not only do they tell me what date I need to set aside but they also usually tell me a little something about the atmosphere or the theme of the wedding weekend may be. Even better: when that save the date screams personality, creativity, and fun, the more likely I am to run straight to my calendar and scribble down your names.
So, when a friend of mine, Jana Nordstrand (a Charlotte native that now resides in Brooklyn, NY) sent me and the rest of her friends a request to help her win a wedding photo package from Charlotte photographers Smitten Photography, and I saw the entry she created for the contest, I was smitten myself. I immediately thought … what a great idea for a creative, fun save the date.
In the end, Jana and Dave didn't win the contest, but I guarantee they won my heart (and yours, too, right?) with such a creative entry. It inspired this post and, more importantly, I hope it inspired other couples to really step it up with their wedding day creativity. The more creative, the more memorable and the more fun the event will be not only for the bride and groom, but for their guests, too.