Soccer Spot
Get your fill of football (both American and international) at uptown's new pub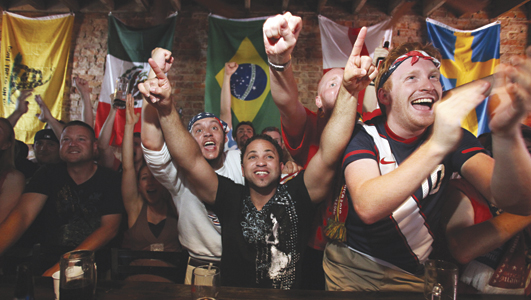 WHAT: Courtyard Hooligans
THE 411: This international sports pub, where soccer is king, opened last fall inside Brevard Court.
VIBE: The World Cup has ended, but you're still hooked on the sport, so grab a seat at the rustic bar and take in an MLS or European soccer match (MLS season runs through October). Flat-panel TVs offer great views of the action, and the beer menu—about twenty imports, ten craft brews, and a half dozen domestics—is carefully selected so that you can properly replenish after yelling, "GOOOOOOOAAAL!"
WHO'S THERE: The international flair and appeal of the world's most popular sport draws a diverse crowd, and many of the patrons speak English as a second language. Once football (as in the American version) season starts, you can also make this your destination to watch NFL games.
WHAT SETS IT APART: The owners couldn't have picked a better location than historic Brevard Court, which has revived itself as a bustling restaurant and bar district (EggHeads, which serves food late night, opened there a few months ago, while Brevard Court Sundries and French Quarter Restaurant have been there for years). Courtyard Hooligans and the other tenants make great use of the bricked courtyard, where you can enjoy outdoor seating in the pleasantly secluded breezeway.
WHERE: 140 Brevard Ct., 704-376-2238, courtyardhooligans.com.