SOCO Gallery Finds Home in Myers Park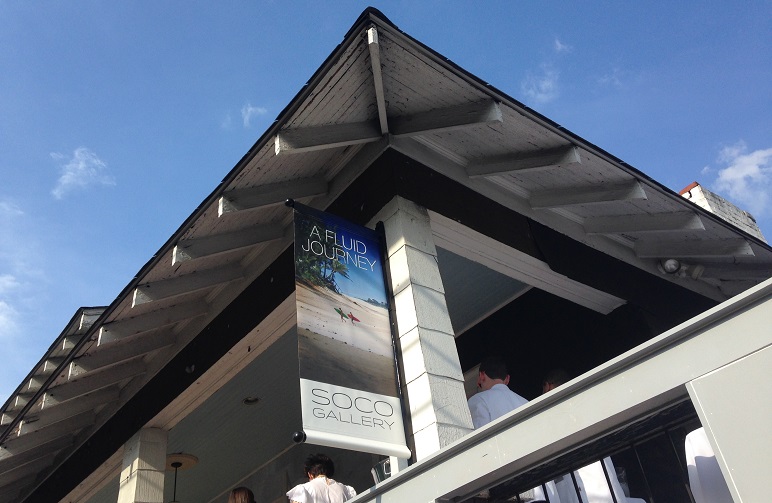 SOUTHERN COMFORT GALLERY, commonly shortened as "SOCO Gallery," has made the transition from pop-up to permanent space in Myers Park, debuting the location with the exhibit A Fluid Journey. The gallery was founded by Chandra Johnson, and past pop-ups include a Lyle Owerko exhibit at the Mint Museum and a Jeff Whetstone installation at The Joule Hotel in Dallas. Johnson says she came across the gallery's new home, a 1920s bungalow with 1,200 square feet of exhibition space, while working on new projects.
"I was continuing to look for pop-up space, and I came across this space and loved it so much," Johnson says, during the gallery's May 6 opening, "and it sort of fit with the philosophy of what I wanted to do: starting a gallery that was contemporary but with Southern elements. I found a friend to split the space with me. I put over six months into it. And I put the finishing touches into it today."
The name for the first exhibit in this space comes from a 1969 surf film, alluding to the themes displayed: the power of leisure, the ocean, and the upcoming season. Featured photographers include Will Adler, LeRoy Grannis, Xavier Guardans, Mona Kuhn, Karine Laval, Ken Van Sickle, and Massimo Vital Johnson. "We knew this exhibition was going to open in May," Johnson says. "We knew everyone was getting ready to go into summer, and we had just been through winter. And we just thought it was something beautiful to show this side where people are relaxed, with water, leisure, and surfing. And we wanted to get people excited for summer and for SOCO. It's a very approachable exhibit."
Johnson describes the response to SOCO Gallery from Myers Park—and the Charlotte arts community as a whole—as "very welcoming," with future events planned to invite Charlotteans and visitors into the space. "We're going to do an exhibition schedule, and we're going to do community events hopefully this summer." Johnson says. "We would love to be an event-based, vibrant experience for people when they're here. And we just want people to be inspired, and connected to the broader world."
A Fluid Journey runs through Aug. 22. Gallery hours are Tue-Sat, 10 a.m.-5:30 p.m. Check out SOCO's website here.