Sombrero Bar Crawl, Cincofest, Bark in the Park and More, April 28 to May 1
Cinco de Mayo festivals are creeping up on us earlier each year. There are at least two this weekend -- in April.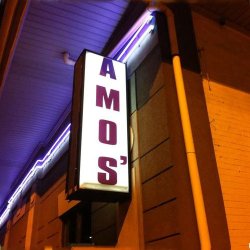 From a Hippie Fest to several Cinco de Mayo-themed social events (who cares if it's still April?), Charlotte is turning up the heat on its nightlife scene. See y'all out there!
Thursday, April 28
InstabeerupCLT
The monthly meet-up and networking event is at Bulldog Beer and Wine tonight. There are raffles, and Door Dash is even giving away the first 120 beers tonight, so you might want to arrive early. The free party starts at 6 p.m. at 1434 Winnifred St.
Girls Night Out
This charity event benefiting the Ronald McDonald House of Charlotte features dueling pianos, a silent auction and a fashion show. The party starts at 6 p.m. at The Fillmore, 1000 NC Music Factory Blvd. Ticket prices vary. Buy them here.
Friday, April 29
'70s Night
It's Disco Funk Fever tonight as Blue Olive Lounge turns back the clock to the era of peace, love and disco, baby. Throw on your best '70s wear, and get ready to party with $2 Corona and Corona Light. The party is free, and it begins at 9 p.m. at 14021 Conlan Circle.
Big Brews High-Gravity Beer Fest
Be ready for a doozy. Each local beer on sample tonight packs a punch. At more than 10 percent alcohol by volume, these beers are "high gravity," so go easy, tiger. The party is at Whisky River, 210 E. Trade St., from 8 p.m. until 10 p.m. Tickets cost about $18 and include samples of eight high-gravity beers, pretzel necklaces, and an entry into the raffle to win an at-home brew kit! Repeat: Pretzel necklace. Buy your tickets here.
Neon Bollywood Night
Put on your brightest of bright clothing tonight and go under the black light. This glow-light party is at Label, 900 NC Music Factory Blvd., and will include free glow sticks and neon "gadgets." The party starts at 9 p.m., and tickets cost about $17. Buy them here and get ready to glow.
Saturday, April 30
Sombrero Bar Crawl
Get a head start tonight on your Cinco de Mayo festivities, which, by the way, is not Mexican Independence Day. Registration is at Vida Vida from 6 p.m. until midnight, and the first 500 people looking to stereotype Mexican culture will get a free sombrero to go with the copious amounts of Corona, Modelo and Dos Equis. Bubble, Suite, Blackfinn, Rooftop 210, Howl at the Moon, Tin Roof, Whisky River, and StrikeCity are also stops along the EpiCentre's crawl tonight at 210 E. Trade St. Tickets cost about $17, and you can buy them here.
Cincofest
The Sombrero Bar Crawl folks are taking over the EpiCentre tonight, but don't let that stop you. There's plenty of room in Uptown for more cultural appropriation. Here's the schedule of events for this year's Cincofest: registration at Flight, 300 N. College St., from 4:15 p.m. until 6 p.m., Fitzgerald's from 6 p.m. until 7 p.m., Connolly's from 7 p.m. until 8 p.m., Tilt on Trade from 8 p.m. until 9 p.m., SIP from 9 p.m. until 10 p.m., Prohibition from 10 p.m. until 11 p.m. and Roxbury from 11 p.m. until midnight. Tickets cost $5, and they include entry to all the above-named bars. Buy them here.
Bark in the Park
This annual dog festival features live music, food trucks and events like dog costume contests, Huntersville Police Department K-9 demonstrations, largest dog contests and, of course, a cutest dog contest. The event is free unless you're interested in a "fun" run at 8:30 in the morning. Then, it's $10. The event, which begins at 10 a.m. for everything else other than the run, is at 4431 Neck Road. Register here for the fun run.
Rock the Ed Music Fest
East Mecklenburg High School Foundation gets a boost today with this music fest rockin' out to support it. All proceeds from the event featuring live music, food trucks, games and more benefit the foundation. The event begins at 4 p.m. at Amos' Southend, 1423 S. Tryon St. Tickets cost $15. Buy them here.
Charlotte Hippie Fest
Join "hundreds of artists and local vendors," food trucks and live music at this free festival that wants to connect you to your inner bohemian, man. The festival is from 11 a.m. until 7 p.m. at the Eastland Mall parking lot, 5471 Central Ave.
Pints for Paws
If one dog event isn't enough or you, you're in luck. Olde Mecklenburg Brewery, 4150 Yancey Road, hosts this event at its brewery and invites you to bring your four-legged friends along. The event features raffles, giveaways, music, contests, vendors and even pet adoptions. Registration prices vary, but the event starts at 10 a.m. Register here.
Sunday, May 1
Kings Drive Art Walk
The spring edition of Festival in the Park invites you both today and Saturday to walk along the Little Sugar Creek Greenway and shop at local art vendors along the way. The stroll runs from 11 a.m. until 5 p.m. today and 11 a.m. until 6 p.m. Saturday at 600 S. Kings Drive. Be cultured at this free event.
Open Streets 704
For four hours, a three-mile stretch of road between NoDa and the Central Piedmont Community College area will be closed for the first-of-its-kind-for-Charlotte street festival. Along the festival, there are four "Featured zones," including a family zone, arts and science zone, a green zone and a wellness zone. Leave your car at home, take your loved ones and enjoy your beautiful city on foot. There is no cost. For more information, go here.
Verify dates, times, prices, and other info at the web addresses listed for each event.
Be sure to bookmark www.charlottemagazine.com/Blogs/Dusk-Till-Dawn to stay plugged into Charlotte's nightlife and social scene. Click here to sign up to receive the weekly Dusk Till Dawn e-newsletter.
Want your event featured in Dusk Till Dawn? Follow me on Twitter @Jared_misner and let me know about your event, or send me an email at dusktilldawnblog@gmail.com.
Send Jared an email at DuskTillDawnblog@gmail.com, or send him a tweet @Jared_Misner.

Also by Jared Misner:

→This Weekend's Social Events
→Bowling For Books, First Friday Fort Mill, Electric Luau Party, Soulmatic Carolina Music Fest and More, Aug. 6 to Aug. 9
→The Moon Walk, Candy Fest, Silly String Party, Booze Cruise and More, July 30 to Aug. 2
→Christmas in July, More Christmas in July, National Dance Day, National Tequila Day and More, July 23 to July 26