Some Things We Love about the August Issue
How it became one of our most popular magazines ever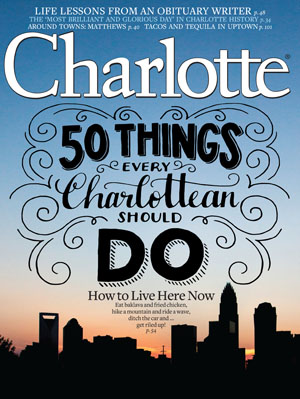 As I write this, our September issue is landing in mailboxes around the Charlotte region. On Monday, we'll begin to release its contents online. It's a tremendous magazine, exploring an impossible-to-answer question, "Is Charlotte Southern?" One of the city's most beloved writers, Tommy Tomlinson, wrote the lead essay, and I guarantee you'll love it. (Note: Tommy's story and the rest of the Southern package—including essays from Jeremy Markovich and Dr. Jeffrey Leak of UNC Charlotte—will not be online until the week of August 25.)
But before we move on, we can't let the August issue go without basking in its success a bit.
With a cover shot of the skyline at sunset from Logan Cyrus and a big headline in Kathie Soza's lettering, "50 Things Every Charlottean Should Do," it reached many newsstands in mid-July and immediately became a must-have. It sold out at Park Road Books within 24 hours. We delivered more copies to the store the next day, and those sold out, too. By the first week of August, Barnes & Noble in SouthPark was down to just a few. People called and ordered. People came by the office asking for it. A man from Pittsburgh, Pennsylvania, called me personally and told me he wanted to send me a check for one.
Then we released it online. The "50 Things" story, which was edited by Virginia Brown and designed online by Andy Smith, needed just three weeks to become the fourth-most popular story ever to appear on our website. The best part about that is that people stayed with it, reading it for more than six minutes, according to the analytics.
But it wasn't just that one. Michael Kruse's well-told story on obituary writer Ken Garfield was picked up and shared by longreads.com and jimromenesko.com, helping push it up the list to near the top of our most popular individual features this year.
Jennifer McGivney's Around Towns piece on Matthews has sent many a person to the Matthews Farmers' Market on Saturday mornings over the past three weeks; Chuck McShane's history series thundered into more modern times with the introduction of the railroad; the leader of Queens University showed us her convertible Mini Cooper just in time for school; and Jeremy Markovich wrote a welcome letter to his son to round out the magazine. It's still on some newsstands around town, at Harris Teeters and Barnes & Noble and Fresh Market and others.
Although we'll never forget the August issue, there's plenty more to come. And a bit of sad news to report as we move forward. Brown, our associate editor, has taken a job as a communication manager with the Charlotte Symphony. She'd done great work here, including shepherding that "50 Things" story. We'll miss her, as much for her work as for her personality and ability to fire off the most unexpected quotes at the most unexpected times. But we know she'll do great work with the Symphony, and we wish her well.