Something Old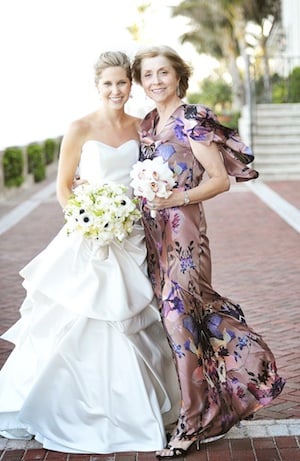 Aside from the obvious donning her gown on the day, sometimes incorporating this special gown into your wedding can be a tricky situation. Dated fabrics, unflattering silhouettes or an undying love for a current boutique gown can all present problems in carrying on a family heirloom ensemble. That said, sometimes the situation can be mitigated simply by utilizing the gown in an unconventional way. So after chatting with friends and family–and, of course, racking my own creative brain, I came up with more than a few ways to use mom's gown in wedding festivities while still maintaining your own sartorial identity. So if you're facing this dilemma and looking to keep her in your good graces, don't discount these equally respectful ideas.
Hey Shortie
Have her gown fashioned into a rehearsal or reception dress. Construct a cocktail dress and even the most dated silhouette is instantly made cool.
Good Luck Charm
Have some of the lining or lace made into a pendant for a wedding day necklace. Bonus points for having a matching one made for her to wear as well.
Flower Power
If you have a special family member who will be serving as flower girl in the ceremony, why not enlist a tailor to make her dress from your mom's? It's totally adorable.
Cinderella
Find a designer who can use the lace as overlay for your wedding day shoes. Choose a light pink or champagne pump. It will be stunning and timeless.
Cover-Up
Use tulle to have a seamstress create your wedding veil from the fabric, or have lace sewn on as a gorgeous border to your veil. This will create serious drama for cathedral length veils.