Sore Backs and Soaring Numbers: A Day at Carolina Rebellion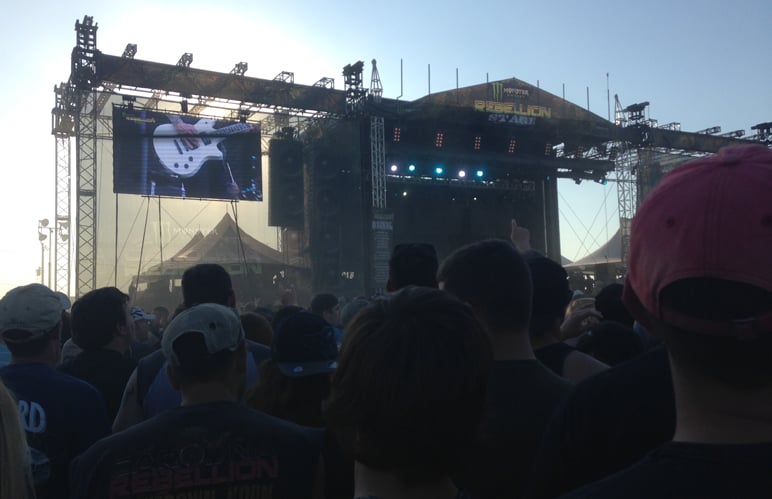 I COULDN'T pick the shoe out of a line-up, nor the crowdsurfer to which it belonged. But during those first few minutes at Charlotte's flagship metal festival, the pain of that blow to the back of my head would become a vivid memory. Carolina Rebellion was already kicking my ass—and my skull.
For those unfamiliar, the Monster Energy-sponsored Carolina Rebellion, now in its fifth year, has been Charlotte's answer to the enormous metal festivals scattered across the U.S. Massachusetts has New England Metal Fest; Ohio hosts Rock on the Range. Since 2013, the festival's been hosted at Charlotte Motor Speedway's Rock City Campgrounds, where thousands are drawn to its stages. Last year saw more than 60,000 attend. Rumored numbers for this year near six digits.
It may be Charlotte's biggest annual music festival. This might surprise people who live here—the tone of the festival doesn't match with the vibes of uptown, or the family-heavy suburbs that surround it. But I suppose you never know what's playing in the headphones of your fellow light rail rider: Maybe it's more Iron Maiden than Iron & Wine. And Carolina Rebellion pulls fans from all over. Folks I spoke with at the festival were natives of Charlotte, Florida, Alabama, Ohio, and my home state, West "By God" Virginia.
But back to my throbbing head, as I try to remember the words to this Papa Roach song I liked in eighth grade. As an arts reporter, I can appreciate a love for any genre, and find the fun in any festival. But it doesn't mean I'm built for it. Long gone are the days when I could do some serious thrashing, enduring the pushing and shoving of my high school hardcore shows. Now, a walk between four not-so-close stages to repeat the head-banging process for another energetic set—from the likes of Rise Against, Slayer, Slipknot, and even Sammy Hagar—sends me into distant contemplation, wondering how long I can delay the yard work that needs to be done.
In some ways, Carolina Rebellion resembles indie rock fests or other musical outings. Rows of vendors with beer and food that's far too expensive, silly games, and a booth that sells a shirt that reads "I Love Vaginas." (Maybe not every festival boasts that last one.) Though the vibe differs during each set, the shuffling and congestion of Rebellion feels familiar. It's the unavoidable chaos you deserve for wanting all your favorite bands in the same place.
As I settled into the final set of the evening from rap-metal titans Korn, I put aside the aches and watched the people in front of the angry millionaires on stage. They weren't all soaring across the top of the crowd, or cocking back an arm to enter the pit fist-first. These were 50-something bikers, college students, and multiple generations of the same family. They were smiling, having fun, and dancing to the metal riffs like they were Dave Matthews Band staples. They were made for this thing. When we say we want Charlotte to be a cultural destination, we're rarely thinking of double-bass and pinched harmonics. But for thousands, this is what makes this region the place to be for one weekend in May.