Soul Food Chic at Nana's Uptown
Find a swanky crowd—plus down-home food—at Nana's Uptown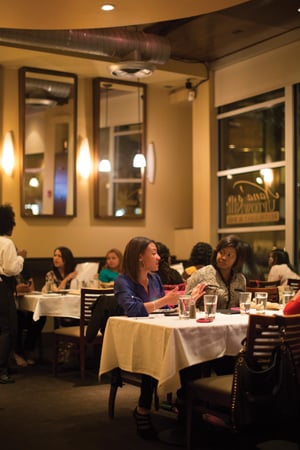 What: Nana's Uptown Restaurant and Bar The 411: Nana's Uptown is the second location from New York transplants Shawn and Kiana Morrison. The duo opened the original Nana's Soul Food near the intersection of Yorkmont and Tyvola roads in 2011, and followed with this spot at Gateway Village on Trade Street last fall.
Vibe: The new Nana's is a departure from the original, cafeteria-style version. The uptown location is an intimate restaurant and bar. It's swanky—dimly lit, with seating at the bar and two community tables—and flat screens hover above the well-stocked bar's shelves.
What sets it apart: For most of the past decade, uptown's dining scene has been home to just two soul food restaurants: Mert's Heart and Soul and Simmons Soul Food Restaurant. Last year that number doubled with the opening of Delta's and then Nana's, both uptown—and both of which seek to add a nightlife vibe to go along with the chicken and waffles.
Who's there: Gateway Village is where business professionals, college students, and uptown dwellers mix and mingle—you'll find them all here. Nana's has become a popular place for after-work socials and networking events, and on weekends, a valet stand greets you out front.
Where: 710 W. Trade St., 704-372-0033